Six months after the murder of Boris Nemtsov, it seems increasingly likely that the man suspected of ordering the killing will avoid criminal charges, thanks to his close connections to Chechen strongman Ramzan Kadyrov. This protection granted to Kadyrov and his inner circle by Vladimir Putin could eventually result in a major crisis for the Russian government, argues Donald Jensen, resident fellow at the Center for Transatlantic Relations.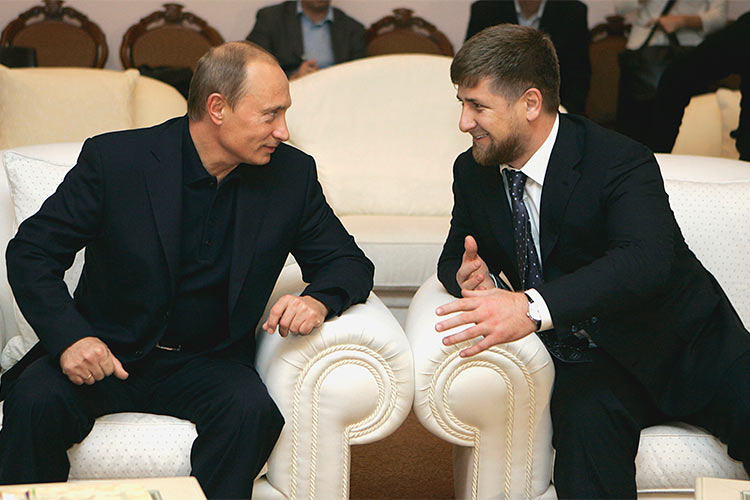 Russia's federal Investigative Committee is planning to conclude its probe into the murder of opposition leader Boris Nemtsov by late November, which presumably means that investigators have a clear narrative of what led to the brutal killing near the Kremlin on Feb. 27. In some ways, the narrative is indeed lucid: a consensus has it that Chechnya native Zaur Dadayev is the main suspect for being the triggerman, while some evidence and much speculation suggest that Dadayev was ordered to do the job by Ruslan Geremeyev, deputy commander of Chechen leader Ramzan Kadyrov's Sever Battalion. Dadayev originally confessed to the killing, but later he claimed that his confession had been coerced out of him by torture.
Concern has arisen that the investigation may stop with the charging of Dadayev and his immediate accomplices, however, without an attempt to bring the person who ordered the hit to justice. Whereas earlier investigators named Geremeyev explicitly as a suspect in ordering the crime, now the case simply says that "unidentified individuals" paid Dadayev and his associates to shoot Nemtsov. "The worst-case scenario is if the triggermen who have already been arrested were named both the organizers of the killing and the people who ordered it," said lawyer Vadim Prokhorov, who represents the interests of Nemtsov's family in the case. "We will, of course, appeal such a decision." If this "worst-case scenario" comes to fruition, it could mean that the outcome of the investigation will end up similar to that of other high-profile murder inquiries in the Putin era: the triggerman and his immediate accomplices will be convicted but there will be no clarity about who ordered the murder.
One compelling explanation for Geremeyev being dropped from the case is his connection to the powerful Kadyrov. Speculation has it that Geremeyev, who has disappeared, may have been acting on behalf of Kadyrov in ordering Nemtsov's murder, or on the behalf of State Duma Deputy Adam Delimkhanov, Kadyrov's cousin, close ally, and possible successor as leader of Chechnya. When President Vladimir Putin was asked about the case during his call-in show in April, he refrained from making predictions, saying that it would become clear whether someone ordered the killing or not over the course of the investigation. But few would be surprised if Putin already knew who ordered the murder and was shielding Kadyrov and his inner circle from incrimination.
This is because it has long been widely assumed that Kadyrov and Putin have made a deal. Putin installed Kadyrov in power, granting him near complete autonomy in Chechnya and generous federal subsidies—about $573 million in 2014, an amount that Russia's Public Chamber said had no stated justification. In return, Kadyrov has ensured that Chechnya has not erupted once again in separatist conflict. Kadyrov has repeatedly said that Putin should be in office for life and calls himself "Putin's foot soldier." Putin rarely, if ever, criticizes Kadyrov in public. Moscow also tolerates and covers up Chechnya's highly personalized governance, repression, and legal arbitrariness, partly because the Kremlin sees Chechnya as a model for other regions threatened by the rise of Islamic extremism.
The Republic of Chechnya is a mini-totalitarian state and, in important ways, a caricature of today's Russia. The region is nominally part of the Russian Federation, but under the brutal, corrupt rule of Ramzan Kadyrov it has assumed many of the attributes of a sovereign country, with its own ideology, economic system, and a large, well-trained army of up to 40,000 fighters who have taken an oath of loyalty to Kadyrov (though the forces are formally integrated into the federal Interior Ministry). Kadyrov is not afraid of enforcing this autonomy: in April, after Russian police from a nearby region shot a Chechen suspect in the republic's capital Grozny, Kadyrov told his men to shoot back at Russian police if they were operating in Chechnya without prior approval. At the same time, Chechnya under Kadyrov has made great progress in suppressing an Islamist insurgency, rebuilding its cities, and turning around its economy. But the calm in Grozny is fragile and deceptive: behind the glitzy façade, poverty, fear and corruption are widespread. International human rights organizations working in Chechnya have accused Kadyrov's fighters of kidnappings, forced disappearances, torture and murder. The personality cult of Ramzan, who aspires to be the leader of all Russian Moslem, dominates public life.
Until now, Putin has managed to balance the interests of key constituencies in the power ministries with his partnership with Kadyrov. But the tension over the Nemtsov case suggests that this strategy is coming under stress and could undermine the regime.
Indeed, Kadyrov's reach extends far beyond the republic and is growing. His fighters, known as the Kadyrovtsy, enjoy immunity even on the streets of Moscow, and many are allegedly involved in criminal activity. Kadrov's fighters have fought on the side of the pro-Kremlin insurgents in Ukraine and his special forces have trained in the Arctic. The Kremlin also has been using Kadyrov in its recent push for a diplomatic rapprochement with Saudi Arabia. Kadyrov has volunteered to fight the Islamic State, a major Kremlin security concern that has been making inroads in the Caucasus. At first glance, the understanding between Putin and Kadyrov seems to be an indicator of Putin's power: the fact that he can delegate near-absolute authority to Kadyrov in Chechnya suggests that the Russian president is fully in charge. But in fact, Putin likely is not fully in control of events. By publicly accepting federal authority, Kadyrov is putting himself in a situation where he can hold Russian peace and security for ransom by showing his indispensability.
Kadyrov's high profile has displeased Russian security agencies, according to a wide variety of sources, who believe that Putin has let Kadyrov run wild in exchange for a loyalty that may be temporary and could destabilize the regime. Political analyst Andrei Piontkovsky has suggested that many people in the security agencies felt they were "deprived of victory" in Chechnya when Putin and Kadyrov cut the deal that ended the war. Today, these siloviki have been left with no real power in Chechnya and little choice but to tolerate Chechen organized crime groups that operate freely in other regions. Dissatisfied with this situation, they reportedly have been lobbying Putin to bring Kadyrov under control, so far without success. Throughout the Nemtsov investigation, therefore, a steady stream of leaks, apparently from the security services and published most notably on the Rosbalt website, have trickled into the public domain with the apparent purpose of implicating Kadyrov and keeping the investigation into the Nemtsov murder alive. The bureaucratic struggle between Kadyrov and the security services is thus continuing "under the carpet," even after it appeared that Putin was not going to let Kadyrov or his close associates become a target of the inquiry. The situation is complicated by the fact that signs of conflicting loyalties have emerged. Although key siloviki appear to oppose Kadyrov—among them Federal Security Service head Alexander Bortnikov, Security Council head Nikolai Patrushev, and Kremlin Chief of Staff Sergei Ivanov—at least one top official, Interior Ministry troops commander Viktor Zolotov, appears to have positive ties with the Chechen leader.
Until now, Putin has managed to balance the interests of key constituencies in the power ministries with his partnership with Kadyrov. But the tension over the Nemtsov case suggests that this strategy is coming under stress and could undermine the regime. Putin could find himself backed into a corner over Kadyrov if an unexpected crisis occurs and be forced to rein him in. There could be an armed clash between federal forces and Chechen fighters, for example, which may be made worse by the involvement of veterans returning from the Donbass region of Ukraine. Other high-profile assassinations could upset the uneasy balance at the top. The threat from Islamic State in the North Caucasus could flare up. Putin's management style is conservative, however, notes commentator Stanislav Belkovsky: "For now he does not want to dismiss the Chechen leader because the name 'Kadyrov' itself has become a symbol of Russia's reconciliation with Chechnya." Even more than that, the name Kadyrov is being increasingly seen as a symbol of Putin's problematic rule.