On December 16, Russia was finally — after 18 years of negotiations — admitted to the World Trade Organization. Though WTO membership was one of the key issues in Russia's foreign policy agenda, the benefits of this deal are debatable. Some analysts estimate that Russia can gain at least $50 billion a year, while others argue that the country's own inefficiency, endemic corruption and stifled competition will limit the investment inflow.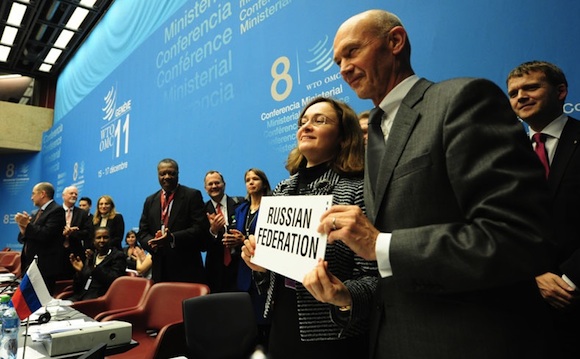 Drawn-Out Negotiations
Russia began negotiations to join the World Trade Organization in 1993 under President Boris Yeltsin. Even by the WTO's usually slow standards, negotiations on the country's accession were painfully drawn-out. Even when Arkady Dvorkovich, advisor to President Dmitry Medvedev, announced to journalists a week before the agreement was formally reached, that Russia was close to joining the WTO, there were signs of skepticism. Russia has been "close" to signing with WTO several times, but something always stood in its way.
Until now, Russia was the world's last major economy not included in the organization. Since 2008, the only WTO member to block Russia's entry was Georgia, the former Soviet republic, whose conflict with Russia escalated into a war in August 2008. After three years of negotiations, the terms of a compromise with Georgia were finally set in November 2011.
Another obstacle, as many analysts observed, was Prime Minister Vladimir Putin's behavior: in 2009 Putin unexpectedly thwarted WTO talks between Russia and America with his announcement that Russia would join the organization only if Belarus and Kazakhstan were accepted, too. Some said that Putin had come to see WTO demands as politically motivated and fundamentally bothersome. Despite Putin's ambitious claims, it quickly became obvious that group accession would be too complicated, and negotiations resumed with Russia alone.
WTO: Pros and Cons
After the official deal-closing ceremony took place in Geneva on December 16, Anatoly Chubais, the Russian politician responsible for privatization in the 1990s, called Russia's accession to the WTO "a return to the civilized world, which we abandoned in 1917." In an interview with Kommersant-Dengi, Maxim Medvedkov, the chief negotiator for Russia's accession to the WTO, also pointed to the general advantages of the deal: "Many businessmen think that the major advantage of WTO membership will be stability of the regulatory system, including import tariffs. WTO membership is a definitive advantage for all categories of consumers. Investors, both Russian and foreign, have positive expectations."
Though no one denies WTO membership's symbolic significance, many analysts say that its benefits for Russia are debatable. Some analysts estimate that Russia could gain at least $50 billion a year, with a possible economy growth of nearly 3%. The World Bank reports that consumption in Russia may increase by 7.8% and the country's GDP by 4.3%.
Others argue that Russia should have stimulated exports before joining. Being the world's eleventh largest economy in nominal terms, Russia is only responsible for a 2% share of the world's trade. About two-thirds of Russian exports are represented by oil and gas, not covered by WTO regulations. Apart from oil, gas and metals, few other Russian goods can be considered competitive in the international marketplace. As the World Bank report notes, Russian exporters have trouble not just entering foreign markets but also surviving in them.
Moreover, WTO membership will expose major faults in the Russian economy. By gaining greater access to overseas markets, Russia will have to provide other WTO members with improved access to its markets through binding cuts in tariffs and non-tariff barriers. It will have to provide protection of intellectual property, accountability, transparency and rule of law. Today, none of these factors function efficiently.
As the Financial Times reports, the real problem is "not trade barriers to Russia's goods, but the country's own inefficiency, institutionalized corruption and stifled competition." Obviously, these problems cannot be solved by WTO membership. And the Economist quotes Sergei Guriev, head of the Moscow New Economic School, who says that the main benefit of WTO membership may be not economic, but political: "It would at least expose corruption and increase competition, deeply alien to Russia's ruling bureaucracy. It will be a sign that Russia is moving towards the civilized world, not away from it."
Olga Khvostunova