Last week a group of Russian judges and NGO members visited the U.S. During this trip, IMR's Olga Khvostunova spoke with Mikhail Fedotov, Chairman of the Presidential Council for Civil Society Development and Human Rights in the Russian Federation, about the problems of journalistic coverage of the judiciary, the Council's work on the Magnitsky case, and the second YUKOS trial.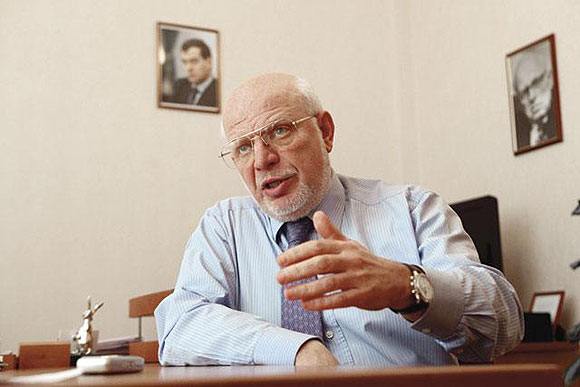 Olga Khvostunova: You just spoke on a panel at the New York University Law School, where you discussed the relationship between the courts and the media in the United States. What is your view of the situation in Russia?
Mikhail Fedotov: In Russia, quality journalists cover the trials in a quality manner, offering serious analysis and raising issues. But these journalists are few and far between. There are more of those whom I call "the foam," and this "foam" is dirty. At their best, these media outlets' employees (I won't risk calling them "journalists") produce "gore," similar to the primitive criminal chronicles found in tabloids, which TV and newspapers constantly feed us with. You can easily recognize it in headlines fashioned a-la "Stabbed in the Basement" or "Head Smashed by an Iron," etc. At their worst, these "professionals" produce zakazukha, or paid editorial materials characterized by a one-sided presentation of facts in the interest of specific individuals.
O.K: But the problems you are referring to are more characteristic of the "yellow press," aren't they?
M.F: All media outlets are getting yellower, in general. Today, even respectable publications succumb to foul-smelling stories. It is a well-known fact, for example, that a very respectable Russian newspaper was sending out instructions to its regional offices, telling them to accept paid materials and publish them as editorial content. Zakazukha is killing serious judicial journalism.
O.K: Could you be more specific?
M.F: Sure. Let's take a look at the article "Another Scandal, or an Ordinary Case?" that was published in Rossiyskaya Gazeta in 2008 and covered a criminal case of tax evasion. At the time of publication, the case was pending at the Krasnodar regional court of cassation. This article caused the defense lawyer to address the "Public Chamber on Complaints to the Press," claiming that the article contained untrue information and had the obvious appearance of a zakazukha. But the article didn't have anything distinguishing it as an advertisement. Later, we were informed that Rossiyskaya Gazeta had a special price for this kind of publications: a full-page ad in the federal issue would cost about 2 million rubles (~$67,000).
O.K: Isn't Rossiyskaya Gazeta an official publication of the Russian government?
M.F: It is. But that doesn't change anything. The Public Chamber (and I have co-chaired this media self-regulatory organization since its foundation in 2005) approached the newspaper requesting to clarify the situation, but they just dismissed the request. They said they didn't want to speak to us. We asked them why, they replied: "We just don't want to, and that's the end of it."
O.K: But the paid editorials are not a solely Russian problem.
M.F: True, but as Vsevolod Bogdanov, chairman of the Russian Union of Journalists,  once said: a Russian journalist will do both — take the money and write the truth. I don't agree with this position, though. Ethical issues in journalism are crucial for me.
OK: Then, from an ethical point of view, how would you comment on the recent dismissal of Maksim Kovalsky, editor-in-chief of the Russian magazine Vlast, who published a photograph with a ballot defaced by a hand-written swear word [the issue covered the recent parliamentary elections in Russia]?
M.F: I haven't seen the scandalous photograph, as I read that online issue of Vlast after the picture had already been removed, so I can't really judge. As for the rest of coverage in this issue, I didn't find anything violating the boundaries of independent analytic journalism.
O.K: Does the Council for Civil Society Development and Human Rights look into matters regarding the defense of journalist's rights? As you are well aware of, last year Oleg Kashin, a journalist from Kommersant, was beaten up, and the investigation still drags on with no results.
M.F: I don't think the Council should deal with the Kashin case separately — that's investigative agencies' job. Our mission, on the other hand, is to be a "collective advisor" to the President, studying problems that appear in civil society, and suggesting solutions. We are looking into Oleg Kashin's case, but we are not trying to find the guilty. We are simply trying to find the right instruments for defending journalists' rights. And we did find such an instrument: upon the Council's initiative, criminal liability for obstructing the lawful activities of journalists (Article 144 of the Russian Criminal Code) was strengthened. This offense is now considered a felony, with a penalty of up to six years in prison.
OK: What is the Council working on at the moment?
MF: We have several projects in the works. One of them is the Magnitsky case, which we have been focusing on for a number of years. Again, I must clarify here that we look into the circumstances that led to a person's death in a pre-trial detention center, to make sure that such tragic cases never happen again.

OK: This July, you published a preliminary report of the Council's working group on the Magnitsky case. Since then, have you continued working on the case?
MF: Of course, we do not intend to stop half-way. From our side, we will do everything to fill in all the gaps. Which are still there, by the way. For example, there is no answer to the questions about the beatings. Was a rubber truncheon used? Could Magnitsky die from the brain injuries? We formed a number of research groups to look into these matters, alongside the investigators and prosecutors.
OK: When do you plan on presenting the final report on Magnitsky case?
MF: We will present it when no open questions will remain on this case. We must be certain that everyone involved in Sergei Magnitsky's death is found, incriminated, and punished.
OK: Has anything really changed in the Russian penal system due to the Council's efforts?
MF: The Council offered to make amendments to the Criminal Procedural Code and to the federal law "On detention in custody" to make provisions for the accused to petition for medical examination and to change the measures of their restraint in case their health worsens. The President submitted these amendments to the State Duma, and they were approved. Then a government decree followed where many of these details were spelled out. But the implementation of these humane measures has been delayed due to some bureaucratic formalities. The Council had to interfere to overcome these obstacles. At the moment, we are looking into what prevents people in detention from getting the medical help they need. This work continues.
OK: Overall, would you assess the Council's work as effective?
MF: It is far from being as effective as we would like it to be.
OK: And why is that?
MF: We lack power. Judge for yourself: we only have 40 people in the Council, and they are all volunteers. At the same time we have 15 working groups! According to the President's decree, we must hold a bimonthly meeting, but earlier this year we convinced the President that we have to hold it once a month. In reality we meet almost every week, often several times a week. We work on a huge number of issues, but we are determined to resolve all of them by the end of May 2012 when our term expires.
O.K: As far as I know, the Council plans to present an expert report on the second YUKOS trial to the President soon. Is there a specific release date?
M.F: The report is finished, and it is in my possession. No one has seen it yet, so we plan to present it at the next meeting of the Council on December 21. On the same day, the report will be published on our website.
O.K: Would you be able to share the main conclusions of the report with us?
MF: Right now I am unable to do that. But please, rest assured that it is a very serious document. The fact that it consists of 427 pages and is broken down into three volumes should give an idea.
OK: Would you say that the contents of this report, whatever they are, may have an impact on the current authorities?
MF: They will [have an impact], without a doubt. Not least because the report will be published, and that will make it impossible to ignore its contents. In the end, none of us wants to serve as mere decoration on the lapel of the authorities. Like I said, we are going to finish what we started.