Today, the number of homeless children in Russia is estimated to be between one and five million. Despite these shocking figures, the issue hardly appears on the political or public agenda. While government policy toward homeless children continues to be executed sporadically and essentially irresponsibly, the proportion of the Russian population living outside the law continues to grow, portending the possibility of a future crisis. IMR's Olga Khvostunova reports on youth homelessness in Russia today.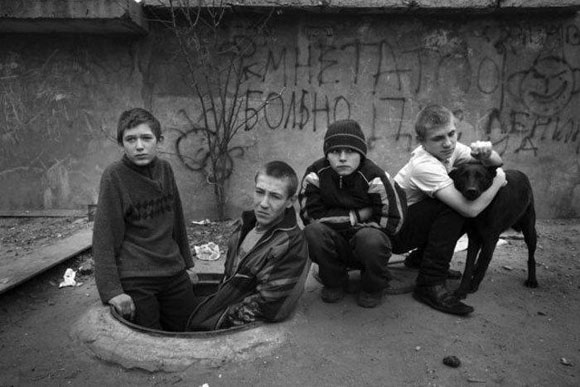 The prevalence of homeless children is a social and cultural phenomenon that generally arises during periods of acute social, economic, and political instability, such as international military conflicts, civil wars, famines, and in the wake of natural disasters. In the modern world, this phenomenon is most commonly related to economic crisis and the prevalence of poverty, domestic violence, and child abuse. Problems such as these cause guardians to kick children out or bring about children running away voluntarily.
A critical mass of homeless children is, unequivocally, a symptom of erosion at every level of society, from family structures to major government institutions. Experts attest that it marginalizes adults and children that live outside of the status quo. One of its greatest dangers is that children who live on the streets, surviving off money they usually acquire illegally, tend to form subcultures, developing worldviews and values that contradict traditional norms.
They have their own laws and morals, their own justice and reprisals. They travel a lot, but don't see much. They are not aggressive, but they are suspicious. They like ice cream and Coca Cola. I would ask them about their future. They didn't know how to respond because they don't think about it. They don't believe they have a future.
Award-winning photographer Sergey Maksimishin
In the long term, the prevalence of homeless children leads to the growth of the crime rate, drug abuse, and HIV incidence, thus undermining the foundations of society at large. Some even point out that child homelessness rates are the indicator of the level of national degeneration.
History
The phenomenon of homeless children has affected almost every country at one time or another. For example, in 1848, it was documented in Britain by Lord Ashley, who, as head of the British Mine Commission, reported that in and out of London, there were at least 30,000 "naked, filthy, roaming lawless and deserted children." Despite the pervasiveness of this social ill, up until now, there has been no precise, universally-accepted definition of  'street child'. The general understanding is that this refers to a child who lives on the street, separate from their family, and not controlled by adults in any way. In Russia, there is also the term 'neglected children' (beznadzornie), which refers children who communicate with their guardians, but spend most of their time outside of their homes, on the street. The English terms 'street children' and  'homeless children' cover both meanings.
The vague terminology is part of the reason there is no accurate statistical data on homeless children worldwide. According to a 2005 UNICEF report, the estimated number is around 100 million. China, India, Brazil, Pakistan, the Philippines, and Russia are currently among the countries where the issue is most acute.
It's impossible to say for sure how many children live on the streets of Russia, since even official estimates vary greatly – from 1 million to 4-5 million (based on the data from the Ministry of Education, Ministry of Internal Affairs, and  various NGOs). According to the Prosecutor General's Office, in 2010, 2.17% of Russian children were homeless, which would put the number at 600 thousand. Compared to 2001, the number has doubled in the past ten years alone.
Homeless children are not new for Russia. A great number of them flooded the streets of Russian cities during the First World War (1914-18). The problem only grew worse after the Russian Revolution of 1917, and further deteriorated during the civil war (1917-23). According to various estimates, in the early 1920s, there were between 4.5 and 7 million homeless children in Russia.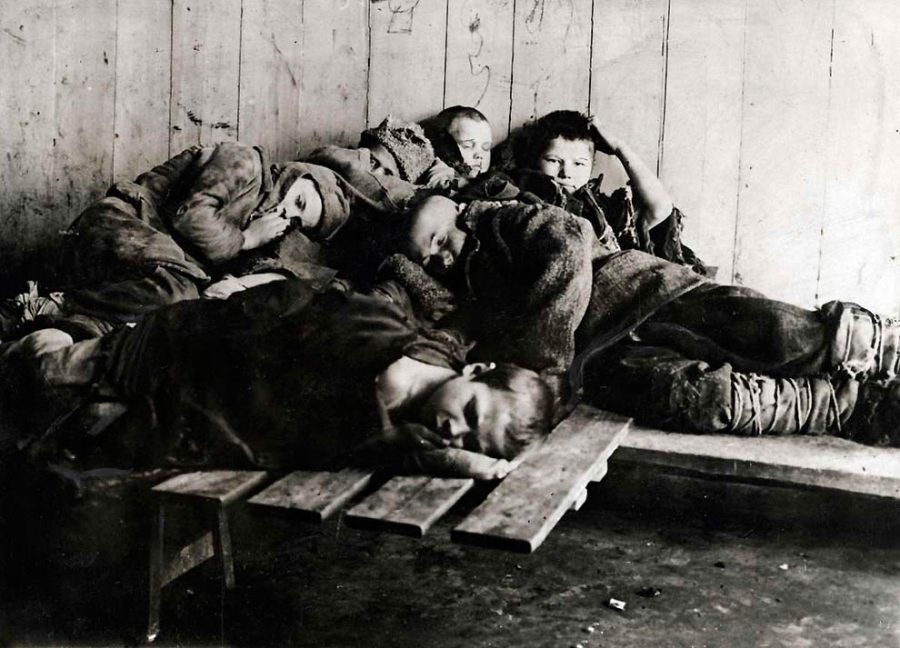 Homeless children. Moscow, 1930s.
It was impossible to ignore these outrageous numbers, so the young Soviet government turned the fight with child homelessness into a political priority. Due to the task's complexity, the efforts took almost ten years to be successful, and measures that were not entirely humane had to be implemented to this end.
The Council for the Protection of Children, formed in 1919 and led by Anatoly Lunacharsky, the People's Commissar of Enlightenment, was the first Soviet organization to tackle the problem of homeless children. This organization's two major objectives were feeding children and providing them with medical services. Two years after its foundation, the Council joined efforts with the Commission on the Improvement of Children's Lives, overseen by the Director of the Cheka, Felix Dzerzhinsky. In 1925, Dzerzhinsky created a public organization called Friends of Children, which aimed at fighting illiteracy among the homeless. It also helped homeless children search for  family members and oversaw orphanages. Bureaus for the social and legal protection of minors were created in many schools across the country. During the 1920s, hundreds of child welfare institutions such as emergency shelters for young orphans (doma rebyonka), orphanages, and special boarding schools, were founded; the first working labor colonies and labor communes were created around the same time, as well. With these joint efforts, by the end of 1928, the official number of homeless children in the USSR was down to 300 thousand. In 1935, the Council for the People's Commissars reported that mass youth homelessness had been eliminated.
The second peak of the child homelessness in the USSR came during the Second World War. From 1941 to 1945, the number of the children living on the street grew from 220 to 800 thousand. The responsibility for resolving the issue was placed in the hands of the People's Commissariat for Internal Affairs (NKVD). One of their measures was the establishment juvenile delinquency divisions. The police were supposed to detain homeless children, bring them to police stations, and register them. Shelters for such children were also established at the same time. Detained homeless children were allowed to spend up to two weeks at such shelters, during which time the police would try to contact their parents and find out if the child could be returned to his or her family. If it was impossible, children under 14 were placed in orphanages or special boarding schools; those over 14 were sent to work at industrial or agricultural enterprises.
After the war, the Soviet system for supervising orphan children consisted of the following: First, children were brought to  shelters. Newborns and toddlers up to 3 years old would be placed in emergency shelters for young orphans (doma rebyonka), while older children (ages 4 through 17) would be sent to orphanages and special boarding schools. If a child had disabilities, he or she would be institutionalized in a special care or psychiatric facility. After reaching the age of 18, graduates from the orphanages and boarding schools were left to their own devices, while the disabled were transferred to special care institutions for adults.
Although this system seemed to work well, many today point out that in the Soviet times, information on the incidence of child abuse, drug addiction, and suicide was suppressed. The government didn't recognize domestic violence or abuse in special care institutions. Another problem was that the Soviet police did little for children who had allegedly run  way from their families. If a parent was located, the police would send them home without questioning them or investigating the possibility of domestic violence, abuse, or neglect. There were no therapy or rehabilitation programs for abused children who were subsequently victimized by street life.
Since the early 1990s, Russia has seen a new wave of youth homelessness. The collapse of the Soviet Union and the social and economic crisis that followed has led to major cutbacks in government spending on education, including after-school programs, school health centers, summer programs, and centers for extracurricular activities. The rate of alcohol and drug abuse among teenagers has increased dramatically, as have delinquency and suicide rates, which are likely related to the growing incidence of  domestic violence. By the mid-2000s, government spending on education per child dropped to half of the rate in 1990. Experts estimate that over 1.5 million children currently do not attend school.
Portrait of a Homeless Child
In 2003, the Center for Demography and Human Ecology of the Institute of Economic Forecasting (Russian Academy of Sciences) released a report on homeless children. The Center's report provided the portrait of a typical Russian street child. The average age was estimated at 12-13; two-thirds of homeless children were boys, 50% were migrants.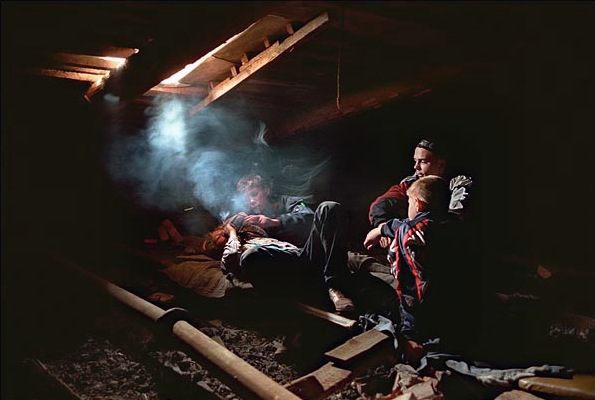 "The attics and basements of apartment buildings in the center of St. Petersburg provide shelters for dozens of groups 'cliques' of homeless children. As a rule, each clique has between 5 and 10 children. They range from 10 to 17 years old. The younger ones are better at making money than the older ones. They do better begging. The older ones protect them and arrange the 'household,'" says renowned photojournalist Sergey Maksimishin. Photo by Sergey Maksimishin.
According to the polls, which were conducted among homeless children, there were three main reasons why children and teenagers chose vagrancy. The first and the most common one was that one or both of their parents had a drinking problem. This cause was cited by 40.5% of  respondents. The second most common reason was not having one or both parents; the third was domestic violence. Overall, the key issue for all of the children was a dysfunctional family. As the Moscow Helsinki Group reported, about 2 million children under 14 years old suffer abuse at the hands of their family members annually, and about 50 thousand run away from home.
A 2006 UNICEF study on homeless children in developing countries provides one with a good idea of a child's life on the street. Almost 50% of homeless children start working at the age of 10 and 11, and nearly 10% when they are between the ages of 5 and 7. Typical employment includes activities such as begging, collecting bottles, cleaning, and helping at street markets. By the time they are 11, homeless children often become drug addicts, many become involved in criminal activities, and a number are roped into prostitution when they are as young as 5.
As the experts from the Center for Demography and Human Ecology report, street children grow up fast. The Center's polls show that two-thirds had smoked cigarettes and imbibed alcoholic beverages, while about one-third of them had taken drugs and engaged in sexual activities. Eighty percent have various diseases and mental disorders; 20% are illiterate.
Eighty-five percent of homeless children in Russia are so-called social orphans, whose parents are alive, but either deprived of their parental rights, in prison, or chemically dependent on drugs or alcohol.  According to Pavel Astakhov, the Children's Rights Commissioner for the President of the Russian Federation, an estimated 50-60 thousand Russian citizens have had their parental rights terminated.
A Policy of Non-Involvement
In 1999, Russia passed the bill "On the Prevention of Homeless Child Vagrancy" which named a number of government agencies responsible for implementing new regulations. These are Ministry of Internal Affairs (MVD), Ministry of Health, and the Ministry of Education. This bill took the homeless children from under the MVD's direct supervision, thus prohibiting the police from placing them in juvenile detention centers. As a result,  law-enforcement authorities have adopted the practice of not involving themselves in the lives of the street children unless a child commits a crime. This also means that their statistics only account for the homeless children that were brought in and registered at police stations (which is about two-thirds of their total population). The new bill didn't specify the exact responsibilities of each respective government agency, and in reality, leaves the homeless children, well, neglected.
Then, in 2002, the problem of homeless children suddenly reappeared on the state agenda. Early that year Valentina Matviyenko, the former Deputy Prime Minister, announced that the number of homeless children in Russia had reached 1 million. The MVD and the General Prosecutor's Office followed up by publishing their own reports, estimating the numbers to be as high as 2-2.5 million. Then, in his annual address to the Federal Assembly, President Vladimir Putin called the increasing number of the homeless children "a threat to national security." He also initiated a federal program for fighting this problem called Prevention of Youth Homelessness and Delinquency, which was in effect between 2003 and 2006. One of the program's important components was  launching an interagency commission for coordinating the measures targeted at resolving the issue of child homelessness. Boris Gryzlov, then the Minister of Internal Affairs, was appointed the chair of this commission. However, with the exception of a single report, dated 2002, there is no publicly available information on the commission's activities.
Nonetheless, the information contained in this report is quite curious and worth noting. 1.2 billion rubles were allocated in the course of the implementation of this subprogram. But the impact of the projects appears meager. Here are some of them:
"Developing and broadcasting a series of programs (4) on Mayak Radio aimed at raising awareness on the prevention of youth homelessness."
"Purchasing 500 washing machines, delivering them to 243 social rehabilitation centers, 86 centers for social assistance to family and children, 11 social service centers (children's departments) in 69 districts of the Russian Federation."
"Organizing 7 field-oriented camps in 7 districts of the Russian Federation. 2780 children from 15 districts of the Russian Federation can participate in camp activities."
You don't need to be an expert to understand that these measures only provide for the minimal improvement in the quality of life for institutionalized children. Moreover, the measures were temporary in nature, and essentially, do nothing to solve the problem.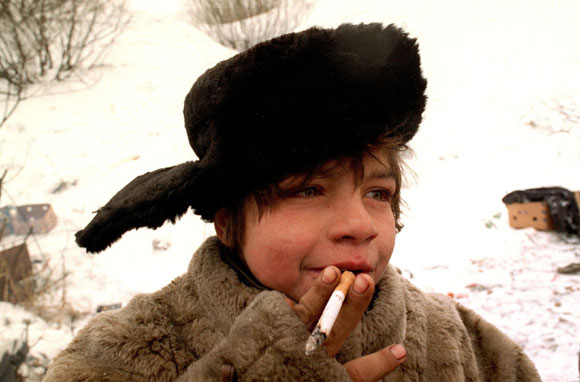 In 2005, the MVD tried to tackle the problem itself. This time, it was the new Minister of Internal Affairs Rashid Nurgaliyev who gave a detailed interview on the subject to Shield and Sword, a ministry-sponsored publication. In this interview, Nurgaliyev acknowledged that problems in the family are the most important contributing factor to children running away. "For many years, we have been ignoring the fact that dysfunctional families, domestic abuse, and sometimes full-scale child abuse exist in our society. Unfortunately, these problems are common in Russia. Today, it is our responsibility to speak out not only about the material, but also the moral impoverishment of the majority of the Russian families."
Nurgaliyev pointed to such key problems as the lack of a single coordinating government agency that could supervise homeless children, which leads, in his words, to insufficient data on their real numbers and, consequently, to the inconsistency in the government services available to them. In order to overcome these problems, Nurgaliyev offered to establish a federal database for the purposes of "assessing the scale of the problem and defining the volume and kind of real measures that could positively impact the situation."
It's also worth mentioning that Mr. Nurgaliyev has shown at least some consistency  in this regard, periodically returning to this issue in his public addresses. In May 2007, at the session of the MVD's Public Council, the minister announced that there were 730 thousand homeless children in Russia, and called for the creation of a council that would include members of the public, human rights, and religious organizations to cooperatively fight against child homelessness in their individual realms. Somehow, his words sounded like a declaration of the helplessness of the law-enforcement authorities in the face of this problem.
In September of the same year, the Duma organized a "government hour"—part a series of roundtable discussions between various government officials, Duma Deputies, and experts–on children in Russia. The issue of homelessness was included on the agenda. The Ministers of Health and of Education—Mikhail Zurabov and Andrei Fursenko, respectively—came to meet with the Duma deputies. One of the deputies demanded to know why Dzerzhinsky had managed to solve the problem with homeless children in three years in the 1920s, while the current ministers were incapable of doing so. Zurabov dismissed the criticism, saying that questions about Dzerzhinsky should not be addressed to him. Fursenko ignored the question as well, although later, he stated that information circulating in the media about the millions of homeless children in Russia is exaggerated. He also said that by 2010, the number of state-run orphanages should be decreased by one-quarter.
In October 2008, Nurgaliyev suggested that mandatory treatment for alcoholism should be introduced in Russia, since the problem, in his words, is "a national issue that has an impact on the crime rate," and often causes children to leave their homes. This suggestion raised a number of objections from human rights organizations and, in the end, was not implemented. At the same time, Nurgaliyev insisted on the more active implementation of the recently-introduced state social welfare workers whose job was engaging directly with disadvantaged families. Their work was aimed at preventing domestic violence. The federal position of social welfare workers was introduced in a number of Russian districts, but as a result of the recent police reform, their number was reduced by half.
Preventative Measures
In 2010, Elena Nikolaeva, Russian Public Chamber's Commission on Social Issues and Demographic Policy, announced that the number of homeless children had reached once again civil war levels. "Every year, 115 to 120 thousand orphans appear in Russia. Every day, between 200 and 220 children are taken away from their parents; 600 thousand children currently live in special dormitories,"  she said, adding that at the moment, there were 28 million children total in Russia. Ms. Nikolaeva also pointed out that the existing system of guardianship in Russia is "more interested in managing the money, rather than the fates, of children." Therefore, she said, it is necessary not only to improve the orphanages and their supporting institutions, but also to create a system of family support services.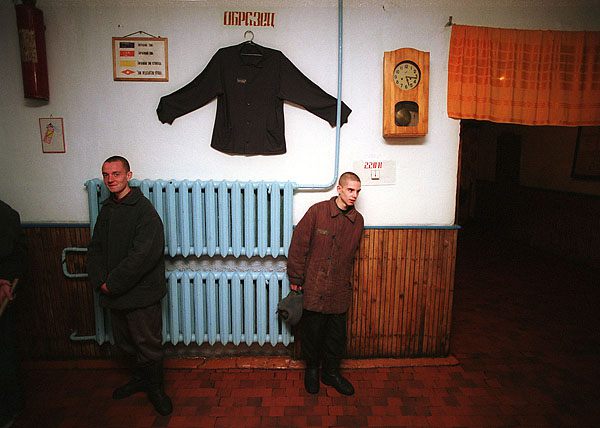 Juvenile correctional facility. Leninsk-Kuznetsk, Kemerovo region, 2000-2001. Photo by Sergei Ilyinitsky.
In 2008, a group of researchers from the University of Oklahoma Health Sciences Center conducted a study on the state of the homeless children in Russia. One of the subjects of the study was the quality of state-run children's facilities. On a scale of 1 to 5, they assessed the quality of care provided in various institutions and support scenarios: shelters were rated a 2.5; assimilation into foster families—1; transition to other family members—3.3; placement at state institutions—3.6. Their research confirmed Elena Nikolaeva's claim that it is better to send a child to an orphanage or a state-run boarding school than to place them in a foster family because government agencies  are reluctant to spend money on supporting foster families.
The research has also recommended several types of programs for preventing child homelessness. The first program was primarily prophylactic, aimed at decreasing the social risks that lead to youth homelessness. It includes raising public awareness, explaining the reasons for this phenomenon, and how the public at large can help children. In some cases, a second program of preventative measures can be applied to this end. These measures would be aimed at socially-vulnerable groups such as families living in poverty, families where parents abuse drugs or alcohol, families with disabled children, immigrants, refugees, and children without guardians or those who have placed in orphan homes and boarding schools. These groups should be targeted for homelessness prevention.
Another program involves seeking out street children, reducing the time periods they have to spend on the street, and minimizing the immediate harm caused to them. Finally, there are tertiary prophylactic measures aimed at dealing with the after-effects of life on the streets, including helping former street children with issues related to education, and providing psychological treatment for post-traumatic disorders and criminal tendencies.
The Orphanage as Punishment
It is no secret that the conditions in state institutions for children are far from perfect. Children in specialized boarding schools for wards of the state are 5 to 7 times more likely to develop behavioral, psychological, social, and communication disorders . More than half of the children in homes have developmental issues. Human Rights Watch reports that due to staff negligence and abuse, children are very likely to run away from these institutions and live on the street. In fact, according to one report, out of 1900 children placed in Moscow orphanages, 1400 ran away.
In 2010, the Ministry of Education published their statistical data on the graduates of orphanages and state-run boarding schools: 50% fall into the category of at-risk groups, 40% end up involved in the criminal world, 33% become unemployed, 20% become homeless, and 10% commit suicide.
In most developed countries, state-run orphanages have long ago been abolished and are now considered third-world institutions. Instead of being placed in state-run facilities, orphan children are most commonly adopted by foster families or taken under some other form of legal guardianship. The idea of eliminating orphanages is also being discussed in Russia. Former Minister of Education Andrei Fursenko has spoken about this, as has Pavel Astakhov, the Children's Rights Commissioner, who, in February of 2012, proposed a new federal program called Russia Without Orphans, aimed at moving away from the orphanage system and toward the adoption of the foster family model in its stead.
Experts are concerned that since the beginning of the 1990s, a third wave of mass child homelessness has swept Russia.
Despite the clear advantages of foster families, some experts believe this idea comes prematurely. As Elena Fonaryova, chairwoman of the Moscow Children's Fund, has said, the idea of doing everything possible to avoid sending children to orphanages seems very attractive at first glance. "But what is his [Astakhov's] claim is based on? All the attempts to improve the situation hitherto undertaken have been fruitless. Thus, the promise to change everything in just a couple of years seems no more than a PR move that could lead to very serious consequences. An abrupt elimination of the orphanage system will most likely lead to the growth of the number disciplinary facilities for juvenile delinquents. The only way to solve the orphan issue is foster families. But it is naïve to think that after orphanages are shut down, all the children served by them would be able to find such families."
In a recent op-ed, Ludmila Petranovskaya, a child psychologist, wrote that in order to make Astakhov's idea work, foster families would need to undergo psychological training. "There should be refresher courses, provisional agreements. Parenting is a full-time job, there are no weekends or vacations, and it requires a high level of qualification. There are two or three dozen professionals capable of leading such training seminars in Russia, and there need to be a lot more. There's been a lot of talk about this, but so far, nothing has been done."
NGOs Can Help
While there is no single policy regarding homeless children, a number of non-profit organizations are dealing with the problem. Since 1991, Albert Likhanov's Russian Children's Foundation has been providing many children with the social support that they need. The foundation includes over twenty different charity programs, including Emergency Social Support, Chechnya's Children of War, Children of Beslan, and many others.
The Russian Chamber of Commerce and Industry of the Russian Federation runs charitable foundation called the Center of Support of Homeless Children. Using the Chamber's network of resources, this foundation provides assistance to certain orphanages, state-run boarding schools, homes for children under three, juvenile correctional facilities, and centers for social rehabilitation. At the recent 10-year anniversary conference, the foundation's board of directors reported that over 3,000 charity events had been organized by the foundation so far, helping 2,000 individual facilities receive aid in 80 districts across Russia. At the same time, the sum spent on all of these organizations turned out to be quite modest–only 302 million rubles (less than 1 million USD) over the span of 10 years.
In March of 2008, Vladimir Putin initiated the launch of the Foundation to Support of Children in Difficult Life Situations, which was established by the Ministry of Health. During its three years of work, it has co-sponsored over 100 projects, spending a total of 2.3 billion of rubles (73.3 million USD). The priority areas of the Foundation's work include working with economically disadvantaged families and neglected children, providing social support for families with disabled children, and socially rehabilitating delinquents, including implementing measures related to the prevention of homelessness and neglect. Last year, the foundation became entangled in a public scandal when the Prosecutor General's Office accused its administration of failing to directly help children and unlawfully diverting its funds. Some members of the Public Chamber raised their voices in support of the foundation, saying that these accusations were false. In the end, the scandal was hushed up.
In practice, true aid for homeless children most often comes from local volunteer and faith-based organizations. One such example is the Russian Orthodox-based project called The Homeless Children of Kursk Train Station. Launched in 2006, the project is carried out by a group of 50 social workers and volunteers. Last year, Forbes Russia named this organization among the 8 charitable foundations people can trust. The organization works closely with the St. Daniel Monastery, The Mercy Foundation, and the If You Have No Home… program. Six times a week, volunteers visit three of the major train stations in Moscow in order to feed homeless children (and not only the children), offer them medical care, and help them apply for replacements for lost documents. They also guide homeless children to orphanages, state-run boarding schools, hospitals and rehabilitation centers, and often come and visit the children there.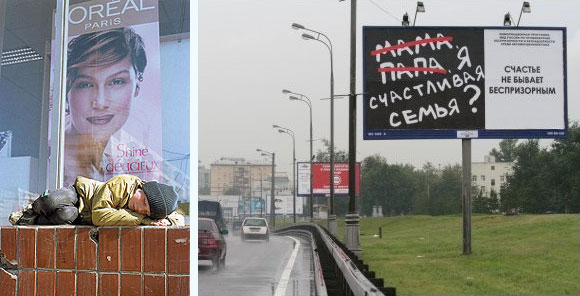 The problem of the child homelessness is deeply rooted in the state of the social sphere and the economy. It is not quite visible in the bustle of everyday life, not like a hike in the milk prices or increased utility bills. In today's Russia, this problem serves as the reminder of the crisis in values in the state as a whole, as both the government and the public cynically ignore the outward signs of this serious issue.
Resolving this problem requires a systematic, holistic approach and long-term, diligent efforts. Judging by the irresponsible actions of Russian authorities so far, as well as the scarce media coverage of homeless children, it is clear that this problem is not a priority for the current regime. Russian politicians should consider the fact that youth homelessness is a time bomb: if it is not neutralized, sooner or later, it will explode, and no one dare predict the consequences of the social catastrophe that will follow.
Peter Polonitsky contributed to the article