With the Kremlin's increasing efforts to undermine and pollute Western politics and media discourse, the study of the former's extensive networks and soft power tools is more relevant than ever. Today, the Institute of Modern Russia is publishing one of such studies that has been long overdue—the report titled "Hybrid Analytica: Pro-Kremlin Expert Propaganda in Moscow, Europe and the U.S.: A Case Study on Think Tanks and Universities." The report was authored by Dr. Kateryna Smagliy, with contribution from Ilya Zaslavskiy. IMR has provided logistical support.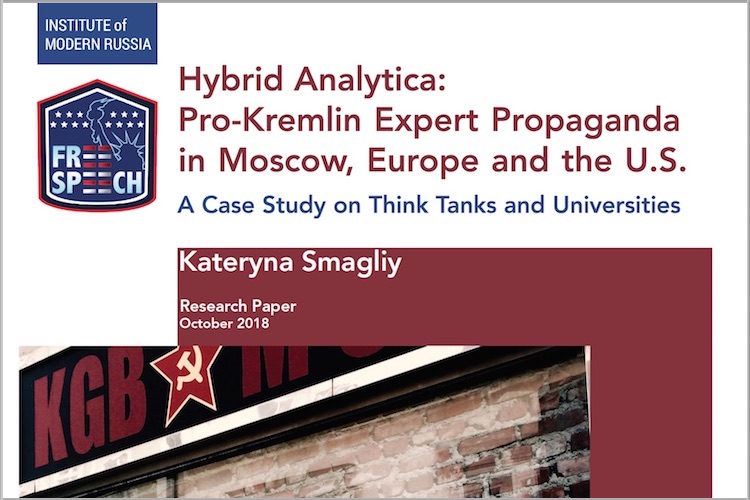 (Editor's note: the report was updated on October 8, 2018)
Summary
This paper examines the Kremlin's connections with think tanks, universities, and research institutions in Russia, Europe and the United States and its co-optation of Russian and Western experts into the pool of proxy communicators for the Putin regime. The author details how Kremlin-linked Moscow-based think tanks design new ideological doctrines for the Russian government and how various Kremlin sympathizers promote pro-Kremlin propaganda narratives in the West. The author studies the role of Russian intelligence services and Russian institutions of soft power in the design and implementation of the present-day strategies of knowledge weaponization and ideological subversion. The study also looks at the attempts of pro-Kremlin oligarchs to translate academic philanthropy into political access. The paper argues that Western governments and academic institutions should officially acknowledge the threat posed by Russia's subversive information warfare, step up efforts to expose Russia's network of agents within Western academia, and adopt mechanisms to safeguard professional integrity and due diligence processes. 
Introduction
"Disinformation makes up 90 percent of today's warfare.
You no longer need to bomb cities. It is enough to bomb the brains out."
Oksana Zabuzhko [1]
"Concepts and practices moved from east to west. Russia in the 2010s
was a kleptocratic regime that sought to export the politics of eternity:
to demolish factuality, to preserve inequality, and to accelerate
similar tendencies in Europe and the United States."
Timothy Snyder [2]
There is no shortage of evidence that Russia's [3] capacity to weaponize information, create confusion, and spread fake news constitutes a serious challenge to Western liberal democracies. [4] In 2016, the European Parliament recognized that the Russian government has been "aggressively employing a wide range of tools and instruments, such as think tanks and special foundations … to challenge democratic values, divide Europe, gather domestic support and create the perception of failed states in the European Union's eastern neighborhood." [5] 
The critical element of Moscow's present hybrid warfare against the West is informational warfare, defined here as a comprehensive and concerted state-sponsored influence campaign designed to steer social debate, hijack political, social and media narratives, and distort information context in order to influence decision-making in international organizations and countries around the world in a way that would validate and accommodate the interests of the ruling Russian kleptocracy. Moscow's opaque connections with European and American research institutions, and its co-optation of Western experts into the pool of Kremlin proxy communicators, have demanded scrutiny ever since the New York Times inaugurated the debate on the transformation of think tanks into agents of foreign influence. [6] The Kremlin's ties to Western academia are hard to trace and even more difficult to prove, but systematic and meticulous investigation can help reveal the true scope of Russia's hybrid warfare against the West while offering recommendations for counteraction. 
The Kremlin's strategy of engaging a subversive Western influence network to promote its agenda has finally become a matter of concern for national security practitioners in Europe and America. For example, Estonia's Foreign Intelligence Service chief recently acknowledged that there is a network of politicians, journalists, diplomats and businesspeople operating in his country as agents of Russian influence. [7]
Leading Kremlin watchers have already taken initial steps towards analyzing Moscow's attempts to engage the international expert community in its information warfare campaign. [8] The present analysis is strongly influenced by these preceding efforts. It also draws on exclusive research data obtained from eleven reputable experts, each of whom took part in an expert survey conducted by the European Values Think-Tank in July 2018. [9] This study is also based on a wide range of open-source materials and numerous face-to-face interviews with international experts, civil society organizations, journalists and researchers.
(Editor's note: The report was updated on October 8, 2018)
ABOUT THE AUTHOR
Dr. Kateryna Smagliy was a Special Fellow at the European Values Think-Tank in the summer of 2018. She is a former director of the Kennan Institute's office in Kyiv, consultant for the European Endowment for Democracy and project director at the Anti-Crisis Humanitarian Program of the International Renaissance Foundation. From 2003-2008, Kateryna worked for the U.S. Embassy in Kyiv as the principal liaison officer with Ukraine's parliament. Smagliy's writings have appeared in the Journal of Soviet and Post-Soviet Politics and Society(JSPPS), Kennan Cable, the Atlantic Council's blog Ukraine Alert, Newsweek, Kyiv Post, and Dzerkalo Tyzhnya, among others.
Kateryna holds a doctorate and master's degree in history from the Central European University in Budapest, a master's in European Union Law from the University of Reading in the UK, and a bachelor's in humanities from the National University of "Kyiv-Mohyla Academy." 
In 2018, Kateryna Smagliy joined the cohort of Next Generation Leaders at The McCain Institute for International Leadership. The ideas presented in this research paper do not represent the opinion of The McCain Institute.
ABOUT THE CONTRIBUTOR
Ilya Zaslavskiy is a Head of Underminers.info, a research project exposing kleptocrats from Eurasia in the West. He is also Head of Research at Washington-based nonprofit Free Russia Foundation. Zaslavskiy is also a member of the Advisory Board at the Hudson Institute's Kleptocracy Initiative for which he wrote a report How Non-State Actors Expert Kleptocratic Norms to the West. 
Until autumn 2018, Ilya was an Academy Associate at Chatham House, where in 2014 he was a Fellow. He writes on Eurasian energy and kleptocracy for Free Russia Foundation and in autumn 2018 the Council on Foreign Relations will publish Ilya's report on Energy Reform in Ukraine. 
Zaslavskiy holds an M.Phil. in International Relations from the University of Oxford and an Executive Master in Management of Energy from BI Norwegian Business School.
References
[1] "Oksana Zabuzhko: Segodnya ne nuzhno bombit' goroda, dostatochno razbombit' mozgi" (In Russian) ("Oksana Zabuzhko: You no longer need to bomb cities, it is enough to bomb brains"). Apostrophe, April 18, 2017: https://apostrophe.ua/article/society/culture/2017-04-18/oksana-zabujko-segodnya-ne-nujno-bombit-goroda-dostatochno-razbombit-mozgi/11737/  
[2] Timothy Snyder, The Road to Unfreedom, (Tim Duggan Books: New York, 2018), 11.
[3] Throughout this paper, the terms Russia, the Kremlin, and Moscow are used to refer to the Russian government under President Vladimir Putin.
[4] See, for example, Douglas E. Schoen and Evan Roth Smith, Putin's Master Plan to Destroy Europe, Divide NATO, and Restore Russian Power and Global Influence, (New York and London: Encounter Books, 2016).
[5] European Parliament resolution of 23 November 2016 on EU strategic communication to counteract propaganda against it by third parties (2016/2030(INI)), http://www.europarl.europa.eu/sides/getDoc.do?pubRef=-//EP//NONSGML+TA+P8-TA-2016-0441+0+DOC+PDF+V0//EN 
[6] Lipton, Eric, Brooke Williams and Nicholas Confessore. "Foreign Powers Buy Influence at Think Tanks." The New York Times, September 6, 2014, https://www.nytimes.com/2014/09/07/us/politics/foreign-powers-buy-influence-at-think-tanks.html
[7] Jeff Seldin, "Estonia Spy Chief: Network of Operatives Pushing Russian Agenda in West," Voice of America, July 21, 2018, https://www.voanews.com/a/networks-of-operatives-pushing-russian-agenda-in-west/4492266.html
[8] See for example: Alina Polyakova et al., "Russian Influence in France, Germany, and the United Kingdom," Atlantic Council, November 2016; Alina Polyakova et al., "The Kremlin's Trojan Horses. Russian Influence in Greece, Italy, and Spain," Atlantic Council, November 2017; Peter Pomerantsev and Michael Weiss, "The Menace of Unreality: How the Kremlin Weaponizes Information, Culture and Money", The Institute of Modern Russia, 2014; Vladislava Vojtíšková, Vít Novotný, Hubertus Schmid-Schmidsfelden, Kristina Potapova, "The Bear in Sheep's Clothing, Russia's Government-Funded Organizations in the EU," Wilfried Martens Centre for European Studies, 2016; Orysia Lutsevych, "Agents of the Russian World. Proxy Groups in the Contested Neighborhood," Chatham House, April, 2016; Ilya Zaslavskiy, "How Non-State Actors Export Kleptocratic Norms to the West," Hudson Institute, Kleptocracy Initiative, September 2017; Marius Laurinavičius, "Weaponizing Kleptocracy: Putin's Hybrid Warfare," Briefing Paper, Hudson Institute, June 2017.
[9] The Kremlin Watch Expert Opinion Poll "Western Think Tanks and Russian Interests," July 2018, https://docs.google.com/forms/d/1WEjd0N2S9FP2bie62kDrIv5kultlUhsC334EecKgRUw/edit