At the 30th annual World Russia Forum (March 29-30, 2011) in Washington D.C. Russian and American businessmen declared mutual interest in foreign investments flow, while the politicians were sparring at each other over such calamity issues as systemic corruption, human rights and rule of law in Russia.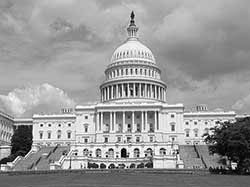 The forum that lasted for two days became a place of numerous presentations and heated discussions in the field of US-Russian political, business, social and cultural relations. While giving a speech at the opening of the forum, Russian Ambassador Sergey Kislyak pointed out that further development of economic cooperation between two countries is impeded by Jackson-Vanick amendment, a ceremonial remark usually made by Russian diplomats. In the following speech by Daniel Russell, Deputy Assistant Secretary of State for European and Eurasian Affairs, the same issue was addressed again. Mr. Russell promised that at some point the amendment would be annulled, and that Russia and USA would finally establish full-scaled partners' relations. But first, he said, both countries should overcome some disagreements, including human rights situation and Mikhail Khodorkovsky's imprisonment.
This argument was unexpectedly heated up later in the day, after Konstantin Kosachev, Chairman of the Russian State Duma Committee on International Affairs, and Richard Perle, resident fellow at the conservative American Enterprise Institute, exchanged sharp comments on what really obstructs the development of US-Russian relations. According to Mr. Kosachev, Russia is worried about the American presence in Afghanistan, the controversy with the war with Georgia and construction of pipelines by-passing Russia. He also stated that American position as a global leader is becoming part of the past, as other countries are catching up. Kosachev's presentation, which by sheer style sounded very much like the Soviet propaganda, annoyed Mr. Perle, who was also one of the designers of the Jackson-Vanick amendment. Given a chance, he immediately snapped back, announcing the failure of the reset and the return to the Cold War. He raised sensitive issues such as the collapse of rule of law in Russia, centralization of power, outrageous politically motivated cases of Khodorkovsky and Magnitsky, lack of freedom of press. Mr. Perle also named Russian Prime Minister Vladimir Putin "a part of the problem" and said that he didn't notice any sign of reconciliation which in turn is impossible without a fundamental change in the system. "I am surprised by the braveness of you, who invest in Russia. I wouldn't put a dime in it!" Mr. Perle concluded with temper.
While politicians were fighting, businessmen seemed to be quite pleased with each other. Dmitry Akhanov, recently appointed CEO of Rosnano USA, Inc. talked about advancing of the Skolkovo project (a Russian version of Silicon Valley). Clay Lowery, Vice-President of International Government Affairs at CISCO Systems, underlined that current business environment in Russia is improving: "Today Russia is associated more with quality, especially in software". He also mentioned that there are still gaps in the legislation system, but the situation had drastically changed to the better in recent years. And as David Yakobashvili, President of Russia -- U.S. Business Council, concluded, all the disagreements between two countries can be overcome through business. "Not only foreign companies should come to Russia, but Russian companies should be allowed abroad as well", he said.
The issue of overcoming the gaps in business and law system was also addressed at 'Russia Business Roundtable' on the second day of the Forum. As Pavel Ivlev, Executive Director of the Institute of Modern Russia, suggested - in the long-term prospective the problem can be resolved by stimulating of exchange of Russian and American students. Russian students could be sent to American business and law schools that are recognized the best in the world, while American students could eliminate the gaps in their knowledge about current Russian affairs by visiting universities of Russia. And the funding for such exchange could be provided through privately funded scholarships and other financial support programs that can be financed by businesses interested in well educated employees. In particular, Russian businessmen and banks shall consider providing student loans to Russian individuals, as such option is not available to them from the usual US sources.
Olga Khvostunova