On May 7th, Dmitry Medvedev, the third Russian President, officially left office. During his term, he launched a number of promising initiatives, including countrywide modernization, a war on corruption, and founding the Russian Silicon Valley. However, almost all of his endeavors led to the opposite of their intended result. IMR's Olga Khvostunova details Medvedev's progress through the political apparatus to show why these failures were inevitable.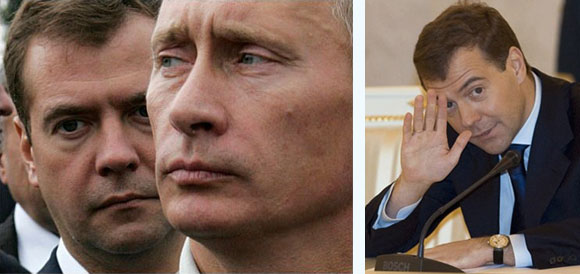 A Young Careerist
Before assessing Medvedev's presidency, it is worth remembering the milestones of his career prior to becoming the head of the state.
Dmitry Medvedev was born in September 1965 in Leningrad into a family of teachers. He graduated from the Law School of the Leningrad State University (now the St.Petersburg State University) with a PhD. His thesis was titled Problems of the Realization of the Legal Personality of a State Enterprise. Medvedev's professors saw him as a capable and hard-working student.
From 1990-1997, Medvedev taught Civil and Roman Law at his alma mater. At the same time, he advised Anatoly Sobchak, who was then the Chairman of the Leningrad Council of People's Deputies. Around that time, Medvedev met Vladimir Putin. After Sobchak was elected the mayor of St. Petersburg, Medvedev became an advisor to the Committee for Foreign Relations of the Mayor's office.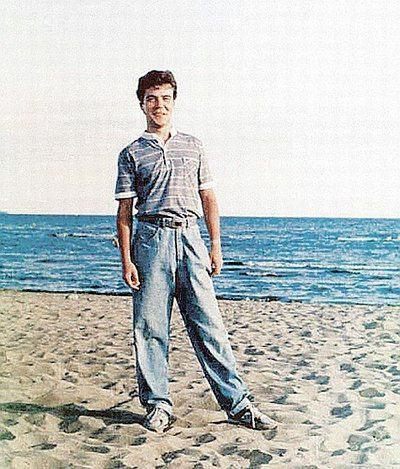 Medvedev graduated from St.Petersburg High School #305 in 1982
A detail worthy of the reader's attention: in 1993 Medvedev, co-founded ZAO Fincell, a legal company that became part of the foundation for Ilim Pulp Enterprises, where Medvedev was Director of Legal Affairs until 1998. Today, the Ilim Group is the largest company in the Russian paper pulp industry.
In November 1999, Vladimir Putin, as the newly appointed Prime Minister of Russia, invited Medvedev to work on his staff. During Putin's presidential campaign, launched in the beginning of 2000, Medvedev became head of his campaign office. After Putin's victory, Medvedev was appointed First Deputy Prime Minister.
When Putin initiated Gazprom management restructuring, the largest Russian gas monopoly, Medvedev was installed as the chairman of the board of directors at only 36 years old. He served in that position until 2008.
Meanwhile, Medvedev's political career was also on the rise. In 2003, he led the presidential administration. Two years later, Putin entrusted him to supervise his four national priority projects. These were in the fields of healthcare, education, housing, and agriculture. Over the course of four years, more than 500 billion rubles (around 17 billion USD) were allocated toward these projects, although the results of these efforts remain decidedly vague. In 2009, the updates on the official website for the projects (http://rost.ru) ceased, and it became obvious that this initiative, too, had been buried.
Medvedev proved that he had neither leadership qualities, nor charisma, nor political bravery. He was neither an opportunist nor a strategist. He was just an intermediate link between two Putin terms.
In 2007, Medvedev registered as a presidential candidate, becoming one of the two possible successors to Vladimir Putin. The other was Sergei Ivanov, the former Defense Minister and then First Deputy Prime Minister. The public and political analysts were kept guessing until December 2007, when finally Putin officially endorsed Medvedev's candidacy. According to a number of policy analysts Medvedev was chosen for loyalty, predictability, and manageability. On March 2nd, 2008 Medvedev was elected the third Russian president with 70.28% of the vote.
Although he was only 42, Dmitry Medvedev's achievements seemed beyond impressive; he received a brilliant education, acquired useful connections, had served at the head of two leading Russian companies, and had a mind-blowing political career, becoming the youngest ruler of Russia in the past 100 years.
Despite his achievements on paper, Medvedev's work came to minimal results. He had hardly influenced any strategic decisions, introduced any prominent initiative, or otherwise stood out among Putin's circle. But he proved himself to be a reliable executor of the wills of others, and as a person who never allows himself to step out of the line.
The Lucky Diplomat
It was no secret that even though he had become President, Medvedev hadn't gained any political power. Vladimir Putin, who led Russian government for the next four years, remained the key figure in control of the country. Analysts could not hide their skepticism towards Medvedev's role in Russian politics, sometimes bordering on hatred. They would call him "presidential placeholder," "the technical president," "Putin's puppet," and even "iPhone," due to his admiration for Apple devices.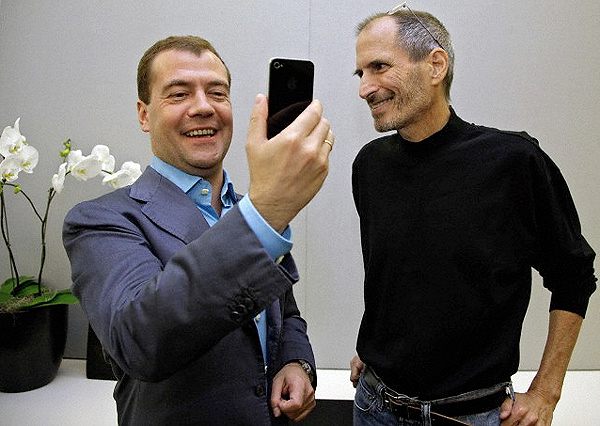 In early 2011, Medvedev met with Steve Jobs in California. The late CEO gave the Russian President a new iPhone 4G, as Medvedev was known for his admiration for the gadgets
Still, Medvedev was offered relative freedom in creating his own agenda, even though he was a part of the new Russian political formation – the so-called «tandem». In response to the criticisms, Medvedev rushed to work, as if trying to establish his authority, even though it was conditional.
His greatest success was in representing Russia on the international arena. During his four-year term, Medvedev traveled widely, visiting 53 countries. He went to Kazakhstan 10 times; Germany 6; and visited the U.S. 5 times.
Medvedev's foreign policy happened to be the most effective of all his undertakings. This is impressive considering that early in his presidency he was faced with an acute international crisis that could have not only ruined his political career, but gravely destabilized Russia. This was the five-day war between Russia and Georgia that took place in August 2008. It began with gunfire in the Southern Ossetian city of Tskhinvali, and ended with Russia's annexation of two Georgian republics – Abkhazia and South Ossetia. The Russian-Georgian war triggered a wave of diplomatic fury in the U.S. and the European Union condemning Russia's actions. Dmitry Medvedev, the rookie President, was faced with the real threat of become a world leader others would be reluctant to shake hands with, like Mahmud Ahmadinejad and the late Kim Jong Il.
Overall, even though Medvedev's achievements were quite formal, due to a favorable set of circumstances he managed to magically overcome and capitalize all the negative effects of the international politics.
Fortunately, then French President Nicolas Sarkozy was the chairman of the EU that year, and he saw the crisis as an opportunity for his own political career. Sarkozy mediated the conflict. Because of his efforts, Russia and Georgia co-signed a peace plan quickly, which helped tone down the anti-Russian rhetoric in the West. The global financial crisis that broke out in the end of 2008 effectively erased the memory of the war from the Western politicians' minds. Thus, President Medvedev escaped a deep diplomatic pitfall.
Among the achievements of Medvedev's foreign policy, it is worth mentioning his friendship with Angela Merkel, the Chancellor of Germany, which strengthened Russian-German trade relations, especially in the energy sector. Today, Germany buys about 30% of Russian gas. It is also Russia's partner in constructing and implementing Nord Stream, a strategic gas pipeline that crosses the Baltic Sea and provides direct deliveries of the Russian gas to Germany. Construction of this pipeline is also associated with Gazprom plans to develop the Shtokman natural gas fields, some of the largest in the world, located in the Barents Sea.
The second of Medvedev's achievements is his unexpectedly warm relationship with U.S. President Barack Obama, established during the bilateral negotiation of the Treaty on Measures for the Further Reduction and Limitation of Strategic Offensive Arms that was signed in Spring 2010. In June of the same year, Russia supported the UN resolution on sanctions against Iran because of its nuclear program, and even announced that it would not sell previously contracted long-range missile systems to the country. After the long cold period in relations between Russia and the U.S. during George W. Bush's and Vladimir Putin's terms, these shifts in Russian foreign policy were seen as the signs of a real thaw by many experts in America.
Officially, the new stage of the U.S.-Russian relations was called the reset. In 2009, a symbolic button, with this word on was pressed by Sergey Lavrov, the Russian Foreign Minister, and Hillary Clinton, the U.S. Secretary of State. Nonetheless, the list of cooperative programs was short: an antiballistic missile treaty, the START II treaty, agreement on Iran's nuclear program, cooperation in Afghanistan and the Near East, the war on international terrorism and drug trafficking. The real achievement on of this list, actively lobbied for by both Medvedev and Obama, was the new START treaty, which legally binds both countries to cut their respective nuclear arsenals by one third.
One last achievement formally attributed to Medvedev is Russia's joining of the WTO. However, seeing that international negotiations on this issue lasted 18 years and had recently reached the final stages, it would be safe to say that Medvedev's role was truly minimal.
Overall, even though Medvedev's achievements were quite superficial, due to a favorable set of circumstances, he managed to overcome and capitalize on a number of negative situations in foreign policy.
A Mediocre Reformer
While Medvedev's foreign policy was somewhat productive, his domestic initiatives were entirely fruitless.
His image of an intellectual lawyer, who seemed more flexible and reasonable than Putin, initially appealed to the Russian liberal elite. Medvedev's claims validated their hopes that the vertical power structure could be destroyed. But these hopes were unfounded. Not only due to Medvedev's weakness, but because of the liberals' wishful thinking and unfounded expectations.
Throughout his career, Medvedev had consistently demonstrated his exceptional loyalty and ability to fit into the system, to balance and maneuver within it. There should have been no doubt that he was not going to reform or truly modernize the system. Medvedev was determined to complete the established tasks within his allotted time frame and in accordance with the rules established for political behavior.
Despite the false expectations, the work of any politician can be judged by two criteria: efficiency and keeping one's political promises. Analysis of Medvedev's work shows that he was unable to deliver on either count.
In 2009, Medvedev published an article in the online daily gazeta.ru called "Go Russia!" In his article, Medvedev outlined a list of priorities he had as President. It included modernizing the Russian economy, focusing on energy, nuclear technologies, IT, space exploration, and medicine.
His image of an intellectual lawyer, who seemed more flexible and reasonable than Putin, initially appealed to the Russian liberal elite.
He then turned to the discussion about the development of the civil society and democratic institutions. "The Russian political system will ultimately be open, flexible, and internally complex," Medvedev wrote. "It will complement a dynamic, mobile, transparent and multidimensional social structure. It will respond to the political culture of the free, well-off, critical-thinking, and confident public." He did remark, however, Russian democracy would not copy Western models. It was a logical reason that also allowed for a misinterpretation of the very term "democracy."
Medvedev also spoke of raising the standard of living, resolving demographic problems, as well as the problems with the Northern Caucasus, bureaucracy, corruption, and the shortcomings of the judicial and legal systems. Medvedev called for a national dialogue on overcoming all of these problems together.
So what did President Medvedev actually do to achieve this?
Poor Execution
The cornerstone of Medvedev's domestic policy was the war on corruption. The newly-elected President announced the war on that eternal foe only a few days after his inauguration. He said that corruption is a great threat to any state, remarking that: "Most importantly, corruption destroys the public trust in authorities." This was a shrewd point to make.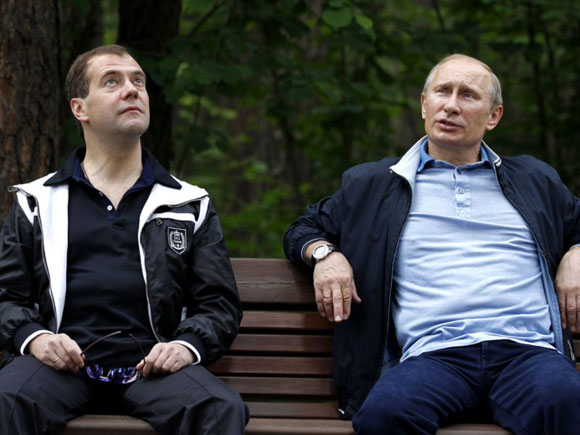 In July 2008, a national plan of countermeasures against corruption was adopted. It included three components: modernizing legislation, developing specific measures against corruption, and involving civil society in achieving these objectives. Progress was only shown in the first category: officials were bound to publicly declare their income, citizens gained access to information on the activities of state agencies, and a bill on the transparency of the judicial information was passed.
In reality, the initiative to force officials to declare their income turned out hollow and ineffective: according to Levada-Center polls, only 2% of Russian citizens trust this information. IMR recently commented on the topic.
According to some statistical data, in the last four years, the war on corruption has led to the opposite results. According to Transparency International's Corruption Perceptions Index, in 2008 Russia was in 147th place (out of 180 countries), in 2009 — 146th, in 2010 — 154th, and in 2011 — 143rd. According to a report from the Department for Combating Economic Crimes [under the Ministry of Internal Affairs], the average size of a bribe has dramatically increased: in 2008 it was 9,000 rubles ($300), in 2009 — 23,000 (~$750), in 2010 — 61,000 (~$2,000), and in 2011 — 236,000 (~$8000).
Medvedev's other showy initiative—the police reform—has also been analyzed by IMR. Overall, the reforms were of a decorative nature. Their most prominent result was the name change: the militsia became the police.
The Skolkovo innovation center was probably the brightest idea Medvedev had. It was a response to the call for brining Russia up to speed in IT, biomedicine, energy efficiency, nuclear and space technologies.
This idea was first state in Medvedev's message to the Federal Assembly in November 2009. The concept was to create a parallel to California's Silicon Valley, an innovation complex with a special economic, legal, and tax conditions, where new technologies could be developed and made commercial. An integral part of the complex was a new, internationally-recognized university — SkolTech, a joint project with MIT. Basically, the idea was to build a technological Eldorado in the Moscow suburbs. Later, Skolkovo was to be used as an example for creating such areas in other Russian districts.
Skolkolvo received generous government support. In 2010, the project budget amounted to 3.991 bil. rubles (~133 mil. USD), in 2011 support reached 26.892 bilion (~$900 million). Only 3 billion rubles were from private investments. In 2012, nearly 22 billion rubles will be allocated for Skolkovo (~$730 mil.), and in 2013 — 17.1 billion rubles (~$570 million).
This project has strategic value, which is apparent from the names of the people lobbying for it. Besides Medvedev, these include Vladislav Surkov, Vice Prime Minister of Modernization, Igor Shuvalov, the First Deputy Prime Minister, Anatoly Chubais, president of the Rusnano corporation, and Victor Vekselberg, former head of Renova and current president of the Skolkovo Foundation. International visibility is provided by Nobel prize winners Juarès Alferov and Roger Kornberg, co-chairmen of the Skolkovo Scientific and Technological Council, and by the MIT brand.
According to a number of policy analysts Medvedev was chosen for loyalty, predictability, and manageability.
Medvedev has probably spoken on modernization and Skolkovo more than any other initiative. But the bottom line is that practical results are still few. Hardly any facilities have been built. The first building (The Hypercube) is scheduled to be finished in May. Although nearly 400 companies have been granted space in Skolkovo and allowed to work remotely while the complex is being built, none of these enterprises have yet developed any specific products as of yet.
It had seemed that Medvedev found a potential goldmine when he established 'innovation' as the key theme of his agenda. It has advantageously distinguished him from Putin's rhetoric of stability, which started to bore people. But he had little time to enjoy his find: last year Putin announced the creation of the Strategic Initiatives Agency, which would support innovation projects. Thus, Putin sent a clear message that there can only be one leader in the country, regardless of the positions and agendas of others.
A package of political reforms introduced by Medvedev this winter put the period on his empty domestic policies. The reforms included a simplified procedure for party registration and the return of governors' elections. The package was a belated reaction to the protest movement that erupted in response to falsified parliamentary election results. The bill was rushed through the State Duma in record time and signed by Medvedev on May 2nd. It will come into effect June 1st, 2012. Despite the bill's timeliness, it has built-in limitation, so-called municipal and presidential "filters." According to these limitations, gubernatorial candidates from political parties have to participate in municipal primaries and then consult with the head of the government. Independent candidates have to pass through a third qualifying round: they have to gather signatures not only from state representatives, but also voters. These challenges allow the regime in power to weed out undesirable candidates.
Post-Scriptum
Reviewing Medvedev's political projects, we can conclude that from the realpolitik point of view Medvedev was but a shadow of an actual politician. From the point of view of the regime's interests, he completed his task – he has kept the system vital, or, in crude terms, kept the chair warm, while his master was absent.
But if we look at Medvedev's work out of this political context, in terms of common sense, one thing becomes clear. Here is the man who, by a twist of fate, had the opportunity to change the history of his country. Medvedev neglected this chance. And the reasons why he did it are not very important now. He proved that he had neither leadership qualities, nor charisma, nor political bravery. He was neither an opportunist nor a strategist. He was just an intermediate link between two Putin terms. As Jean Baudrillard might have put it, Medvedev was just the simulacrum of a president.