On November 17, 2016, the Center for Strategic and International Studies, in partnership with the Centre for Polish-Russian Dialogue and Understanding, held the fourth joint Transatlantic Forum on Russia. The forum brought together numerous U.S. and European experts and top officials who discussed the possibilities of a common approach to the resurgent Kremlin, including policy options for the next U.S. administration.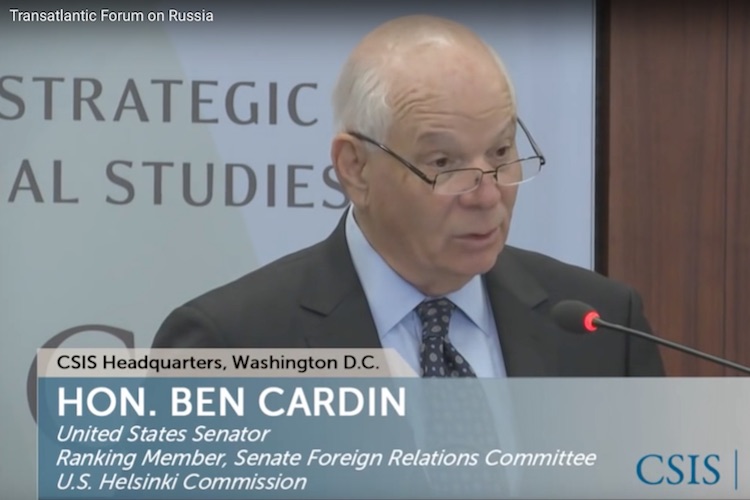 Message from the host: "This timely forum will take place at a time of transition for U.S. policy toward Russia amidst a very dynamic European policy landscape as both sides of the Atlantic tackle the ongoing 'Russia Challenge' anew."
Participants:
Welcome Remarks
Ms. Heather A. Conley, Senior Vice President for Europe, Eurasia, and the Arctic; and Director, Europe Program, CSIS 
Mr. Ernest Wyciszkiewicz, Director, Centre for Polish-Russian Dialogue and Understanding (CPRDU)
Panel One: How to Build a Common European Policy Approach Toward Russia
Dr. Sławomir Dębski, Director, Polish Institute of International Affairs
Dr. Andreas Umland, Fellow, Institute for Euro-Atlantic Cooperation
Dr. Catherine Dale, Director, Center for Russia and Eurasia, RAND
Dr. David Cadier, TAPIR Fellow, Center for Transatlantic Relations, Johns Hopkins SAIS
Ms. Heather A. Conley (moderator), Senior Vice President for Europe, Eurasia, and the Arctic; and Director, Europe Program, CSIS
Keynote Address: The Future of U.S. Policy Toward Russia
The Honorable Ben Cardin, United States Senator; Ranking Member, Senate Foreign Relations Committee; Commissioner, U.S. Helsinki Commission
Panel Two: How Should the Next U.S. Administration Approach Russia?
Professor Zbigniew Lewicki, Head of Department of American Studies, University Cardinal Stefan Wyszynski, PISM Council, Warsaw
Dr. Olga Oliker, Senior Adviser and Director, Russia and Eurasia Program, CSIS
Dr. Celeste A. Wallander, Senior Director, National Security Council
Mr. Ernest Wyciszkiewicz (moderator), Director, Centre for Polish-Russian Dialogue and Understanding (CPRDU)
Panel One:
Dębski:
The problem with Europe's approach toward Russia is that it lacks decisiveness:
U.S. leadership is essential to European unity and democracy promotion;
Europe needs a uniform "non-recognition" policy toward Russia's annexation of Crimea.

Russia wants the world to recognize that it claims a sphere of influence throughout the former Soviet Union and Warsaw Pact states.
Dale: 
Russia is extraordinarily good at identifying and making use of rifts in the West's collective approach.
NATO has shifted from an approach of "self-assurance" to one of direct deterrence against Russia, which is evident from NATO's increased battle readiness and security preparations.
The West's policies toward Russia must take into account Russia's perspective as well:
Russia sees the West's attitude towards Moscow as highly patronizing;
The West must pursue a dual policy of "deterrence and dialogue."

The West's priorities must include both Russia and terrorism, not just one or the other.
Europe's shared, liberal values are among its greatest strengths.
Umland:
The most important issue for the future of Ukraine is how it will be embedded in international structures and institutions.
Unlike Crimea, the Donbass is essential to Ukrainian national identity. Ceding control over the Donbass to Russia is an impractical solution for this very reason.
Any solution to the conflict in eastern Ukraine would require oversight from an international peacekeeping mission.
Cadier: 
It is important that the U.S. and Europe maintain a common front on the Minsk agreements.
More than anything else, U.S. and European sanctions against Russia symbolize Western unity. Removing sanctions now would undermine Western bargaining power and diplomatic credibility
Q & A:
How heavily will values feature in European policy now that the Trump administration won't be leading on this front?
Umland:
The West needs to shift the conversation away from values and human rights, and more toward subjects such as Russia's legal violations, including its violations of the Budapest Memorandum.
Dębski:
For Poland, non-recognition of Russian control over Crimea is essential:

If Poland or other European countries accept Russia's use of force to change borders, then it means that Russia will pursue aggression elsewhere.

European countries must frame liberal values in terms of national interest.
Keynote Address:
Senator Cardin: 
Although the U.S. election results must be respected, America must remain vigilant about defending U.S. and Western values.
Russia has violated many international norms, threatening global security in the process. Some of its key issues are:
Lack of commitment to basic human rights;
Repression of civil society;
Lack of democratic institutions;
Targeting of NGOs;
Violations of Ukrainian sovereignty;
Support for Assad in Syria; bombing of humanitarian aid convoys.

The U.S. must launch a proportionate response to Russia's interference in U.S. elections, including against individuals complicit in the decision-making. This can include targeting Russian oligarchs affiliated with Putin's inner circle by freezing their U.S. assets.
The U.S. must work closely with Europe on Russian issues.
U.S. Congress should approve Montenegro's accession to NATO.
Panel Two:
Wallander: 
The main challenge is that the Russian political system is not compatible with the post-Cold War order the country signed onto after the collapse of the Soviet Union.
The West tried to integrate Russia into the international system—their strategy was not one of triumphalism:
The Russian leadership feels threatened by integration and modernization because its political system is not based on post-Cold War, liberal values.

The U.S. should pursue a realist policy toward Russia, informed by context.
The U.S. must maintain people-to-people contact with Russia, and be willing to work with Russian leadership where common interests exist.
The U.S. must repair vulnerabilities by reinforcing democracy and human rights, fighting corruption, combating disinformation, and strengthening free media abroad.
Lewicki:
Russia and the West follow different sets of rules within the same international system.
Ukraine is at the core of Russia's conflict with West.
The main question is what the West is willing to accept in Ukraine as the new norm of "appropriate" state conduct:
The issue goes beyond Crimea; it's about European security and protecting state sovereignty worldwide.

[U.S. president-elect Donald] Trump is correct when he says that U.S. allies must contribute more in return for NATO membership, but he must also make clear that the U.S. stands strongly with the alliance.
Oliker:
Russian foreign policy is focused on attaining international prestige and standing up to the U.S.
Putin likes to insert Russia in situations where the U.S. doesn't have clearly defined interests, so that the country can appear strong and assertive.
How might European security be affected by a U.S. "withdrawal" from the continent under a Trump presidency? The consequences of withdrawing are much more wide-ranging than any issues the U.S. has with Russia
Trump's presidency won't change Russia's decision-making calculus in Ukraine or Syria.
It is crucial that the U.S. and Russia cooperate, but Russia's security concerns must also be addressed.
The U.S. can't take its own democratic principles for granted, as the recent election has made clear.
The United States' reputation for upholding democratic values has been shaken by the Trump campaign and his impending presidency—and that hurts America abroad.
Q & A: 
1. What would have happened if Ukrainian president Viktor Yanukovych had actually signed the EU agreement?
Oliker:
Even if Yanukovych had signed the agreement, Russia would likely still have achieved its goal: a dysfunctional Ukraine that bends to Moscow's will.
2. What values should the West uphold in dealing with Russia?
Wallander: 
It is a misconception that the West is attempting to "convert" Russians to Western values.
The real issue is that Russia's leaders don't represent Russians' values in the first place, and are not held accountable to the people they represent.
You can watch the full video of the forum below.
* Daniel Frey is an independent writer and Russia analyst.