On September 8th, the Atlantic Council held a panel event on the legal status of the Kremlin-sponsored media outlet, RT, vis-à-vis the Foreign Agents Registration Act (FARA). Participants discussed the challenges that RT poses to the United States, as well as steps policymakers can take to mitigate its influence domestically. The event also featured a brief introduction to Elena Postnikova's report, "Agent of Influence," which makes a case for labeling RT a "foreign agent" under FARA.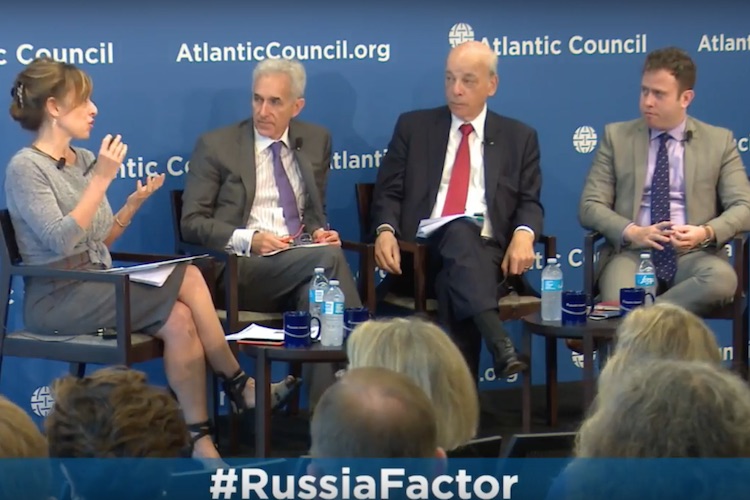 Keynote remarks:
The Hon. David N. Cicilline (D-RI), U.S. Representative for Rhode Island's 1st District, US House of Representatives
A conversation with: 
Franklin D. Kramer, Distinguished Fellow, Brent Scowcroft Center on International Security, Atlantic Council
Jeffrey Gedmin, Senior Fellow, Future Europe Initiative, Atlantic Council
James Kirchick, Visiting Fellow, Brookings Institution
Moderated by: 
Izabella Tabarovsky, Senior Program Associate and Manager for Regional Engagement, Kennan Institute, Woodrow Wilson International Center for Scholars
Gedmin:
The Atlantic Council commissioned Elena Postnikova's report, "Agent of Influence," as part of its ongoing work on Russia and Russian disinformation efforts.
The report presents a history of counterpropaganda efforts in the U.S., as well as opportunities and limitations for future action against Russian disinformation, particularly vis-à-vis the Foreign Agents Registration Act (FARA).
The keynote speaker is David Cicilline of Rhode Island. He and I agree that we cannot allow hostile powers to undermine U.S. democracy.
Cicilline:
RT, formerly "Russia Today," acts as Moscow's international propaganda arm. It spreads lies, biased information, and serves the whims of the Russian government.
According to a declassified intelligence report published in January, the Kremlin used RT's media operations to complement its hacking efforts and interference in the U.S. election.
RT is likely violating U.S. law by spreading propaganda without registering as a foreign agent under the Foreign Agents Registration Act (FARA).
Free media is an essential part of any free society, and acts as a vital check on state power. Yet, to autocrats like Putin, the media is a tool to be used by the government to prop up and perpetuate cults of personality.
The Kremlin is highly skilled at using social media platforms to undermine democracy and influence Americans. Facebook, for instance, recently announced that it had sold advertising to a Russian company with ties to the Kremlin.
The United States must not sacrifice its own values in combating the Russian threat. The government must not attempt to harm or threaten journalists in any way, or prevent them from completing their work.
Having RT register as a foreign agent would not be an effort to suppress free speech, but rather to necessitate greater organizational transparency.
The Foreign Agents Registration Modernization Act—a piece of legislation just introduced to Congress with the help of Matt Gaetz (R-FL), Jeanne Shaheen (D-NH), and Todd Young (R-IN)—is designed to empower the Justice Department to uncover foreign agents' funding and management structures, including RT's own.
Tabarovsky: Is it appropriate to call RT a news organization?
Kirchick:
RT is a propaganda outlet, plain and simple. Holocaust deniers, racists, communists, right-wing extremists, and conspiracy theorists of all sorts contribute regularly to RT programming.
Most media organizations are governed by boards entirely independent of their host countries' governments.
RT, on the other hand, has a very opaque operating structure, although one thing is clear: all of its funding comes from the Russian government.
Tabarovsky: What happens to an organization once it has registered as a foreign agent in the U.S.? 
Kirchik:
Upon registration, the organization needs to disclose its sources of sponsorship and influence.
RT rebranded itself from the more conspicuous moniker, "Russia Today," to obscure its Kremlin roots.
FARA registration would go a long way to highlight RT's connections to Moscow.
Tabarovsky: What is the extent of RT's influence, and how can it be countered?
Gedmin:
It is very easy to quantify how many views or clicks RT receives, but it is much harder to discern the degree to which it actually influences people's thoughts, behaviors, and political beliefs.
RT is certainly a fringe media outlet, but it does reporting on real problems in a very incomplete manner—that's why it's so dangerous.
One of the main issues is that Washington has no consensus as to whether Russia poses a threat to the U.S; ultimately, we can only have a productive conversation if we understand Russia's intentions—which is to lift itself up by bringing the West down.
Kramer:
We should put RT in context with the rest of Russia's actions and foreign policy strategy.
Russia has pursued hybrid warfare by:

Plotting an assassination of the prime minister of Montenegro;
Attacking Ukraine's power grid via cyber warfare.

The West needs to approach RT collectively—it's not enough for the U.S. to have the organization register as a foreign agent under FARA; Europe must act in tandem. 
Kirchick:
The private sector also needs to be a part of this conversation—cable companies, for instance, give RT airtime. Regulation cannot fix the entire problem.
Tabarovsky: Why hasn't RT yet registered as a foreign agent?
Kirchik:
A major problem with FARA is that it isn't very heavily enforced – this isn't a problem specific to RT.
Kramer:
FARA was passed a long time ago—in the 1930s. Because we have a different set of media now, it is clear that FARA needs some updating.
In Europe, social media companies such as Facebook receive notifications from the government about hate speech on their sites; they review the content and then remove it from the site.
This may prove to be a good model for how to deal with disinformation campaigns in the U.S.
Tabarovsky: How can the US counter Russian propaganda? What is RFE/RL and Voice of America's (VoA) role?
Gedmin:
The solution is not to answer Russian propaganda point by point—this would be an endless task.
VoA and RFE/RL provide responsible discussion and debate about America, the world, and things happening inside Russia.
This is part of America's long game—positive results will not be seen overnight.
It should be noted that it is very difficult for these agencies to operate in Russia—they are very heavily (and selectively) regulated.
Kirchick:
The U.S. should make RT's local access contingent on the quality of the United States' own access to the Russian mediascape.
It is currently very difficult for RFE/RL and Voice of America to operate in Russia.
"Reciprocity" should dictate the United States' relationship with RT.
Kramer:
Russia's goal is to confuse the public, and to undermine trust and faith in democratic institutions.
The laws are set up in Europe in such a way that there is a lot of opportunity to cooperate on Russian propaganda issues.
The real battlefield against Russian disinformation is in Europe.