On September 29, the Atlantic Council held a discussion on the new Russia sanctions law passed by Congress in June. AC Distinguished Fellow and former ambassador Daniel Fried and AC Senior Fellow Brian O'Toole shared insights from their latest issue brief on the Russia sanctions and joined an expert panel featuring Caroline Vicini, Daniel A. Russell, and Elizabeth Rosenberg to discuss the problem in detail.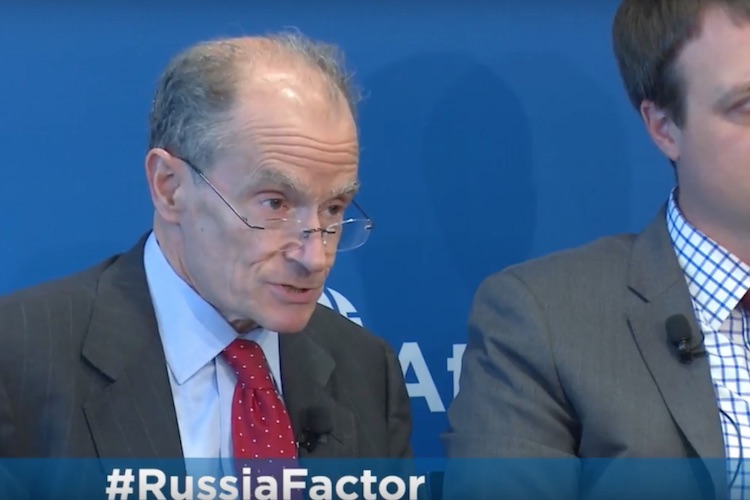 Opening remarks by: 
Amb. Richard Morningstar (Ret.), founding Director and Chairman, Global Energy Center Atlantic Council
A conversation with:
Brian O'Toole, Senior Fellow, Global Business and Economics Program, Atlantic Council
Elizabeth Rosenberg, Senior Fellow and Director, Energy, Economics and Security Program, Center for a New American Security 
Daniel A. Russell, President and CEO, US-Russia Business Council
Caroline Vicini, Deputy Head of the Delegation, Delegation of the European Union to the United States of America
Moderated by:
Amb. Daniel Fried (Ret.), Distinguished Fellow, Future Europe Initiative and Dinu Patriciu Eurasia Center, Atlantic Council
Fried:
It is not usually a good thing to lock sanctions into law, but in this case Congress had assumed that the Trump administration could repeal the Russia sanctions and reacted.
The new law gives the Trump administration leverage in negotiations with Russia on Ukraine in the Normandy format for Moscow to settle as part of the Minsk process.
If there is a Minsk Accords deal, we'll lift the Ukraine-related sanctions. Any other sanctions (related to Russian cyber attacks) are a separate matter.
O'Toole:
One of the pieces of the new law is its extended authority related to cyber; the goal is not to prevent Russian cyber attacks but rather to make a joint US-EU push on this issue.
One of the problematic areas of the new law is related to the defense sector—it's a very broad measure, e.g. against Rostec, which works not just in the defense but also in the civilian sector. In 60 days Congress will issue a more specific guidance on that issue.
The second problematic area concerns the energy sector and pipeline projects, which drew a lot of attention. Congress, however, specifically instructed that the Trump administration needs to work with the EU on coordinating these sanctions.
Other problematic issues include sanctions on specific crude oil projects, which could be devastating for the Russian economy, but there are potential "outs" in the law, and the administration is expected to take them.
There is the operational issue of licensing (an authorization from OFAC, Office of Foreign Assets Control, to engage in a transaction that otherwise would be prohibited, — ed.). Congress, under this authority, puts certain restrictions on OFAC's flexibility to license. It does allow OFAC's day-to-day licensing to make sure that the sanctions work, but it requires a review of any licensing that significantly alters any foreign policy regarding Russia (e.g. delisting certain entities or licensing certain transactions with entities that would bring about a settlement on Minsk).
Finally, OFAC remains critically underfunded and understaffed on the sanctions issue. And the State Department hasn't staffed key positions as well.
Fried:
While working on these sanctions, we collaborated with the EU. And Congress responded to some of the EU's ideas, which was a good decision in retrospect.
Vicini
We saw this bill as being driven by unilateral US interests. We saw an element of Congress wishing to control the administration on the Russian issue, which is also a US internal affair.
We saw that there was a risk of this bill hurting EU legitimate economic interests, in particular energy interests and energy (Russian gas) supply to a number of European countries.
We don't like the fact that sanctions have been enshrined in law because sanctions then become a foreign policy instrument. They should be imposed when things go wrong but also be lifted quickly if things improve. In the US, once sanctions go into law, they tend to stay there for a long time.
However, we are grateful to Congress for listening to our concerns and putting into law that the US administration has to consult and coordinate with its EU allies. We have a good collaboration with the new sanctions team as well.
Russell:
There are a lot of concerns on the business side regarding this bill because it is a departure from the 2014 effort implemented in concert with EU partners.
The first concern is on the US businesses that already operate in the Russian market. The second is on competitiveness, particularly versus European and Asian counterparts. The third is whether the US companies can be viewed as reliable suppliers.
The business community is ready to work with the administration to make sure sanctions don't hurt American business and its competitiveness on the global market. The revised implementation of the law will hopefully provide us with clarity and certainty.
Clarity needs to be provided on definitions (e.g. "significant" transactions or "new" shale oil projects); on particular entities in the Russian defense and intelligence sectors that are covered by the sanctions; on the distinction between "blocking" sanctions and "sectorial" sanctions; on the definition of "Russian export pipelines," etc.
There is a provision on targeting public corruption by senior officials, in which we also need a clear standard. A good place to start could be the OSCE Convention on Combating Bribery by Foreign Public Officials.
Fried (in response to Russell):
I understand your concerns, let us have a discussion. But your job is made more difficult because of Russia's actions in the world. When Russia invades another country and uses various tools to subvert Western democracy, it's going to be harder to do business. That's just a reality today. So let us remember the context of the current situation.
Rosenberg:
This implementation debate has everything to do with politics. It's a very volatile factor. We don't know where the congressional investigations will go, who may be indicted as part of the Mueller process, etc.
What it means is that sanctions as a policy instrument used by Congress to express its frustration with the administration (sometimes at the expense of European partners) will continue to be at play.
As long as the US administration and Congress disagree about how policy toward Russia and sanctions should be handled, we should expect the increasing division on this issue.
As for Congress's push to oversee the issue of sanctions, it doesn't have sufficient apparatus (bureaucratic, intelligence, legal) to handle an aggressive version of that kind of oversight. It does great research work, but is not set up to evaluate whether some of the sanctioned entities should be removed from the list.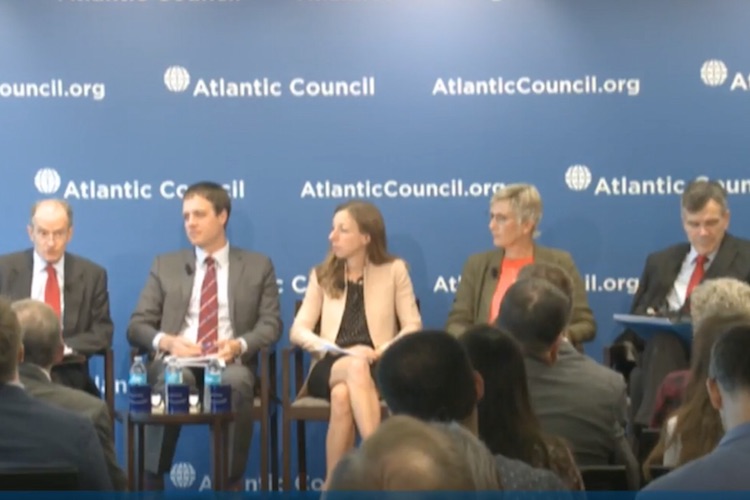 Q&A
What is the reaction from the Kremlin regarding section 241 of the law? And what is your first impression on its implications for Russia's domestic and foreign policy? 
Fried:
Section 241 ("Report on oligarchs and parastatal entities of the Russian Federation") requires the "identification of the most significant senior foreign political figures and oligarchs in the Russian Federation, as determined by their closeness to the Russian regime and their net worth." That's a report, not a new sanction.
Normally, I look at mandated reports like this with skepticism, but not in this case. Many credible Russians have assessed the sanctions on the "cronies"—people personally involved with Putin's finances—as effective. The US and EU already sanctioned a number of such individuals (Timchenko, the Rotenbergs), but this reports seek to identify additional people to add to the list.
I hear there has been certain nervousness among these people as to the implications of this report.
I don't know what the Trump administration will do, but here's what we recommended to the Obama administration. We didn't want to go after the oligarch class, the entire Russian business community, but rather after Putin's close cronies to send a signal that his aggressive actions carry a price.
We won't know for years about the ultimate impact of this. But my current recommendation is to continue to discriminate between independent Russian businessmen—as much as they can be independent from Putin under his regime—and particular individuals who are tied closely to him and his assets.
What is the business community reaction? Will it be tempted to evade the sanctions?
Russell:
The business community reaction is the opposite.
O'Toole:
To do business you need money, and banks are usually much more risk-averse than other business.
The push on sanction evasion targets people who are helping the sanctioned entities to move money overseas. It is focused on bad types of activity, not people doing normal business.
Fried:
The Siemens case was unfortunate and ugly, and there will be additional consequences because they didn't handle it well.
Also, on June 20, OFAC issued an enforcement package, which is just as good as it would have been under the Obama administration. In other words, the quality of OFAC's work has not diminished. I'm sure Moscow noted it.