In this week's Western media highlights, Nicolas Gvosdev, writing for the National Interest, offers several explanations for Vladimir Putin's sudden decision to withdraw Russian troops from Syria. And the Economist's editorial board argues that "Putin's foreign policy is born of weakness and made for television." In the Russian media, Alexander Baunov points out that the pullout should not come as a surprise, since the Kremlin has in fact accomplished all of its major objectives in Syria.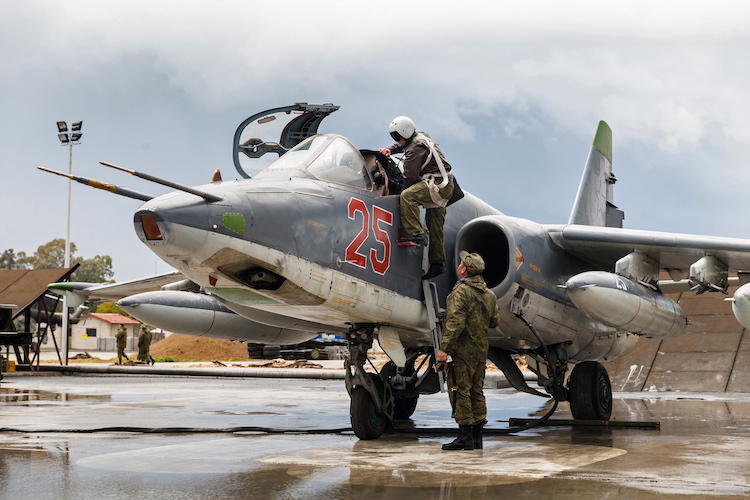 From the West
Nicolas Gvosdev, The National Interest
Nikolas Gvosdev, a scholar of international affairs, considers a variety of explanations for Putin's decision to tamper military activities in Syria. There is the "mission accomplished" scenario, in which Putin had always planned for short-term involvement in Syria; having achieved all of his aims in Syria—namely, to bolster the Assad regime politically and militarily—Putin sees no more reason to remain involved in the conflict. Gvosdev also notes that memories of the USSR's war in Afghanistan (a protracted conflict that continues to hang heavy on Russia's consciousness) might also be informing the Kremlin's calculus in Syria; it might be better for Russia to buttress the Assad regime's proxies (such as Iran's Revolutionary Guards and Hezbollah) than to continue participating in the conflict directly. The fourth scenario is that Moscow is simply making overtures to Saudi Arabia in exchange for improved bilateral relations on issues such as energy. Lastly, Gvosdev wonders if Russia's pullout could be a signal to Damascus that the Kremlin's support is not unconditional—that if the Assad regime fails, its "failure is on [its own] head, not Moscow's."
Lilia Shevtsova, The American Interest
In her latest essay for The American Interest, Lilia Shevtsova focuses on Germany's role in the conflict between Russia and the West. Shevtsova explains that for many years, Germany's attitude toward the Kremlin was quite friendly and business-focused (a policy named "Ostpolitik")—stemming in large part from the country's World War II guilt. Today, however, pro-Kremlin advocates are becoming harder to find among the ranks of the German political elite. Shevtsova writes that "Berlin is facing a truly formidable task: building a balance of engagement and 'push back' at a time when America is trying to shed itself of global responsibilities, when Europe is struggling with an existential crisis, and when the West is still paralyzed by the intellectual and political shocks administered by Putin's Russia." No matter what, Shevtsova believes that Germany is destined to "shape the West's stance toward Global Illiberalism."
The Economist
In this editorial, The Economist dissects the Kremlin's decision to pull out of Syria, noting that "Mr Putin is claiming credit for a ceasefire and the start of peace talks. He has shown off his forces and, heedless of civilian lives, saved the regime of his ally, Bashar al-Assad." The Economist argues that the Kremlin's Syria adventure is a reaction to Putin's political illegitimacy at home; the Russian president has used Crimea, eastern Ukraine, and Syria to buttress his popularity ratings, to make Russia an indispensable interlocutor in foreign affairs, and to shift developments abroad in the Kremlin's favor. In the long run, The Economist's editorial board believes that Russia's internal decline will prevent the Kremlin from pursuing further aggression abroad, but that in the meantime, "Mr Putin [will continue to impose] himself in the old Soviet sphere of influence."
From Russia
Alexander Baunov, Carnegie.ru
Carnegie.ru editor-in-chief Alexander Baunov writes that Russia's pullout from Syria should not come as a surprise, considering that the Kremlin has accomplished all of its major objectives in the war-torn country. Although Russian involvement in Syria has resulted in over a thousand civilian deaths (a toll that includes several hundred Russians from the airliner downed in Egypt), Baunov says that the Kremlin considers "the casualty figure… a small price to pay for changing the facts on the ground in a conflict where a quarter of a million people has perished." Russia has managed to break free of the diplomatic isolation it incurred following the annexation of Crimea; it has buttressed the Assad regime and delivered significant setbacks to anti-government forces; and now it has avoided a potentially dangerous confrontation with regional powers such as Turkey and Saudi Arabia. Although Russia has acquiesced that the Assad regime will eventually relinquish power, it has effectively guaranteed that this transition will be guided by an orderly political process—a development that amounts to a victory for Russia. Meanwhile, Baunov writes, the Russian pullout allows the Kremlin to shirk responsibility if the recently implemented ceasefire fails to hold. The result is that once again, Putin has come out on top.
Konstantin Gaaze, Slon.ru
In this piece for Slon.ru Konstantin Gaaze writes about the course of Putin's leadership. Gaaze speculates that Putin's decision to pull Russian forces from Syria, as well as his appointment of well respected human rights activist Ella Pamfilova to the Central Election Commission could indicate that Putin is embarking on a new path, breaking free from the "conservative revolution" that has defined his regime's policies since 2012. Gaaze emphasizes that this does not indicate liberalization, but rather a turn toward "realpolitik," with electoral considerations at play.
Marat Davletbaev, Forbes Russia
On the second-year anniversary of Putin's annexation of Crimea, Marat Davletbaev comments on the state of the peninsula's government, businesses, and inhabitants. In Crimea, kidnappings and other rights violations occur with alarming regularity, while businesses have been slow to develop there. Davletbaev concludes that average citizens will ultimately be forced to pay for the Kremlin's ambitions—the full cost of which is still to be determined.

 This week's roundup was compiled by Daniel Frey.