The recent trip by Tom Donilon, President Obama's national security advisor, to Moscow has signaled the White House's readiness to improve relations with Vladimir Putin's Kremlin. Donald N. Jensen, Resident Fellow at the Center for Transatlantic Relations at the Johns Hopkins School of Advanced International Studies, argues that the Russian leadership is likely to use this overture to push for more concessions from Washington.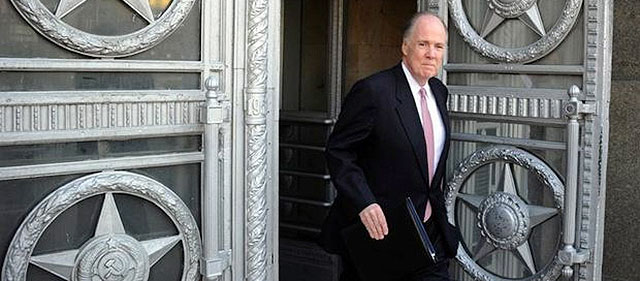 Tom Donilon, President Obama's national security advisor, attempted to reinvigorate the strained relationship between the United States and Russia during his April visit to Moscow. Donilon met with Foreign Minister Sergei Lavrov and other foreign policy and national security officials, and delivered a letter from Obama to Vladimir Putin. Putin later dropped by for about 45 minutes during a meeting between Donilon and his Russian counterpart, Nikolai Patrushev.
According to Russian and US officials, the two sides discussed more cuts in strategic nuclear weapons, expanded cooperation to address missile threats from Iran and North Korea, and Moscow's human rights record. The participants announced that Obama and Putin would meet at a "bilateral summit" in Russia in September (during the G20 summit) and on the sidelines of the G8 meeting in Northern Ireland in mid-June. A White House spokesman described the talks as "comprehensive and constructive," a characterization with which President Putin agreed. Whether this unexpectedly positive atmosphere can continue in the coming months is unclear, since the United States and Russia find themselves on opposite sides of a number of key issues. But the White House, more than the Kremlin, seems intent on moving forward.
The meeting took place in a context of deep strain in the US-Russia relationship, marked most recently by exchanges of lists of officials prohibited from entering each country, Russia's passage of a law banning the adoption of Russian children by US citizens, continuing differences over Syria, Moscow's crackdown against domestic opposition, and the Kremlin's viciously anti-American stance since last year's presidential elections.
The trip was reportedly arranged with difficulty, and the dates were postponed more than once. Until the last minute it was unclear whether Putin would "find time" to meet Donilon. Moreover, on April 14, the day of Donilon's arrival in Moscow, Putin's official spokesman, Dmitri Peskov, gave a radio interview in which he condemned the United States for allegedly initiating the battle of blacklists with its passage of the Magnitsky Act, calling it a "blow to bilateral relations." He stated that the move came at a time when "regional conflicts [and] potential new conflicts dictate the need for rapprochement between Russia and America, since these are two countries that bear the responsibility for global stability." Alexei Pushkov, head of the State Duma's Foreign Affairs Committee, said on the same day that Donilon's visit was not "at the best time" and that he would be "the first to feel the effect of the 'blacklists'."
However, the reception given to Donilon suggests that Russian officials ultimately are interested in going beyond the recent disagreements to work with the United States, albeit largely on Kremlin terms. After Donilon left Moscow, Deputy Foreign Minister Sergei Ryabkov warned that an improvement of ties between the United States and Russia is possible only if Washington takes an "honest and predictable" approach that "desists from attempts to influence Russia's internal affairs." He blamed the current cooling of relations on "unfriendly" actions by the US government, particularly recent "attempts [at] democratization lectures [by] Washington.
The reception given to Donilon suggests that Russian officials are interested in going beyond the recent disagreements to work with the US.
There are also signs that the Kremlin believes the Obama administration is weak and can be bullied into giving Moscow much of what it wants. Comments by Russian officials have placed blame for the downturn in relations primarily on "Russophobes" in the United States, with whom they contend the White House has been "unwilling to struggle for our bilateral cooperation." But Russian officials have also noted with approval that the Obama administration first lobbied against the passage of the Magnitsky Act and then, to the disappointment of many in Congress and the human rights community, cut the final blacklist to a small number of mid-level officials, though it could have included people around Putin. Some experts have long concluded that Obama is presiding over the United States' withdrawal from global leadership.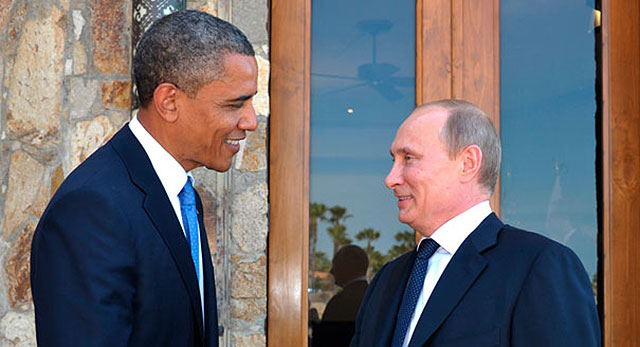 In any case, the issue of human rights in Russia does not appear to be the highest administration priority. Dmitri Suslov, an international relations professor at Moscow's Higher School of Economics, told Voice of America that it seems the Obama administration is putting a higher priority on ensuring Russian cooperation in Afghanistan, North Korea, and Iran. Secretary of State John Kerry, a key White House ally in the Senate last year when the White House sought to stop passage of the Magnitsky Act, praised the United States' and Russia's work on big-ticket issues in a hearing on April 17 before the US House Foreign Affairs Committee. Kerry said he was "hopeful" the two countries can improve bilateral ties despite their disagreements. He also said that critics of Obama's "reset" policy with the Kremlin are ignoring important collaboration between the two countries in areas such as trade, military operations in Afghanistan, arms reduction, and the nuclear ambitions of Iran and North Korea.
These are laudable foreign policy objectives, and indeed, some progress on each of them has been achieved under the "reset." But these positive results have been considerably exaggerated. The logistics center that Russia set up in Ulyanovsk for the purpose of allowing NATO to transport military equipment out of Afghanistan, for example, is not being used because it is too expensive, according to Alexander Vershbow, NATO's deputy secretary-general. Washington lobbied hard for Russian admittance to the World Trade Organization, arguing that membership would improve Russia's international behavior. But earlier this month, Washington sought official clarification of why Russia's customs union regulations conflict with WTO rules.
The Kremlin is likely to see Obama's eagerness for a strategic arms reduction agreement as a chance to press for more concessions.
Moreover, the US administration has downplayed the Kremlin's more authoritarian turn in the past year, a shift that reflects in part the decay of the Putin regime and thus may have serious consequences for US national security. The White House criticized to some extent the Kremlin's expulsion of USAID, its crackdown on nongovernmental organizations, its adoption ban, and its harassment of the political opposition, but it largely saw these setbacks as obstacles to the "reset" rather than as evidence of deeper problems in forging the partnership with the Kremlin it says it wants on key issues.
The Obama administration's current focus appears to be on reaching a new strategic arms reduction agreement with Moscow, a matter in which Russian officials have shown little interest, even given the White House's recent concession on missile defense (Russia's official tone also has softened since the Obama administration's recent announcement that it would curtail its ballistic missile plans, a program the Kremlin has vigorously opposed). The Kremlin is likely to see Obama's eagerness for a strategic arms reduction agreement as a chance to press for more concessions, especially a promise from Washington that it will curtail democracy promotion.
Many Magnitsky Act supporters have reconciled themselves to the fact that the list includes only 18 names by holding out hope that the names of more rights violators can be added later. Indeed, the list may eventually be lengthened, but Donilon's trip to Moscow has shown that such a prospect is highly unlikely to be the result of lobbying by the Obama White House.