The recent visit by U.S. Secretary of State John Kerry to Moscow signaled the Obama administration's desire to improve its relations with the Kremlin. Donald N. Jensen, Resident Fellow at the Center for Transatlantic Relations at the Johns Hopkins School of Advanced International Studies, contends that democracy and human rights are unlikely to be high on Washington's agenda.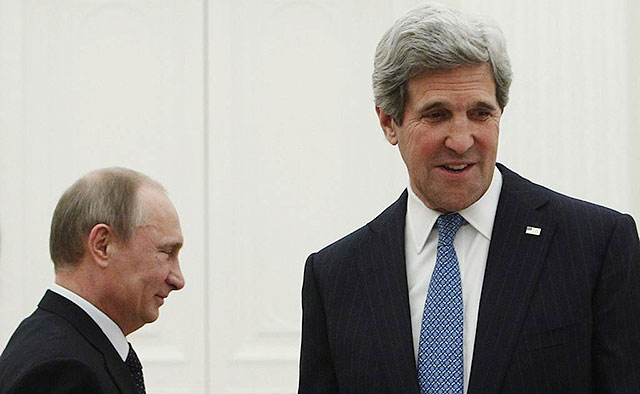 U.S. Secretary of State John Kerry talked for several hours with Russian President Vladimir Putin in the Kremlin on May 7 in what both Washington and Moscow hope will be a step toward a more constructive dialogue on key issues after months of acrimony. Those tensions were driven by distrust, strategic misperceptions, and Moscow's negative reaction to U.S. criticism, though ambivalent, of Putin's crackdown on the domestic opposition after he returned to the Kremlin last year via rigged elections.  The current White House initiative to improve ties began with the recent curtailing of U.S. missile defense plans in Europe and National Security Advisor Tom Donilon's visit to Moscow, where he outlined President Obama's goals for bilateral relations and delivered a letter from Obama to the Russian leader. In addition, Obama and Putin have spoken twice by telephone in recent weeks. It is a reflection of the Obama administration's eagerness to refresh the relationship, moreover, that in a background briefing to journalists on the eve of Kerry's visit, a senior State Department official minimized the serious issues that derailed the now-defunct "reset" by blaming tensions primarily on presidential politics in both countries last year rather than on deeper, more fundamental factors.
The Kremlin, meanwhile, has also been interested in improving relations, but seeks better ties largely on its own terms. High on Moscow's priorities are a deal on missile defense and U.S. acquiescence to a dominant role for Russia in the former Soviet space. Above all, it grumbles, Obama must refrain from what the Kremlin considers U.S. "interference in Russia's domestic affairs." In his meeting last week with Kerry, Putin showed, as in past meetings with other world leaders, that he demands deference before getting down to business, a factor especially important to him given the dubious circumstances surrounding his election in 2012 and his falling public support. After Kerry's motorcade sat in traffic for 30 minutes because of a rehearsal for the Victory Day military parade (a delay likely beyond the control of even the Russian president), Putin kept Kerry waiting for three hours before granting him an audience and fiddled with his pen as the Secretary of State argued that outside intervention was needed to end the bloodshed in Syria.
Putin demands deference, a factor especially important to him given the dubious circumstances surrounding his election in 2012 and his falling public support.
Despite Putin's theatrics, Kerry's visit produced a surprising result: a U.S.-Russia agreement to convene an international conference, as soon as this month, that would bring the Assad government together with Syria's opposition to work out the agreement for a political transition reached in Geneva last June by the UN Security Council. Under that agreement, both the United States and Russia would have veto power over those chosen to attend; although the document did not demand Assad's departure before negotiations could begin. The Obama administration and the Syrian opposition have interpreted the Geneva agreement to mean that they would have a guaranteed veto over the participation of Assad. The Russian government has previously said that excluding Assad in advance would be an unacceptable precondition for the transition talks. In announcing the new initiative last week, both U.S. and Russian diplomats left Assad's fate vague, with Kerry claiming that Washington and Moscow had a "very similar" understanding of what had been agreed to in Geneva.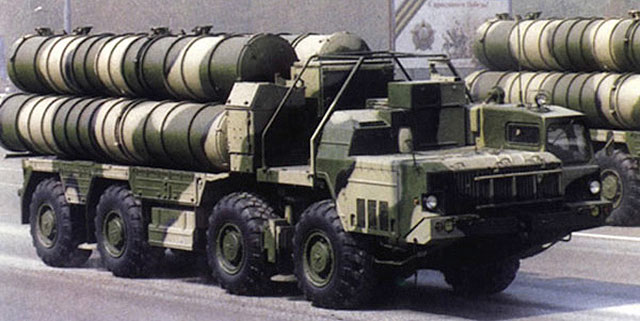 As Kerry departed Moscow, however, the initial public optimism expressed by both sides about the prospects for a conference proved exaggerated.  On May 10, the Russian authorities announced that they would carry out plans to deliver an already purchased S-300 surface-to-air missile system to Syria, an arms transfer that U.S. officials say would significantly strengthen the Assad regime's ability to defend itself. Russian Foreign Minister Sergei Lavrov told reporters in Warsaw that the sale took place long ago and that Russia was merely completing delivery. Kerry said delivery of the weapons, which are far more advanced than anything now in Syria's arsenal, would be destabilizing, threaten Israel and undercut efforts to reach a political agreement. In any case, the S-300 sales give the Kremlin significant diplomatic leverage in the discussions over Syria's fate. There is no evidence that the Secretary's visit improved chances that the Russian government would pressure Assad to talk to the opposition.
At the end of his two-day visit, Kerry met with Russia's leading human rights advocates, a traditional ritual included on the agenda of high-ranking U.S. officials to Moscow. At a meeting in Spaso House, the U.S. Ambassador's residence, Kerry reportedly assured activists that the White House was concerned about the Kremlin's crackdown on nongovernmental organizations and said he had been up until 2AM discussing the situation with Lavrov.  However, many activists were disappointed with the meeting and with Kerry's attempt to mend fences with the Kremlin. "Russia is complicated, we all know." Kerry said after the meeting, "but vital." He refrained from publicly criticizing his Russian hosts and earlier had urged that the U.S. and Russia "keep our eye on our strategic interests."
Human rights activists were disappointed with the meeting and with Kerry's attempt to mend fences with the Kremlin.
Attention now turns to an ambitious schedule of meetings between Obama and Putin in the coming months intended to make progress on concrete issues. The two presidents will meet during the June G8 summit in Northern Ireland, and Putin has invited Obama to Moscow just before the September G20 meeting in St. Petersburg. (Not wishing to appear as a supplicant, Putin evidently has no plans to visit the United States). According to Russian press reports, their agenda includes cooperation on cyber issues, nuclear nonproliferation, the struggle against terrorism, economic ties, as well as further talks on ballistic missile defense. President Obama would also like to see a new strategic arms treaty, a matter in which Moscow has so far shown little interest.  If real achievements are not near by mid-September, the White House has told Russian officials, Obama will step back and make Russia less of a priority.
That the White House will step up its efforts at democracy promotion in these circumstances seems unlikely. Putin is seen as an "acceptable" figure in the West, argues analyst Vladimir Pastukhov in a provocative recent article; someone who has kept control over Russia's vast territory, nuclear arsenal and defended the interests of large multinational companies. Despite some "excesses" such as the Magnitsky case, he argues, Putin suits the "collective Obama." The West has no intention, moreover, of solving Russia's domestic political problems. It will sometimes release reports on the deteriorating human rights situation, says Pastukhov, but will mainly close its eyes to what is happening so long as Putin provides stability. Should that disappear—perhaps as a result of a global financial crisis—the West will interfere and "discover" all sorts of illicit money in its banks. Kerry's visit to Moscow suggests that—for now, at least—the White House expects Putin to be around for a while.