Vladimir Putin and Donald Trump are expected to meet on the sidelines of the G-20 summit, which opens in Osaka on June 28. Despite overwhelming media attention, no "new deal" is in the cards, but both leaders will use the opportunity to score political points.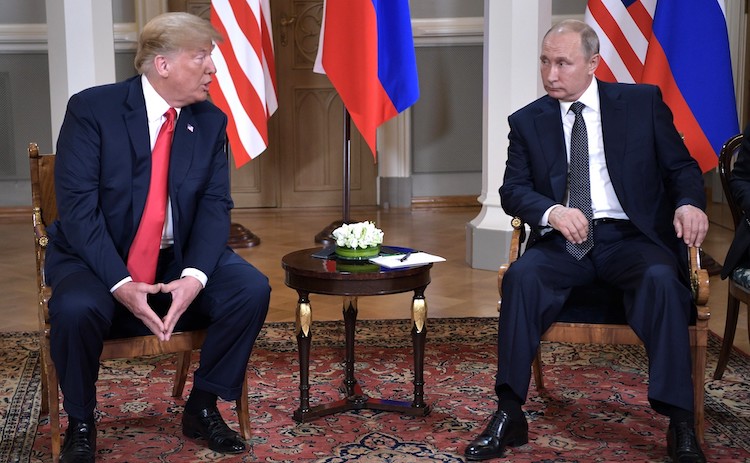 Once the Mueller report established that there had been no collusion between the Trump campaign and the Russian government, Donald Trump resumed his attempts at reaching out to Vladimir Putin. While these efforts continue to mystify observers, including people in Trump's administration, cooperating with Russia on "hot" international issues can help Trump score important foreign policy points at home, especially now that his 2020 re-election campaign has officially kicked off.
The White House contacted Moscow soon after the Mueller report had been finalized. The Kremlin responded positively, albeit cautiously, since the last Trump-Putin meeting at the G-20 summit in Buenos-Aires had been abruptly cancelled one day before it was supposed to take place. However, preparations did not, reportedly, begin until May. (As of this writing, the meeting format had yet to be finalized.) First, on May 6, Secretary of State Mike Pompeo met with Russian Foreign Minister Sergei Lavrov in Finland, and then, on May 14, he had a meeting with Putin in Sochi. Restoration of the bilateral relationship was the official goal of these meetings, but opposing foreign policy objectives and a lengthy list of long-standing grievances on both sides did not allow for much negotiating room.
Still, there is always a set of issues on which Russia and the U.S. can find common ground. For example, with the two countries being nuclear superpowers, the strategic issue of arms control treaties is always part of the agenda. However, this might not be the case this time.
Putin repeatedly spoke about the fact that the New START agreement, signed by presidents Barack Obama and Dmitry Medvedev in 2010, is set to expire in 2021, but so far nothing has been done to renew it. Most recently, he stated, with visible irritation, that "if no one feels like extending [New START], well, we won't do it then." Some Russian experts speculate that, despite Russia's official stance on the issue, Putin is, in fact, not interested in preserving the current arms control treaties, preferring wide discretion.
New START is poised to be the second nuclear treaty to fall apart under with the connivance of both Putin and Trump. Earlier this year, the U.S. suspended its participation in the 1987 Intermediate-Range Nuclear Forces Treaty (INF) over alleged Russian violations, which the Kremlin denies. The fact that the Pentagon recently published and then quickly removed its new doctrine titled "Nuclear Operations," in which the use of nuclear weapons is justified for the sake of "decisive results and the restoration of strategic stability," suggests that Washington is not keen on abiding by the current arms control treaties either. 
This laissez-faire approach was demonstrated on June 12 when Russia's Deputy Foreign Minister Sergei Ryabkov and U.S. Undersecretary of State for Arms Control Andrea Thompson met in Prague to discuss strategic issues. Neither side made an effort to save the INF Treaty (it expires on August 2), or made concrete plans to extend New START.
Beyond arms control, there is still a small set of foreign policy issues on which the U.S. might seek Russia's assistance. At his May 14 meeting with Putin, Pompeo listed some of them—negotiations with Iran and North Korea, and a political solution to the Venezuelan crisis. In turn, Putin signaled that he is interested in talking about Afghanistan, North Korea, Syria, and Iran.   
Some observers speculate that Iran is likely to be the key topic of the Trump-Putin meeting. Last May, the U.S. withdrew from the Iran nuclear deal that had lifted Western economic sanctions in exchange for Iran's rolling back of its nuclear program—a move that Trump had pushed in his election campaign. Despite that, other signatory countries of the agreement—France, Germany, the U.K., China, Russia, and, notably, Iran itself—continue to comply. After months of hawkish rhetoric and growing tensions with Tehran, Trump claimed in May that he was not looking for regime change in Iran. But then, on June 20, following Iran's downing of a U.S. military drone, a U.S. strike against Iran and a consequent full-fledged war suddenly became a real possibility. Still, Trump stood down, opting for a new set of sanctions and signaling that war is not on his agenda. These tactics of pressuring Iran into concessions are similar to Trump's dealings with North Korea, now at a stalemate. Using Russia's help to push through a new deal with Tehran could be the whole point behind Trump's most recent overture to Putin. 
It is not clear, however, how Russia can help, given its own interests in the region, including maintaining Iranian troops in Syria to back up the Assad regime. Still, there are signs that Moscow is assuming the role of mediator between the U.S. and Iran. In late May, Sergei Ryabkov visited Tehran where he cautioned the Iranian leadership against withdrawing from the nuclear deal, for it would trigger a new destabilization in the Middle East. He also offered concrete options as to how the current nuclear deal can be saved. 
But Russia's position in these negotiations remains awkward. This fact was on full display at the Russia-U.S.-Israel meeting that took place on June 25 in Jerusalem, since both the U.S. and Israel are Iran's "sworn enemies." According to the Wall Street Journal, the meeting that brought together top security officials from the three countries—Nikolai Patrushev, John Bolton, and Meir Ben-Shabbat—was an attempt to "coax Russia away from [an] Iran alliance." Efforts are being made in this direction as both Israel and the U.S. have noticed that in Syria "Iranian and Russian interests are beginning to diverge." To their disappointment, Patrushev decisively sided with Iran, deeming it Russia's "ally and partner" and refused to describe it "as the major threat to the regional security." This should not come as a surprise, since Iran's presence in Syria ensures the Kremlin's foothold in the country. Apart from asserting its geopolitical interests in the region, the Russian government is reportedly focusing on catching Syria's "financial windfall" in the form of post-conflict reconstruction funds coming from the West.
As Russian foreign policy expert Vladimir Frolov pointed out, despite the Russian Foreign Ministry's activity in Iran and its efforts to cast Russia as a peacemaker in the Middle East, any expectations that Russia will change its stance on Iran for the sake of improving relations with the U.S. are not rooted in reality. Russia's position has been consistent and is unlikely to change. If Donald Trump wants Putin's help with Iran, the price will be too high to pay. As Putin alleged to Pompeo, it is "a full reversal of U.S. confrontational policies against Russia, including the lifting of all sanctions," writes Frolov. And that is not a feasible option for the White House. 
Given recent deterioration in the bilateral relations, Russia's expectations of the upcoming summit are quite low. In the words of Sergei Lavrov, Moscow is always open for a dialogue with the United States, as long as it's on equal footing, but Washington needs to decide if such a dialogue is not in its interests. He summarized his expectations with an old Russian adage—"love cannot be forced." His deputy Ryabkov echoed this sentiment in a recent interview with Wall Street Journal, cautioning that current U.S.-Russia ties are at the "most dangerous point in years." In this context, any Trump-Putin meeting that doesn't get cancelled or even remotely reminds of a dialogue can be claimed as a "success."
Even with the prevalence of realism in international politics today, and the willingness of both Trump and Putin to seek relationship improvements, the chances that this will happen remain slim. Against this backdrop, the only realistic option left is for both men to spin the outcome, no matter how bleak, into a political "win" at home. There will be lots of talk, but likely no action.
However, the high-profile encounter creates a great opportunity for media and opinion makers to address issues that have been overlooked for quite a while. One such issue highlights the profound differences between the U.S. and Putin's Russia, and partially explains the current stalemate in the bilateral relations. It is the issue of fundamental values and human rights, such as freedom of speech, freedom of conscience, freedom of assembly, and the right to a fair trial, which are constantly violated by the Putin system. A glance at the statistics of the European Court of Human Rights tells a grim story. This year, Russia was reported to have 236 political prisoners—a record high.
Over his almost 20-year-long rule, Putin has centralized the Russian state to the point where most nascent institutions were destroyed, separation of powers virtually vanished, civil society got marginalized, independent media mostly silenced. But the Russian president is not using his enormous powers for Russia's development, rather focusing on personal enrichment and security. Putin's "crony capitalism" stifles the country's economic growth and now threatens the Western democracies. It has been reported that the Russian president might be the richest man in the world, with some estimates of his personal worth amounting to $200 billion, most of which is kept in the offshores and tax havens in the West. 
Focusing on these issues instead of speculating about the Trump-Putin "bromance" can shed light on why a deal between them was impossible in the first place.