In mid-June, a Moscow court sentenced the former US Marine Paul Whelan to 16 years in a maximum-security prison colony on charges of espionage. The harsh verdict, in what many observers see as a sham trial, marked another low point in US-Russia relations. More importantly, it highlighted a worrisome trend—the Kremlin's willingness to take US citizens hostage and use them as bargaining chips in its geopolitical game.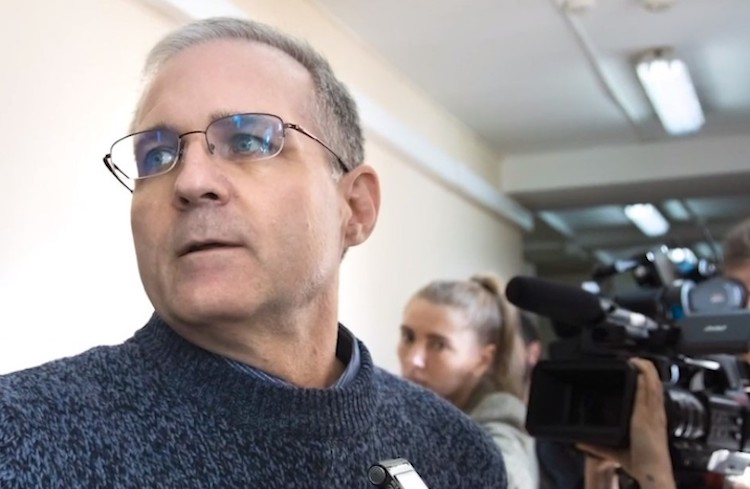 Who is Paul Whelan?
A Canadian-born US citizen from Novi, Michigan, Paul Whelan, 50, was detained outside the Metropol Hotel in Moscow on December 28, 2018. Whelan, a former US Marine, was employed at the time as a security specialist by BorgWarner, an automotive components supplier, which doesn't have offices in Russia. According to his brother, Whelan knew Russia well and had visited many times, and it was for this reason that he had been asked by a fellow ex-Marine to attend a wedding at the historic hotel in central Moscow.
Russian authorities claim that when Whelan was apprehended he was in possession of a flash drive containing the hidden identities of Russian security agents—and not, as Whelan maintained, photos of Russian churches. According to Russia's Federal Security Service (FSB), Whelan had been on a "spy mission"—the accusation reiterated a few weeks later by Foreign Minister Sergey Lavrov, who said that the American had been "caught red-handed." Whelan stayed in custody during the entire trial, which was heard behind closed doors because the accusations allegedly concerned Russian state secrets. The prosecution claimed that Whelan held an officer rank at the US Defense Intelligence Agency ("at least a colonel") and requested a sentence of 18 years for espionage.
Whelan did not admit guilt, expressing his own ire at his treatment and asserting that his arrest was in retaliation for a debt that an FSB officer owed him but refused to pay. According to Kommersant, the officer in question could have been a certain Yatsenko, a major with FSB's Directorate "K" (which deals with economic crimes and financial counterintelligence)—a person who had known Whelan for 10 years and passed on to him the compromised flash drive along with a bottle of whiskey.
At the trial, Whelan explained his interest in Russia in terms of his love for its culture and claimed that "no evidence of espionage has been provided and does not exist." He also added that while the Kremlin believes that "it caught James Bond on a 'spy mission,' in reality they abducted Mr. Bean on holiday." In addition, Whelan complained of medical mistreatment relating to an emergency hernia operation, holding up a sign in court that said, among other things, "Meatball Surgery!"
Article 276 ("Espionage") of the Russian Criminal Code envisions a punishment of up to 20 years of imprisonment. On June 16, the Moscow District Court sentenced Whelan to 16 years, causing a great stir in the US and Russia. "The United States is outraged," announced US Secretary of State Mike Pompeo in reaction to Whelan's conviction, which he said occurred "after a secret trial, with secret evidence, and without appropriate allowances for defense witnesses."
A spy or a bargaining chip?
Is Paul Whelan actually a US spy? While most intelligence experts have argued that he is not, probes into his past have revealed his connections to Russian military personnel, his old VKontakte social media profile with pro-Trump posts, and his four well-used passports (he holds citizenship in the UK, Ireland, and Canada, as well as the US). As puzzling pieces of Whelan's personal history have emerged in Russian and Western media, calls for his release have increasingly been coupled with speculation concerning his "true" identity. Now a highly public enigma, the Paul Whelan depicted in the media seems almost purposefully crafted for a Hollywood spy thriller. This, as it turns out, has made him a picture-perfect political pawn in Vladimir Putin's Russia.
Perhaps a better question is this: In 2020, in the age of rampant mis- and disinformation, does it matter if Paul Whelan is actually a US spy? Russian courts are not judicial, but political, and such an arrest and conviction, "merited" or not, is spurred by various political motivations. Any US citizen detained in a hostile country is a blow to America's perceived global power; experts agree that US-Russia relations have reached their lowest ebb in modern history, making the Whelan scandal especially damaging. As tensions have grown over the past two decades, the Kremlin has pursued increasingly risky strategies to assert its dominance both regionally and beyond. For its own part, the Trump administration's early efforts at easing tensions with Russia have either failed or fizzled. Now the Whelan scandal stands as yet another indication that traditional diplomacy collapses under the force of the Kremlin's brash, authoritarian methods. Russian Deputy Foreign Minister Sergei Ryabkov, in response to Whelan's conviction, stated that relations between the two countries couldn't possibly sink lower, as they have already arrived at the nadir.
The Russian government is likely seeking something more tangible from this political power play than the slow degradation of America's global standing. Since the sentencing, insiders have leaked that Whelan will likely be swapped for two Russians imprisoned in the US—Konstantin Yaroshenko and Viktor Bout.
Yaroshenko had been detained in a DEA sting operation in Liberia in 2010, then flown to New York where he was sentenced to 20 years for attempting to smuggle cocaine into the US. Bout, played by Nicolas Cage in the 2005 movie Lord of War, had been arrested in Thailand on terrorism charges, then extradited to the US, where he was sentenced to 25years for aiding the Revolutionary Armed Forces of Colombia, or the FARC, and plotting to kill US citizens abroad through black-market arms dealings. The Russian government has advocated for the release of both men since their respective imprisonments; some experts believe this is because the Kremlin is afraid that either of them could expose Russia's state secrets while incarcerated. Publicly, however, Russia has been focused on attacking the US extradition laws and extraterritorial operations that brought Yaroshenko and Bout to the US to stand trial. Said one Russian diplomat in response to Yaroshenko's conviction: "We keep on stressing the unacceptability of the situation where a number of Russian citizens fall victim to the application of American legislation and American legislative norms on an exterritorial basis."
Further, Russian officials have consistently condemned the US over its alleged judicial and medical mistreatment of the two men. If Washington excoriates Moscow over the Whelan case, Russian officials may respond in kind. This would be in line with the Kremlin's heavy reliance on whataboutism, the old Soviet tactic of discrediting opponents by painting them as hypocrites. "Free Yaroshenko," said Ryabkov in 2019, and—undoubtedly referring to Whelan—"swap him for an American or Americans who are serving their sentence here." While Russian officials floated such a swap in 2019, they have denied that plans for such an exchange are currently in progress. However, Whelan's lawyer, Vladimir Zherebenkov, has reportedly been told by government officials to prepare for a prisoner swap by forgoing his client's chance to appeal. A week after he had been sentenced, Whelan did just that.
Hostage diplomacy
The Russian government, by orchestrating such a swap, would be engaging in what is known as "hostage diplomacy"—a brazen, transactional strategy whereby a hostile government takes a foreign citizen hostage in order to exchange them for assets held by a targeted country. Ultimately, hostage diplomacy reduces people like Whelan to mere bargaining chips. Russia's long political game focuses on the wider recognition of its zone of influence and the destabilization of the US international position, but in its search for dominance, Moscow will still take a short-term risk if they believe it worthwhile.
As the coronavirus spikes in the US and Russia and both countries' economies continue to falter, Presidents Vladimir Putin and Donald Trump have found themselves enmeshed in domestic crises they would seemingly rather ignore altogether. The lifting of sanctions and the US's exit from Ukraine are likely at the top of Putin's wish list, but the fulfilled promise of Yaroshenko and Bout's return home would be a nice boost to his reputation in the short term. Furthermore, the return home of an ex-Marine might boost Trump's approval ratings—an appealing prospect as his presidential campaign struggles in the polls. While Russian commentator Georgy Bovt argues that no "serious dialogue" can be expected during this pitiful era of US-Russia relations, Bloomberg columnist Eli Lake believes—and his argument is echoed in this editorial from the Washington Post—that the prisoner swap will go forward because it benefits both presidents. While both leaders excel at grandstanding on the international stage, they have found their respective national approval ratings dipping as they struggle to cope with volatile political landscapes at home. Right now, a mutually assured, highly orchestrated PR stunt might be the only thing that the US and Russia can agree on.
Dante Matero is a political analyst writing about US-Russia relations, forced migration, and LGBTQ issues. He recently graduated from the Harriman Institute for Russian, Eurasian, and East European Studies. Follow him on Twitter @MateroDante