Russia scores headlines as it has registered first COVID-19 vaccine, but this would-be "Sputnik moment" is undermined by the country's questionable coronavirus statistics. According to some estimates, over 50 percent of coronavirus-related deaths remain underreported.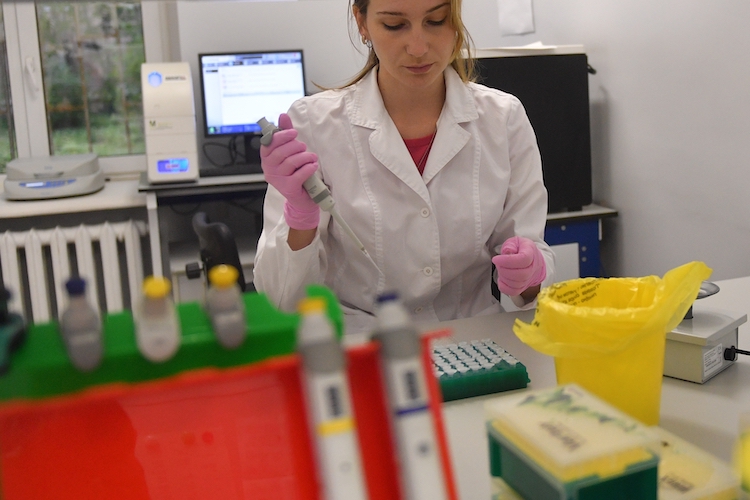 Russian statistics
Russia is among the worst affected countries by the coronavirus. For about two months this summer, it had the third highest number of infections globally, superseded only by the US and Brazil, but has since been overtaken by India. Despite the high rate of infection, Russia's reported death rate has been extremely low—the fact that was called into question as early as April, when the official data from the country confirmed about 70,000 coronavirus infections with only 615 deaths. The deaths-to-infections ratio in the country was suspiciously a fraction of the global average. For instance, as of August 20, the United States has registered over 5.5 million infections and almost 173,000 deaths, while Russia has officially reported over 940,000 infections and only about 16,000 deaths. 
While concerns over COVID-19 statistics are raised in many countries, Russian coronavirus mortality rate stands out in stark contrast to the global average. In fact, Russia's deputy Prime Minister Tatiana Golikova boasted in early May that the country's coronavirus mortality rate is 7.4 times lower than the global average, referring to a ninefold increase in early hospitalization rates as the key reason. She also defied criticisms, claiming that Russia has "never manipulated official statistics".
Still, Russian COVID-19 statistics continue to raise questions. In its reporting on Russia's coronavirus numbers, New York Times pointed out that in April Moscow authorities recorded an increase of 1,700 deaths in the five-year average mortality rate for this month, while the official coronavirus death toll was listed as only 642. Financial Times made a more exhaustive study of this data, concluding that 72 percent or more coronavirus deaths had gone unreported at the time.
Similarly, in its analysis of the coronavirus data in seven Russian regions, independent media outlet MediaZona also found that mortality rate increased in at least seven Russian regions. According to demographer Alexei Raksha quoted in the article, in the Moscow region mortality rate grew by 40-50 percent, while in the Republic of Dagestan this number could be about 80 percent. These numbers are significantly higher than those reported by the officials. Focusing on Dagestan, the Washington Post reported that in mid-May, Dagestan's health minister said that had been 3,500 confirmed cases and 29 deaths in his region. However, accounting for the number of people who had both coronavirus and pneumonia, these numbers shoot up to 13,000 and 650, respectively.
Media reports are corroborated by the polls. European research organization ESOMAR teamed up with Russia's Levada Center and Public Opinion Foundation to poll 502 Russian medical personnel in mid-June. According to the results, almost half of the respondents (49 percent) believe that the number of coronavirus cases in Russia is underreported, while 47 percent said that they doubted official death numbers. Only 23 percent noted that official statistics were accurate.
Possible explanations 
It is possible that inconsistencies can be partially explained by varying definitions of what counts as a "coronavirus death" versus coronavirus comorbidities. According to Vladimir Shkolnikov of the Max Planck Institute for Demographic Research, official statistics during pandemics are hardly ever accurate due to numerous factors, including specifics of the national data-collecting systems, such as what is indicated as a cause of death in patients with pre-existing conditions and whether these patients are included in statistics if they also had coronavirus at the time of death. 
Meduza's investigation into Russia's statistical peculiarities revealed that authorities tend to downplay coronavirus deaths by indicating pre-existing conditions as the cause of death even if comorbidity with COVD-19 had been observed. This approach differs from the practice in other countries, such as the US, UK, and Italy, where all coronavirus deaths are included in the statistics. As a result, Russia's coronavirus mortality rate appears to be one third of these countries' numbers.
Addressing publicly Russia's COVID-19 situation in June, Putin spoke on several occasions about the retreat of the pandemic and the country's winning the fight against coronavirus. Whether directly or indirectly, the Kremlin seems to have pressured local authorities to report сoronavirus figures in accordance with the official narrative. 
Domestic interest
Around the globe, coronavirus infection and death rates have become a highly politicized litmus test for leadership and public policy, and Russia is no exception. Back in early March, as coronavirus was sprawling across Europe, Russia boasted a relatively small number of infections (although these data were viewed skeptically), and the Kremlin, which at the time was focused on the constitutional reform proposed by Vladimir Putin, assured that the public had nothing to worry about.
The attitude changed drastically within weeks when the Kremlin opted for a countrywide lockdown to stop the rapidly spreading virus. The strict measures were relaxed in early May—much sooner than in most of Europe—and later that month Putin claimed that Russia had passed the peak of coronavirus infections.
Many independent observers pointed out that the Kremlin's actions were guided not by concerns for the public health but rather political interests—the ultimate goal was to hold the constitutional referendum at the end of June along with the Victory Day parade marking 75th anniversary of the Soviet Union's victory in World War II. The former was originally scheduled for April 22, while the latter normally takes place on May 9, but this year both events had to be rescheduled due to coronavirus—to the Kremlin's great displeasure. Despite warnings from the World Health Organization, both the referendum and the parade were successfully put into action. By now, life in Russia has largely nearly returned to normal, with the exception of closed borders.
International agenda
The COVID-19 pandemic has presented Russia with a new opportunity to exploit vulnerabilities of the Western systems and present itself as a competent leader on the world stage. Russian official media narratives propagate that the country's low death rate showcases Putin's successful crisis management style as compared to the implied mismanagement by the US and Europe.
As hundreds of laboratories worldwide have worked tirelessly to develop a vaccine against coronavirus, Russia has seen this as an opportunity to beat the West to the punch. On August 11, Putin himself reported that Russia became the first country in the world to register the vaccine, which was named "Sputnik V." In the runup to Putin's announcement, Kirill Dmitriev, the head of of Russia's Direct Investment Fund (RDIF), which was responsible for financing vaccine research, called this a "Sputnik moment". He said, "Americans were surprised when they heard Sputnik's beeping. It's the same with this vaccine. Russia will have got there first."
To what extent this beeping "Sputnik" will prove a solution to the coronavirus is yet to be seen. While Russia has fast-tracked the production of the vaccine, it has not yet finished the second round of trials and intends to conduct the third round of trials while concurrently giving the vaccine to front-line medical staff. Russian officials have promised to release peer-reviewed data supporting their vaccine in early August, but this information has not yet appeared. While the effectiveness and safety of the vaccine is yet to be determined, Russia is clearly hoping to preempt vaccine alternatives from the US, some of which are already in the third round of trials.
How important is this vaccine for Russia? While it is still too early to talk about effectiveness, Kirill Dmitriev claims that 20 countries have reached out to purchase about one billion doses vaccine. While the unorthodox approval process may prevent the vaccine from being approved for use in the US and parts of Europe, the intent is clear: the Kremlin would not only get a substantial financial windfall from a successful cure, but it would also gain international respect as a scientific center and frustrate the US, which has spent over nine billion dollars on efforts to develop and manufacture a vaccine.
Although Russia managed to score a big PR point and seems confident in its COVID-19 cure, the US should not concede the new "space race" until Russia's project is off the ground. Given Russia's history with the virus, it is entirely possible that this vaccine is simply the embellishment of an unfinished project. Much like the confusing definitions surrounding the rate of COVID-related deaths, medical professionals, experts, and policymakers must all be clear what it means to have an effective vaccine, and understand what corners were cut, if any, in order to push it into production as soon as possible.
* Robert Ian Abbott is a specialist in Russian and Belarusian politics. He is a recent graduate of Columbia University's Harriman Institute for Russian, Eurasian, and East European Studies. Robert can be reached via LinkedIn.