The third wave of the coronavirus pandemic is clearly underway in Russia, but the Russian authorities continue their strategy of avoiding addressing the issue directly. When they do, they usually resort to blunt denials or euphemisms, such as calling lockdown measures "nonworking days." The Kremlin's political manipulations regarding the pandemic is clearly a contributing factor to Russia's low vaccination rates, despite the country's highly publicized registration of the first-in-the-world coronavirus vaccine. This means that Russia is likely to suffer from the pandemic's consequences well after other developed countries will return to normal life.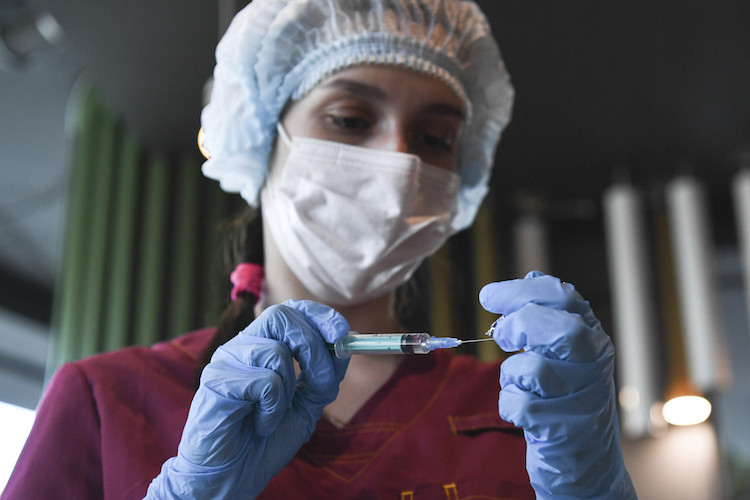 In mid-May, a steady increase in Russia's official number of coronavirus infections prompted public speculations on the possibility of a third wave of COVID-19. In mid-May, Alexander Myasnikov, a celebrity doctor who serves as chief physician at one of Moscow's clinics and is known for his pro-Kremlin views, suggested that the third wave is underway and might last for about three months. However, in early June, despite the continuous rise in infections, Russia's deputy prime minister Andrei Belousov denied the possibility of a third wave, while health minister Mikhail Murashko said the infection rates are, in fact, declining, but called for the public to get vaccinated. Still, on June 12, Moscow mayor Sergei Sobyanin decreed that this entire week (June 12–20) will be "nonworking" and imposed a series of restrictions due to the increasing rate of infections in the capital (over 9,000 new cases as of June 17). And on June 16, he went as far as imposing "mandatory" vaccination for at least 60 percent of the service sector's employees. Three other regions immediately followed suit.
This confusing messaging points to the Russian government's paradoxical approach to dealing with the pandemic, in which statistics are unclear, government-aligned speakers voice contradictory information—some downplaying the pandemic's effects, others calling for people to get vaccinated—and the state media ridicule strict measures imposed by Western countries. This approach has been in place since the beginning of the pandemic and destines Russia to continue grappling with it, while the West is seeing light at the end of the tunnel.
Still, unlike other populist leaders, such as Brazil's Jair Bolsonaro or former U.S. president Donald Trump, who boldly downplayed coronavirus risks and resisted lockdown measures, Vladimir Putin has been relatively cautious in his approach. Personally, Putin maintained a strict regime of social distancing, withdrawing to his official residence in Sochi. On the national level, however, the Kremlin engaged in political technologies and perfidious political language to maintain the façade of competence and mold public perceptions in ways that benefited the regime. Russia, for instance, never entered a national lockdown; instead, it had several periods that the government euphemistically termed "nonworking days." Decisions on specific restrictions were delegated to the regional authorities, allowing the Kremlin to maintain a safe distance from possible public discontent or pushback. Russia has also routinely lowered its officialmortality rates, drawing skepticism around the world. 
Deriding Western countries for their strict lockdown measures is another feature of the Russian media's response to the pandemic. Russian state media built a narrative highlighting what they claimed were double standards about civil rights and democratic freedoms. Whereas Western media outlets published trackers of worldwide coronavirus infection rates, RT, for instance, created the so-called "COVID-19 Freedom Index" which tracks the volume of restrictions imposed in various countries. Russia, according to this index, is freer than most of Europe. Russian national television networks continued this Orwellian manipulation of the meaning of freedom by presenting Western countries' approach to dealing with the pandemic as unnecessarily draconian and inefficient. Russia's Foreign Minister Sergei Lavrov joined the trend. During his March 2021 trip to China he was photographed wearing a mask emblazoned with the letters: "FCKNG QRNTN."
This approach of obfuscation, deflection, and trolling is not new to the Putin regime. In recent decades, the Kremlin has developed a toolkit of political technologies to divert criticism and sow distrust through propaganda, disinformation, and smear campaigns that also target the West. In pre-pandemic times, the Kremlin used these tools foster apathy and passivity in Russian society—a typical feature of hybrid and authoritarian regimes that benefit from reduced public and political participation. This helped preserve political power in the same hands for over 20 years.But in the midst of the current global health crisis, this approach backfires in a big way.
Despite having a working vaccine, the Russian government finds itself in an adverse position in the fight against the pandemic.
One clear consequence of this government-backed campaign to induce public distrust and passivity is Russia's low vaccination rates, despite being the first country in the world to register a coronavirus vaccine, Sputnik V. As of late May, only 9.5 percent of the population was reportedly vaccinated, causing Russia to rank 57th among other countries, way below Mongolia (5th) and Hungary (9th), where Sputnik V is also available, among other vaccines.
Russia announced its registration of Sputnik V in August 2020, but while the news attracted global media attention, it was controversial: at the time of registration, the vaccine had only undergone two of three required phases of clinical trials, triggering a wave of skepticism across the world. Still, despite criticisms, it was eventually recognized as safe by the prestigious peer-reviewed journal The Lancet, with a 91.6 percent efficacy rate—on par with the vaccines developed by Pfizer and Moderna. Since then, Russia has registered two more vaccines—EpiVacCorona and CoviVac (both are only available domestically)—and ramped up production, but these efforts have had scant effect on vaccination rates.
Recent polls and focus groups conducted by the independent Levada Center reveal that distrust in the government and its vaccine is a major obstacle to mass vaccination in Russia. The government's branding of vaccination as "voluntary" was also perceived by the Russian people as a signal that it is optional. As a result, the public, which was already on the fence regarding vaccination, maintained its usual passive, wait-and-see strategy. 
This is hardly surprising: years of the Kremlin's lies, manipulation, and blending of truth and lies have clearly groomed the public for this particular attitude. Despite having a working vaccine, the Russian government finds itself in an adverse position in the fight against the pandemic. Putin's March decision to get vaccinated off-camera and not to reveal which vaccine he had received was yet another missed opportunity for the Russian government to convince the public that Russian vaccines are safe and effective. As of late April, 62 percent of the population was against vaccination, signalling that the Kremlin's approach failed. Given these numbers, the Russian government is unlikely to make vaccination mandatory and risk a public backlash, especially in the runup to the parliamentary elections slated for September. 
The irony is that despite having a clear advantage—a safe and effective vaccine—which could have been used to elevate Russia's strength, the Kremlin managed to undermine it through misguided policy decisions, absence of public trust, and lack of interest in public health and safety. This is an inherent flaw—and weakness—of the Putin regime that has become particularly clear in the current crisis.
* Vera Michlin-Shapir is an expert on Russian foreign and defence policies, as well as Russian politics and media. She worked at the Israeli National Security Council, Prime Minister's Office, 2010–2016.