On August 6, Michael Calvey, one of Russia's most prominent foreign investors, was sentenced to five and a half years of suspended prison term for embezzlement in a case that has become "emblematic of the country's reputation as an often treacherous place to do business." Earlier this summer, similar conclusions were drawn in a report titled "Reiderstvo 2.0: The Illegal Raiding Pandemic in Russia," which was prepared by the Terrorism, Transnational Crime and Corruption Center (TraCCC) at George Mason University. IMR reviews the report, which highlights reiderstvo's "devastating effects" on Russian business.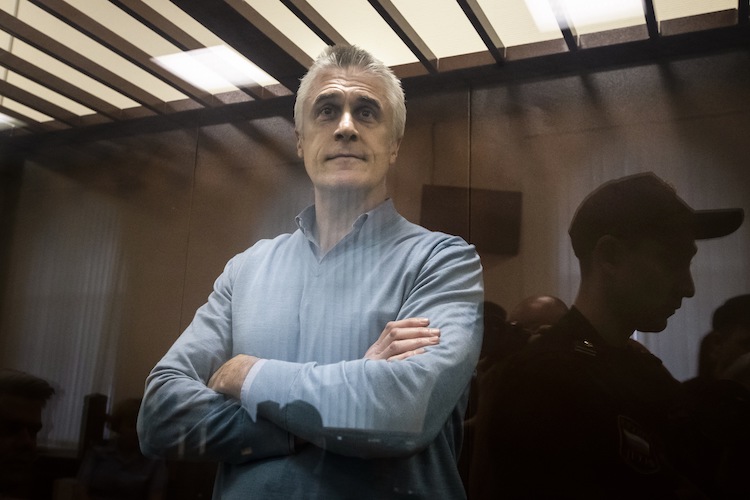 Reiderstvo and the Russian government
Building on a prior report and research, "Reiderstvo 2.0: The Illegal Raiding Pandemic in Russia" provides an analysis of new trends, the most common methods and tactics in recent raiding cases, and their connections with corruption and other types of criminal activities in Russia. 
The Russian word reiderstvo is derived from the term "corporate raiding." The acquisition of a business through reiderstvo is done for short-term gain, often for the purpose of stripping the business of its assets. Technically, the acquisition may be legal, but the methods of the transfer are often semi-legal or outright illegal and can include corrupt collusion with state institutions and law enforcement. The current trend, which became more obvious over the last five years, has been categorized in the report as "a pandemic of illegal raiding" due to the substantial rise in illegal raid cases and the criminal prosecution of entrepreneurs. This report follows up on the 2016 TraCCC report, "The Rise of Reiderstvo: Implications for Russia and the West."
The raids have "devastating effects on Russian businesses, already weakened by financial and social disruption caused by COVID-19 restrictions and lockdowns," an effect the report calls "a double burden." Russia's leaders are well aware of the damage to Russia's business climate, but in many cases, they are either the beneficiaries of or active participants in illegal raiding.
With the rise of illegal raiding, and the frequent connections with state institutions and law enforcement, a mistrust in law enforcement and courts continues to grow in Russia, with the vast majority of entrepreneurs (over 80 percent) believing that the justice system is neither independent nor objective. The vast majority of entrepreneurs say it is unsafe to do business in the country. In 2019, according to the report, the office of the Russian business ombudsman Boris Titov received "over 24,000 complaints from entrepreneurs about violations of their rights by Russian authorities, which constituted a 24-percent increase compared to 2018." Russia's Federal Guard Service, an executive body headed by president Vladimir Putin that is responsible for policies on communications and information provided to the government, conducted its own survey in 2019, which found that "70.7 percent of respondents did not have trust in the Russian judicial system, while 66.7 percent of them also did not trust law enforcement."
→ Read about Russia's legal arbitrariness here: How Russian authorities use selective law enforcement 
To a certain extent, Russia's political elite showed a willingness to tackle low-ranking and mid-level corruption and illegal raiding, including the passing of the 2010 package of anti-corruption laws, selective arrests of corrupt officials, the creation of Russia's business ombudsman office, and the 2016 and 2020 temporary bans on regulatory inspections of small and mid-sized businesses. In 2016, Putin created a working group of federal executives and business associations that developed amendments to the Criminal Code to prevent unjustified criminal prosecution of entrepreneurs and illegal raiding. The report states that these attempts had "some limited success," but, despite these efforts, both the number of entrepreneurial complaints about illegal raiding and the number of economic crime cases continued to increase.
Cases 
This hostile business environment damages Russia's economy, as many Russian entrepreneurs have left the country and now live and work in self-imposed exile. Among them is Yevgeny Chichvarkin, who has been residing in London since his company Yevroset, Russia's largest mobile phone retailer, was raided and he was charged with extortion and kidnapping (the company was eventually liquidated in 2020). Although all charges against him were dropped in 2011, he refuses to return to Russia under the current political regime. Another prominent Russian entrepreneur who lives in self-imposed exile is Pavel Durov, the founder of Telegram messenger and VKontakte (VK), Russia's most successful social network. 
Recognizing this issue, Boris Titov, a politician who ran for president in 2018 on a ticket that promised economic growth, launched a campaign called "Titov's List" to repatriate foreign-based Russian businesspeople in return for amnesty. One hundred thirty-six people reportedly showed interest in returning. However, the first person from Titov's List to return to Russia, Andrei Kokovkin, director of a company called Torgovy Dom Grif, was arrested upon arrival and eventually given a suspended sentence. Titov ended this initiative over concerns that more businesspeople might face arrest upon arrival.
Moreover, raids against well-known Western investors have contributed to the hesitancy of foreign investors to do business in Russia. Michael Calvey's case, which recently resulted in a guilty verdict with a five-and-a-half-years suspended sentence (the prosecution requested a suspended prison term of six years), has been one of the highest-profile cases. The verdict comes as no surprise: the same judge who heard the Sergei Magnitsky case was assigned to preside over the Calvey case. In 2008, Magnitsky, a tax advisor, exposed a $230 million fraud involving Russian tax officials, for which he was arrested and died after eleven months in police custody, during which he was severely beaten.
Calvey, the founder of the Baring Vostok investment fund, was detained in Moscow in February 2019, along with five colleagues, for allegedly defrauding Russian businessman Artem Avetisyan, an associate of Putin. Calvey maintains that the real reason for the arrest was his successful suit against Avetisyan in a separate business dispute in London, which led the latter to use his government connections for revenge. With Calvey's conviction, Avetisyan stands to collect millions of dollars. Calvey's arrest in 2019 caused an uproar in the Russian business community, representing the "criminalization of a business dispute" and signaling the country's indifference to foreign investment.
International Implications
With Russia's integration into the world economy, the reiderstvo problem is no longer contained within Russian borders. As the report points out, illicit financial gains from raiding are "laundered into the international financial system, and this inflow of dirty money contributes to the corrosion of financial and political institutions of the recipient countries." Russian raiders often misuse legal procedures in Western courts and arbitration by requesting legal actions against victims of raiding attacks based on the rulings of Russian courts. It is then up to Western judges to decide whether these foreign judgments were valid. However, the report stresses that "the ability of raiders and corrupt officials to exploit legal proceedings in Western countries depends on whether judges are aware of corruption in Russia and other authoritarian countries."
Western efforts to punish Russian public officials engaged in illegal business raiding, corruption, and human rights violations have grown in recent years. The Sergei Magnitsky Rule of Law Accountability Act of 2012 and the subsequent Global Magnitsky Human Rights Accountability Act of 2016 proved effective in targeting some of the high-ranking officials by freezing their property and banning them from entering the U.S. However, the amount and scale of illegal activities far outpace these efforts. 
Until the Magnitsky case, illegal business raiding in Russia was seen by the outside world primarily as a Russian domestic issue. Yet, since raiding cases have increasingly gone to foreign courts and arbitration bodies for litigation, the report stresses the importance "that Western experts learn how to identify the 'red flags' of a raiding case" and argues that understanding reiderstvo should be a much higher international priority, given its impact on today's increasingly globalized financial and legal world.
***
Three experts in the field of terrorism, crime, and corruption contributed to the TraCCC report:
Yulia Krylova, postdoctoral research scholar at TraCCC and author of Corruption and the Russian Economy: How Administrative Corruption Undermines Entrepreneurship and Economic Opportunities (Routledge, 2018).
Judy Deane, deputy director at TraCCC, retired Foreign Service Officer specializing in Central Europe and Eurasia, who served in Poland, Czechoslovakia, Mongolia, and Russia and worked in the Europe and Central Asia Division of the World Bank.
Louise Shelley, professor at George Mason University, founder and now director of TraCCC, and author of Dirty Entanglements: Corruption, Crime and Terrorism (Cambridge, 2015) and Policing Soviet Society (Routledge, 1996). She also served on the Global Agenda Council on Illicit Trade and Organized Crime of the World Economic Forum.
* Liya Wizevich is a leadership team member at the Stanford U.S.-Russia Forum. She holds B.A. in Russian and East European Studies from the University of Pennsylvania and M.Phil. in History from the University of Cambridge.