The Russian escalation across the Ukrainian border, tensions between Kyiv and Minsk, and a possible energy crisis as the cold season approaches could further push down the declining ratings of Ukrainian President Volodymyr Zelensky, who will need to act more assertively against his opponents. This can provoke a serious conflict with Ukraine, which will work to Moscow's advantage.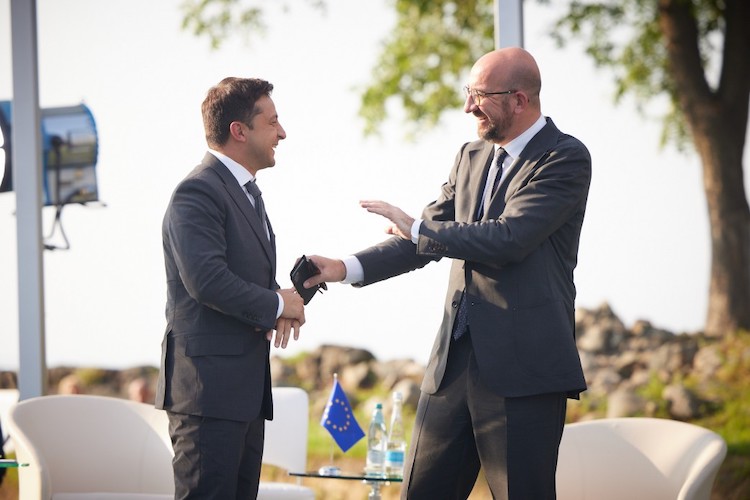 On November 1, Politico released satellite images that show a massive accumulation of Russian armed forces in the Kursk and Bryansk regions—along the northern Ukrainian border. According to Süddeutsche Zeitung, the U.S. had earlier warned its EU partners, through diplomatic channels, about the threat of a possible escalation in Donbass due to the high concentration of Russian armed forces across the Ukrainian border. The Mirror also reported that 600 British troops could be dispatched to Ukraine in case of a Russian invasion. UK Prime Minister Boris Johnson noted that it would be "a tragic mistake for the Kremlin to think there was anything to be gained by military adventurism [against Ukraine]." And in the words of NATO Secretary General Jens Stoltenberg, the Alliance command remains "hypervigilant" and is ready "for any development of the situation" on the border between Russia and the Ukraine.
The tensions have kept growing following Pentagon head Lloyd Austin's recent visit to Kyiv, during which Ukraine's possible admission to NATO was discussed. During his visit, Austin noted that "no third country has a veto over NATO's membership decisions. Ukraine has a right to decide on its own future foreign policy." After this visit, Ukraine's armed forces received military aid amounting to $60 million as part of the U.S. pledged assistance, including Javelin anti-tank missiles, medical equipment, and other military technology. Also of note, on October 26, Ukraine deployed the Turkish Bayraktar unmanned combat plane against pro-Russian separatists and regular Russian forces in Donbass for the first time, which caused significant anxiety in Moscow. 
Such a significant presence of Russian armed forces at the Ukrainian border has not been observed since April. During his recent visit to Moscow, CIA director William Burns, besides official meetings, had a phone conversation with President Putin on cybersecurity issues, during which he emphasized that Russia must "react to [malign activities] being conducted from its territory." According to the Russian president's spokesperson, the two officials also spoke about regional conflicts. 
Clearly, the escalation at the Ukrainian border, as well as the migrant crisis orchestrated by Minsk at the Polish-Belarusian border, is causing anxiety in Kyiv. Ukrainian authorities are gearing up for mock defense drills on the Belarusian border, including the dispatch of 8,500 additional troops, border guards, and National Guard officers. In mid-November, Ukrainian President Volodymyr Zelensky and President of the European Council Charles Michel also agreed to coordinate steps to counteract hybrid attacks on the Polish border.
In addition to external challenges, Zelensky's team currently faces a number of internal  crises, which have political consequences for the current government. Primarily, this is connected to journalistic investigations into Zelensky's circle, including an article published by Bellingcat and The Insider, titled "Inside Wagnergate: Ukraine's Brazen Sting Operation to Snare Russian Mercenaries." According to the investigation, since 2018, the Ukrainian intelligence services have been working on a secret operation to arrest 33 mercenaries of the Wagner private military group (a Russian company allegedly controlled by Yevgeny Prigozhyn, a Putin associate) who had participated in military actions in Donbass. At the last moment the operation was blown, all troops were arrested in Minsk on July 29, 2020, and then sent back to Russia. The Ukrainian opposition, as well as a number of journalists, have accused Zelensky's office of leaking information about the special op to the Russians.
These and other scandals have shaken up the government's position. Recent polls by the Razumkov Center show that 31.9 percent of Ukrainians would not vote for Zelensky in the presidential election "under any circumstances." According to other data, only 25 percent of Ukrainians would vote for Zelensky, but that would still win him the election (his runner-up opponent Petro Poroshenko is polling at 13 percent).
With the beginning of the cold season, possible disruptions in the energy supply and resulting tariff hikes are likely, which means that the Ukrainian government's ratings could decline even further. In this case, Zelensky will have to act more assertively, including against his political opponents, and resort to unpopular measures, which can lead to serious social unrest in the nearest future. This scenario would be most advantageous to Moscow, which could expand its aggression against Ukraine.
* Mykola Vorobiov is a Ukrainian journalist and a visiting scholar at Johns Hopkins University (SAIS).
Text translation: Elizaveta Agarkova.