Russia's negotiations on security guarantees with the U.S., NATO, and the OSCE took place on January 10-13, in Europe. After three rounds of talks, the parties' positions remained unchanged—disagreement on key issues persists, and if they are not resolved, no significant results can be expected. Yet, at this point, the very fact that the negotiations took place and did not lead to outright failure could be a sign of progress.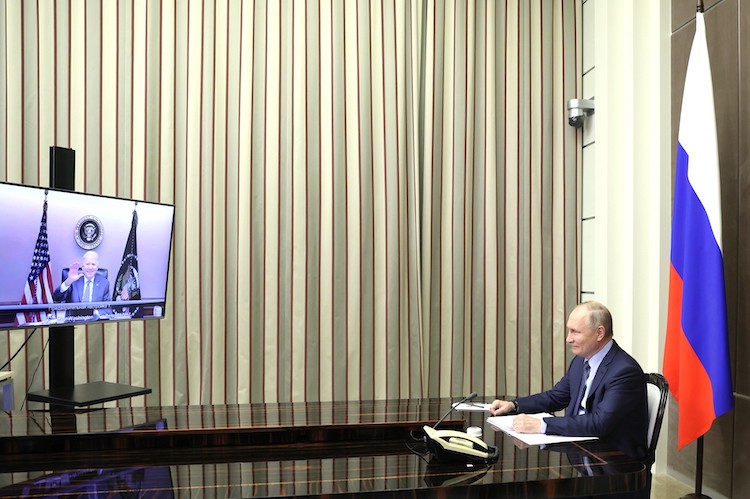 Presidents Joe Biden and Vladimir Putin agreed to hold bilateral negotiations following their December 7 video conference and December 30 phone call. According to Putin's press secretary Dmitry Peskov, the two leaders had to talk due to the "extraordinary" escalation of tensions, which "required private discussion at the highest level."
During his conversation with Biden, Putin emphasized that "it is NATO that has dangerous designs on Ukrainian territory and is growing its military potential right on Russia's borders. Therefore, Russia has a serious interest in receiving secure,legally established guarantees, which exclude NATO's eastern expansion and placement of offensive weapons systems in countries bordering Russia." Additionally, Moscow suggested "annulling" all previously established mutual restrictions on the work of diplomatic missions.
For his part, President Biden expressed deep concern with the Russian military build-up along the Ukrainian border and clearly indicated that, in the case of military escalation, the U.S. and its allies would respond with resolute economic or other measures.
On December 17, the Russian Ministry of Foreign Affairs published a set of draft treaties on security guarantees between Russia and the U.S. as well as between Russia and NATO member states. As follows from the documents, Russia's main demands for NATO are: to exclude further expansion and Ukraine's joining of the alliance; to cease all military activity in Ukraine, Eastern Europe, South Caucasus, and Central Asia; and to rule out the deployment of short- and intermediate-range missiles in regions within range of targets on Russian soil.
Commenting on Moscow's proposal, NATO Secretary General Jens Stoltenberg said that "the idea of holding a new conference to again discuss zones of influence, within which the 'great powers' could control what their neighbors can or cannot do, would be a step backwards for us, and it is by no means the right direction." White House Press Secretary Jen Psaki, in turn, noted that the U.S. "will not compromise the key principles on which European security is built, including that all countries have the right to decide their own future and foreign policy, free from outside interference." 
The day before the start of the U.S.-Russian negotiations in Geneva, Russia's Deputy Minister of Foreign Affairs Sergei Ryabkov demanded, in ultimatum terms, that NATO "return to its 1997 borders." In his words, over the past decades the alliance "has been striving to push [Russia] back and drive it, if not into the role of a subordinate, then in any case into a secondary role in European and international politics." 
It is clear that Ryabkov is referring to the Founding Act on Mutual Relations, Cooperation and Security between NATO and the Russian Federation (NRFA), signed on May 27, 1997, when then Russian President Boris Yeltsin attempted to secure Russia's veto rights on NATO's further eastward expansion, but failed. The document only included a provision on NATO's rejection of deploying nuclear weapons on the territories of new Alliance members. Nonetheless, Yeltsin made a public statement that he had managed to extract non-expansion guarantees from NATO, and used this "achievement" as leverage in domestic political battles. As a result, this is the document that the Kremlin typically alludes to when chiding the West for not abiding by its agreements; since 1997, 14 more countries have joined NATO, including former member countries of the Warsaw Pact.
On the day of the Russia-NATO Council session in Brussels, a group of 25 U.S. Democratic senators introduced in Congress the Defending Ukraine Sovereignty Act of 2022, which envisions new sanctions against Russia if the Ukraine crisis escalates. The document also makes provisions for serious individual sanctions against President Vladimir Putin personally, as well as Prime Minister Mikhail Mishustin, Foreign Minister Sergei Lavrov, and Defense Minister Sergei Shoigu and other top military officials. 
In response, Russian State Duma Speaker Vyacheslav Volodin urged the U.S. Congress to discuss the proposed agreements rather than intimidate Russia with sanctions, adding that "Russia has weapons which no other country possesses"—which can be interpreted as a direct threat. 
On January 13, Ryabkov claimed that the Russia-U.S.-NATO talks had reached an impasse, since the U.S. and its allies were not ready to accommodate Moscow's demands. In the diplomat's words, the sides' positions on key issues, such as mutual security guarantees suggested by the Kremlin earlier, were polar opposite. 
On the whole, the January negotiations showed that a dialogue is still possible between Russia and the West, so the "window of diplomacy" remains open, for now. On the other hand, the harsh rhetoric and blatant threats to the West voiced by Russia's top officials suggest that it is too early to discuss a normalization of the relationship. It may be assumed that the parties will now concentrate on accumulating power, including military resources, and seeking more serious arguments to press their opponents.
* Mykola Vorobiov is a Ukrainian journalist and visiting scholar at Johns Hopkins University (SAIS).
Text translation: Elizaveta Agarkova.