As Russia's economy slows, corruption worsens, and current Prime Minister Dmitri Medvedev's political stature shrinks, former finance minister Alexei Kudrin's name is mentioned more and more frequently as a potential candidate for Russia's next prime minister. However, Donald N. Jensen, Resident Fellow at the Center for Transatlantic Relations at the Johns Hopkins School of Advanced International Studies, argues that, given Russia's current political and economic uncertainty, it is not likely to happen.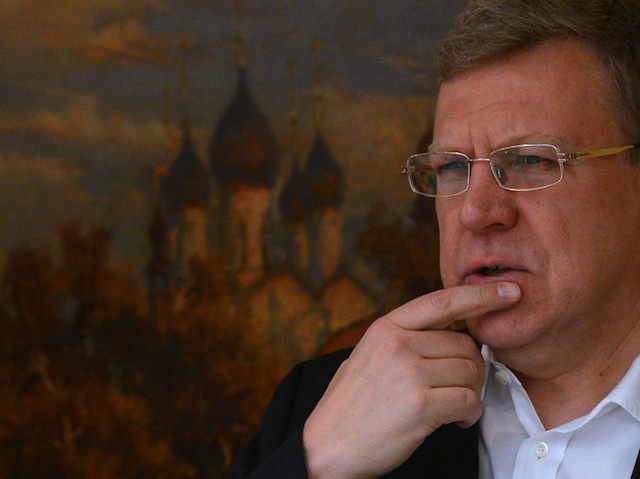 Lionized abroad for the unparalleled reputation as an economic manager he achieved during more than a decade in the Russian government, Alexei Kudrin was either fired or resigned from his post in September 2011, but retains close ties to Vladimir Putin. Medvedev, president at the time but about to switch jobs with Putin, accepted Kudrin's resignation after Kudrin publicly refused to work with Medvedev. Rumors that Kudrin might replace Medvedev are longstanding, though in recent months, Putin has reportedly offered Kudrin positions as a financial regulator, a Kremlin advisor on economic policy, and perhaps even chairman of the Central Bank. But Kudrin is apparently holding out to become prime minister. Meanwhile, the bad blood between Kudrin and Medvedev persists.
After humble beginnings in an engine laboratory of the Soviet Defense Ministry, where Kudrin worked as a motor mechanic and training assistant, his career blossomed as Putin rose to power. From 1990 to 1996, Kudrin worked at St. Petersburg City Hall under Mayor Anatoly Sobchak, serving as one of two deputy mayors from 1993 to 1996 (Putin was the other). He moved to Moscow in 1996, serving as deputy chief of staff to President Yeltsin before becoming first deputy finance minister a year later. When Putin became president in 2000, he appointed Kudrin finance minister. Kudrin also served as deputy prime minister from 2000 to 2004 and resumed the post again in September 2007. Under Kudrin, the Russian government paid off most of the foreign debt it had accumulated in the 1990s. Much of the revenue generated from raw material exports was put in a stabilization fund, which helped Russia weather the 2008 global economic crisis. In 2010, Euromoney magazine named Kudrin "Finance Minister of the Year." "The consensus view," according to one equity trader at a major Western firm in Moscow, "is that if Kudrin joins the government there will be a five percent pop in the market."
While in government, Kudrin supported measures aimed at increasing Russia's retirement age and reducing bureaucracy, proposals that have often made him a target of criticism from the ruling United Russia party, which Kudrin never joined. Many United Russia members and government officials who oppose Kudrin believe that Russia's energy revenues should have been invested in the country's development rather than put in the stabilization fund. But despite Kudrin's glittering reputation for prudent fiscal management and his commitment to tax and budget reform and the free market, he is also an architect of Putinism. His policies fostered the development of crony capitalism during the Putin years, especially the creation of "national champions"—state corporations in strategic economic sectors. (Though Kudrin has also said that state ownership was not an "end in itself.") He is much in demand at high-profile economic fora in the West, but like Medvedev himself at one time, Kudrin symbolizes the hope that the current system might reform itself, rather than collapse through a radical break with the past.
Although Kudrin frequently finds fault with government policies and officials, he never directly criticizes Putin, his longtime boss, colleague, and protector.
In recent months, Kudrin has criticized Russia's economic policies, accusing the government of failing to take unpopular but necessary measures like cutting social and military spending. He argues that Russia's economic policy—which depends on oil revenues and public spending—can no longer guarantee a viable rate of growth. Kudrin's comments on the state of Russia's economy are often overtly political. Speaking at a session of the Open Forum (a roundtable discussion group that meets at the Duma) on May 20, Kudrin said that United Russia must bear "all the responsibility" for Russia's economic stagnation, and that it will take years to get the country out of its current mire. Andrei Isayev, a United Russia leader, called Kudrin's statements "cynical" and accused him of "playing politics" with the Russian economy. He called for United Russia to fight "Kudrinism." One critic pointed out that while in government, Kudrin defended the state budget, was loyal to Putin, and did not push to develop independent institutions or limit the appetites of the siloviki (security service operatives). Another United Russia leader criticized Kudrin for working in the government for a decade without investing in the "real sector" of the economy.
When popular unrest shook Moscow last year, Kudrin expressed sympathy with the demonstrators and even appeared at one of the rallies—though he never broke with the Kremlin.  (In fact, his efforts to serve as a "bridge" between the protestors and the regime may have helped the regime diffuse the opposition's fury). As the protests ebbed, Kudrin distanced himself from movement. Still, he has publicly defended opposition leader Alexei Navalny, and the Center for Strategic Research, which is purported to have close ties to Kudrin, has issued a series of studies warning about the crises facing Russia.
Although Kudrin frequently finds fault with government policies and officials, he never directly criticizes Putin, his longtime boss, colleague, and protector. (Kudrin's calls for reduced military spending are directed at Medvedev, for example, even though the final decision on spending levels belongs to Putin). Essentially, Kudrin appears to be maneuvering to discredit Medvedev and become prime minister himself, a move that would make him constitutional heir apparent to Putin. As a so-called "systemic liberal," Kudrin does not want revolution in the streets.
For the moment at least, it appears that Kudrin's time to head the government has not yet come.  At a televised call-in show in April, Kudrin engaged in polemics with Putin on the topic of the economy. Before Kudrin had a chance to ask a single question, Putin praised him, noting that he has been called the best finance minister in the world. But the president added that while Kudrin may be the best finance minister, he is not "the best minister for social policy." Putin also jokingly called Kudrin a "slacker" for refusing to join his government by accepting one of the positions offered him. Indeed, polling data seems to confirm Putin's assessment: according to a VTsIOM (Russian Public Opinion Research Center) poll last May, the number of Russians demanding better government services has increased significantly since 2008, while the number who view increasing incomes as a key government objective—a natural policy strength of Kudrin's—has declined.
Alexei Kudrin has many enemies, including in the banking sector and among hardliners such as Sergei Ivanov, who is now ascendant in the Kremlin. While Putin could turn to Kudrin should the economy further deteriorate or a crisis occur, Kudrin has already been on Putin's prime ministerial shortlist for a long while, as have several others. At a time of considerable economic and political uncertainty, there is little Putin has done or said to suggest that the former "finance minister of the year" will succeed Medvedev as prime minister—or Putin as president.