For years Bill Browder has been campaigning against the corrupt Russian authorities who prosecuted and eventually caused the death of an innocent man—Browder's lawyer, Sergei Magnitsky. In his new book Browder tells Magnitsky's story in a narrative that reads like a thriller and reveals the brutal realities of the Putin regime.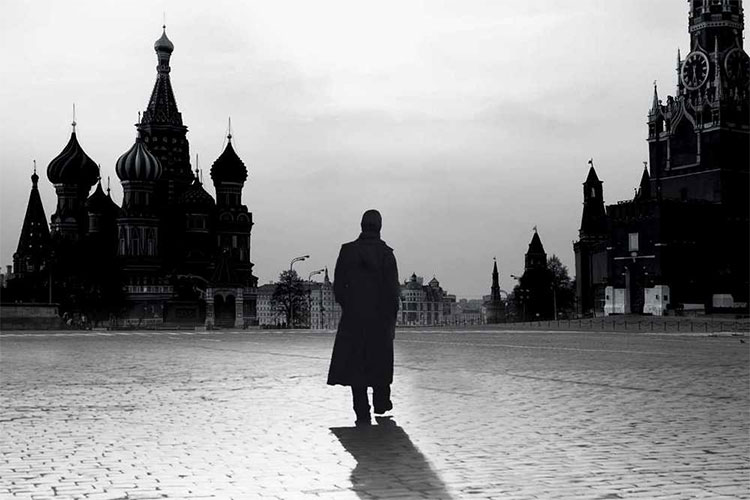 Bill Browder's Red Notice: A True Story of High Finance, Murder, and One Man's Fight for Justice is a story by and about a man who was bold enough—or, as he puts it, "crazy enough"—to speak publicly about the misdeeds of not only Russia's oligarchs, but its political kleptocrats as well. "I believed I could do things that a Russian in my position would have never been allowed to do," writes Browder.
The book begins with a brief autobiography and tales of Browder's successful hedge fund, Hermitage Capital, through which he made a name for himself by investing in Russia before most other Westerners were willing to do so. A lifelong rabble-rouser, he assumed that as an American, he could speak truth to power. Soon enough, however, he realized that in the face of an authoritarian state, no one is invincible. The period between the chaotic nineties and today's Russia saw a glimmer of hope when Vladimir Putin first came to power in 2000. Unfortunately for Russia, Browder writes, "instead of dismantling this machine of lying and fabrication, [Putin] modified it and made it all the more powerful."
As the book unfolds, with one bloodcurdling story after another, the reader is trapped in a vortex of atrocities and misdeeds performed by Russian government officials. Several times the phrase "Russian stories never have happy endings" appears.
For Browder, however, it was the murder by the regime of his colleague and friend Sergei Magnitsky that became the prime example of "how every gear and piston in this machine worked." Magnitsky, who exposed 5.4 billion rubles' worth of fraudulent tax returns and the involvement of law enforcement officers in this crime, spent the last year of his life experiencing unthinkable tortures and humiliations in a Russian detention center, eventually dying as a result of severe beating by prison guards. Until the very last day before he was arrested, he "believed faithfully in the law," writes Browder. "He didn't realize that Russia had no rule of law, it had a rule of men. And those men were crooks." In Putin's Russia, says Browder, the words of convicted killers who steal taxpayers' money are accepted as the official "truth."
Magnitsky's death was followed by a series of incredibly cynical official actions. Close to the first anniversary of his death, the Interior Ministry decorated the key figures associated with the murder with national awards of gratitude at an annual awards ceremony. Additionally, a series of persecutions and killings began of other whistle-blowers who attempted to share the truth about the Russian authorities' massive corruption and money-laundering schemes. Finally, the American legislative reaction to Magnitsky's death, the Magnitsky Act, was followed by "a heartless proposal" that "was evil, pure and simple": Putin's Dima Yakovlev Law, the law that banned the adoption of Russian orphans by American families.
In the wake of Browder's tireless campaign for passage of the Magnitsky Act in both the U.S. Congress and the European Parliament and his daily struggle against Russia's security services and others who threatened the lives of his colleagues, the Russian regime has clearly let him know that the "game is not over." The authorities have made persistent attempts to ruin his reputation, even trying to set Interpol against him. Browder, it is clear, is not simply challenging a corrupt bureaucracy; Browder is challenging Putin, and "Putin never backs down from a fight or shows any weakness."
As one example of the cynicism of the Russian authorities, Browder notes that they put Magnitsky—the man they killed—on trial after his death. "Even Joseph Stalin, one of the most zealous mass murderers of all time, a man responsible for the deaths of at least 20 million Russians, never stooped to putting a dead man on trial," notes Browder. In at least one sense, then, Putin has outdone Stalin, who at least attempted to hide the evils of the Katyn massacre. In the case of Magnitsky, "evil hadn't withered under the bright lights of publicity."
This is Russia today, says Browder: "A stuffy room presided over by a corrupt judge, policed by unthinking guards, with lawyers who are there just to give the appearance of a real trial, and with no defendant in the cage. A place where lies reign supreme. A place where convictions are certain, and guilt a given. Where a foreigner can be convicted in absentia of crimes he did not commit. A place where an innocent man who was murdered by the state, a man whose only crime was loving his country too much, can be made to suffer from beyond the grave. This is Russia today."
Browder's battle against one of the world's ugliest regimes is not over. Each of us can help this Russian story to finally have a happy ending either by sharing Magnitsky's tragic story, by giving this book to people who wish to know the truth about Putin's Russia or by simply sympathizing with his indefatigable search for justice.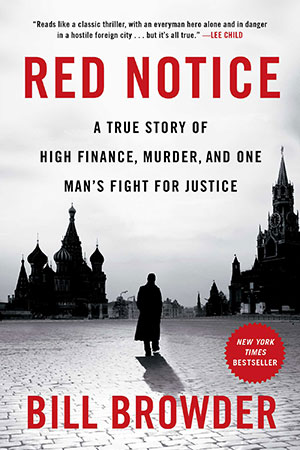 Red Notice: A True Story of High Finance, Murder, and One Man's Fight for Justice
Simon and Schuster, 2015