IMR's Caterina Innocente relates the history of INSOR, a pro-Medvedev think tank. With Putin's return to the presidency, INSOR's unsuccessful political maneuvering may leave the organization without a future.

"Top liberal experts working for the President," "a group of specialists close to Medvedev," the President's "think tank"…Such flashy language was used to describe a small publishing house that was opened only four years ago. It is called the Institute of Contemporary Development (INSOR). Today, it has become clear that by putting their efforts behind Medvedev, INSOR missed the mark: instead of a second term for the current president, there will be a third one for Putin, something the experts at the Institute worked very hard to prevent. Instead of a political thaw, a counter-reform period is imminent, and INSOR may pay for its thwarted political intrigues with its existence.
The foundation for INSOR was laid by prominent Russian organization, the RIO Center (a Russian abbreviation for Center for Development of an Information Society). That organization existed under the auspices of Leonid Reiman, one of the wealthiest government officials and businessman in the world of Russian politics, who formerly wielded a great deal of influence.
Reiman is an highly complex figure. His career began with working for the Leningrad City Telephone Network for 13 years, at first as an engineer and finishing his time there as the First Deputy Director-General.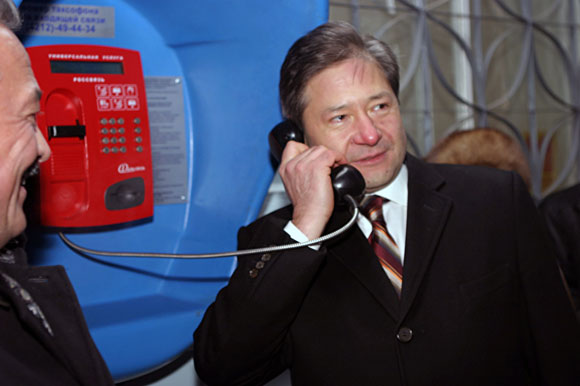 Reiman quickly rose up the ladder starting in 1999 when Vladimir Putin, having become the President, began assembling a team of St. Peterburgians to be his close associates. During Putin's presidency, Reiman served as the Minister of Information and Communications. While this ministry changed names a number of times in the course of administrative reforms, Reiman remained at the head of state communications for eight years. At the same time, he was building his business.
In March of 2008, just two months before Medvedev became President, it was proposed that INSOR would be built on the foundation of Leonid Reiman's RIO Center. The ambitions surrounding the INSOR project were practically limitless. The Institute presented itself as one of the most prestigious and influential expert panels on issues surrounding financial and economic development in Russia. One of the first meetings was led by Medvedev himself. Topics discussed included the world financial crisis, which, half a year later, "unexpectedly" reared its head in Russia. The Chairman of INSOR was the Senior Vice President of Renaissance Capital Igor Yurgens, who spent four years attempting to convince the public that Dmitry Medvedev would definitely get a second term. As it turned out, Yurgens was wrong.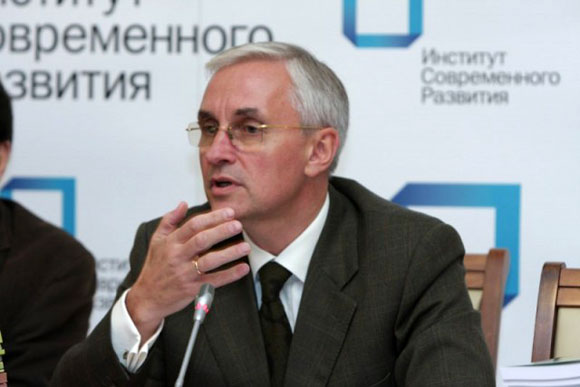 From the very beginning, the Institute of Contemporary Development was compared with the Center for Strategic Studies (CSR), which had been created in 1999 as an analytical organization for developing Putin's economic strategy, led by German Gref. The CSR was also the fruit of political expediency; however, it was able to adapt and persevere under new circumstances, even after the government essentially did not require its services. It is telling that the recently published CSR report states that Putin can expect a great deal of protest activities and a drop in approval ratings over the course of his upcoming 6-year term. It also says that Medvedev will soon be removed from the post of Prime Minister. It is unlikely that INSOR, where Medvedev is at the head of the Supervisory Board and remains the chief political asset, is capable of publishing any report of that kind. Some Institute reports are as removed from political reality as the ambitions of its board are removed from their true positions.
On the official INSOR website, it says that "The Institute of Contemporary Development was created with the objective of bringing together the leading experts in order to prepare proposals and develop reports on the most pressing issues in government policy." But not a single one of the documents produced there so far has been used by the government. In fact, the proposals put forth by INSOR experts only provoked internal conflicts and exacerbated the mistrust growing between Putin and Medvedev. Typically, INSOR reports were markedly anti-Putin, which, as a result, constantly put Medvedev in an awkward position. Medvedev himself only attended an INSOR meeting once in all four years of his presidency. At that particular meeting, the topic was unemployment. However, when Medvedev wasn't there, social and economic issues typically took a back seat to discussions of putting an end to Putin's regime.
Along with Medvedev and Reiman, INSOR's Board of Trustees included Minister of Economic Development Elvira Nabullina, presidential advisor Arkady Dvorkovich, and prominent economist Yevgeny Yasin (who was nonetheless reluctant to speak from INSOR's pulpit). INSOR's administration is no less impressive: it includes Alexander Budberg, journalist and husband of Medvedev's Press Secretary Natalya Timakova, and Deputy Director of the Institute of World Economy and International Relations (IMEMO) Evgeny Gontmakher. The latter had made his name with a power move directed against First Deputy Chief of Staff Vladislav Surkov.
At the end of 2008 and the beginning of 2009, Vedomosti published two highly controversial articles written by Gontmakher ("Novocherkassk-2009" and "The Moncloa Pact 2009"). In these articles, Gontmakher described the hypothetical catastrophic demise of the regime that occurred as a consequence of the monotown crisis. In order to avoid such catastrophe, Gontmakher proposed radical political reforms and personnel changes. Surkov attacked this outcry with harsh criticism and was very vocal about his opposition to any liberalization of the system. Experts close to Surkov spoke openly against the Moncloa Pact, an agreement made amongst politicians, political parties, and trade unions in Spain in 1977 regarding how the Spanish economy should operate during the transition to democracy. They were strongly against reforming central political institutions. Eventually, caught in the crossfire of the discussions between the Kremlin and his Institute, Medvedev was obligated to get involved in the argument. While in Spain, he said that "the Spanish experience of transitioning to democracy" was useful to Russia, while also noting the things that made each country unique. INSOR was put in its place without President vocally siding with Surkov.
INSOR was unequivocally behind Medvedev getting a second term. In fact, the expert panel basically told Medvedev directly that it was time to get rid of Putin and remove him from the post of Prime Minister. INSOR lobbied for the necessity of Russia's becoming a part of NATO, changes in the constitution, liberal reforms, and the return of elections to all levels of government. So here is the question: What is the pro-Medvedev organization going to do during Putin's third term? Will Putin want to punish INSOR for its reports aimed against him?
It's important to keep in mind that INSOR had been created as a potential expert resource for Medvedev at the beginning of his presidency. At that time, Medvedev couldn't have known whether he would be slated to have a second term or what the relationship between the Kremlin and the Cabinet of Ministers would be like. At the same time, he needed his own think tank that could serve as an alternate platform for developing state decisions. The key positions of the executive branch, as well as many other important decisions regarding the presidential administration, were still in the hands of Putin's appointees. INSOR was depending on Medvedev's forging a new political future, rethinking the decisions of his predecessor, and beginning to consider propositions from ideological centers that were outside of Putin's realm of influence. It was thought that eventually, after enacting many reforms,  Medvedev would "come to terms" with Putin himself. This political framework, openly anti-Putin and pro-Medvedev, ended up making Institute less than useful to Medvedev. Ultimately, he was not prepared to go to war with his own boss.
Now, there are now several options for INSOR's future. The first one: a quiet death. Medvedev finally ceased be a political asset and Russia's great hope when he declined to take a second term (probably in a voluntary-compulsory kind of situation) and agreed to take a position in the government. In addition, Medvedev has a new toy: his Open Government Project, whose mission is instigating the public discussion of social and expert initiatives related to government policies. One of the greatest problems of today's regime is that because of its "manually operated" nature, the prevalence of informal connections and unofficial influence, the backbone institutions of power and the central mechanisms for government functioning are very weak. This gives rise to various side effects, including the rise of many redundant structures created for solving the same problems:
Are institutions necessary to representative democracy not working? (due to their being repressed and half-destroyed) Let's create a Public Chamber!
Is the government having trouble dealing with the crisis in the Northern Caucasus? Let's establish the office of the Presidential Envoy to the North Caucasus Federal District!
Is freedom of speech limited on the main television networks? Let's start a sham public television network!
Though it may seem paradoxical, the Big Government project also serves as proof that Medvedev cannot lead a true government: as always, Putin remains behind the wheel, both in terms of policy and personnel. In the same way, INSOR is superfluous for Medvedev.
The second option for INSOR is changing masters. It can fall in beside, say, the former Deputy Prime Minister and Minister of Finance Alexei Kudrin, who recently announced the formation of the Committee of Civil Initiatives, an organization whose leadership will include INSOR Director Igor Yurgens. Kudrin is a key figure in the Russian establishment. Doubtless, he has influence, is not a peripheral figure, and has great political potential. Apparently, INSOR is not interested in the circumstances under which Kudrin left the government. Meanwhile, it was his public, humiliating conflict with Medvedev that allowed Kudrin to demonstrate that the President was not as important as Putin.
Finally, the third and most logical option for INSOR's future is the same path that the Center for Strategic Studies has chosen: transforming from an opportunistic, politically-motivated organization into a decent center for analytics that releases serious reports prepared on an academic foundation and instead of pipe dreams. In order to do this, INSOR needs learn how put together expert analyses—which is, after all, what it was created for.