The Russian establishment was holding its collective breath in anticipation of May 22nd, when they were to find out what post Igor Sechin, Russia's powerful Deputy Prime Minister, the ideologue behind the Yukos affair, and Vladimir Putin's former KGB colleague, would occupy in Putin's new Kremlin. IMR's Caterina Innocente describes Sechin's great strides toward fulfilling his dream of leading an international business empire.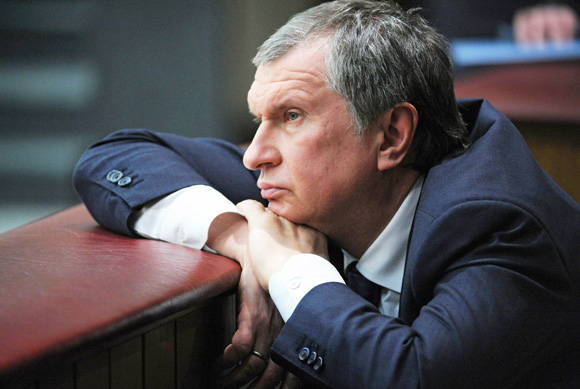 When Russian officials or business leaders mention "Ivan Ivanovich" in conversation, no last name is necessary — everyone knows who they mean. This is the case despite the presence of another, not insignificant Ivan Ivanovich in the Russian government, namely Ivan Shuvalov, Russia's First Deputy Prime Minister. Among those in the know, Sechin is universally recognized as the main Ivan Ivanovich, due to his nearly god-like status. Kremlin officials try not to use his name lightly, and when they do, they sound obsequious, their voices trembling.
Since his departure from the government, Sechin's future has been no less a source of public anxiety than all of the ministerial and administration appointments put together. Finally, on May 22nd, during a meeting with Prime Minister Dmitry Medvedev, Sechin finally got his new assignment as the President and Chairman of the Board of Rosneft. Rosneft is the corporation that, between 2004 and 2007, appropriated all of the most attractive assets formerly belonging to Yukos, which had once been the unchallenged flagship company of Russia's fuel and energy sector.
At first glance, this appointment may appear to be the demotion of an official that is considered to be the most influential and closely-connected to Russia's President. However, upon further examination, one can begin grasp the extent of the former Deputy Prime Minister's ambitions: there are plans to create a giant corporation by pooling together government-owned assets from a wide range of sectors of the economy, with its core concentrated in the energy sector (on the foundation of Rosneftegaz, a company wholly owned by the state). Government officials informally refer to the future corporation as "RosTEK" (TEK being the abbreviation of "fuel and energy sector"). It will increase its assets by buying off shares from other large state-owned corporations. This is what is now called "privatization Russian-style." Just like that, with great ease, Sechin has transformed from a fiery critic of "selling out our motherland for pennies" into an advocate of such privatization in the interest of the state-owned corporation he is now in charge of.
Over the past four years, Igor Sechin had simply been waiting in the wings, meanwhile structuring the assets of the energy sector so as to best suit his needs as the future head of a super-corporation.
Among the first decrees Vladimir Putin issued immediately upon being inaugurated was the directive to the cabinet requiring it to adopt a program of selling off share packages from companies in the fuel and energy sector, as well as electric companies, for 2013-2015. Big business, experts, and investors were all perplexed by this decree and strained to grasp its objective. Was privatization being phased out, or was this the beginning? Alexander Shokhin, President of Russia's Union of Industrialists and Entrepreneurs, addressed Putin about the misgivings of the business community at their recent meeting. The President's response seemed to defy logic. After suggesting that the business community should have read the articles he published during his campaign more attentively, Putin repeated his plans for the government to decrease their stake in extractive companies, Rostekhnologii, the United Aircraft Building Corporation (UABC), and the United Shipbuilding Corporation (USC) by 2016. "We are going to decrease our holdings," Putin stated. "What's not to understand? As for the fuel and energy sector companies, they play a very special role in our economy. We don't want to see them bought up for pennies by some private corporation that would then resell them for their market price. If we do sell them, the price should be high." The President also said that fuel and energy companies are in need of cash and therefore Rosneftegaz may help increase their capitalization. In other words, privatization will not only entail the reduction of government stakes in key corporations,  but moving shares from one government pocket to another, in this case to Sechin's.
So what does Rosneft have to do with all this? Rosneft represents real assets, in contrast to Rosneftegaz, a fictitious company created in 2004 to enable the government to implement a profit-redistribution scheme. The essence of the scheme was to increase government shares in Gazprom from 38% to a controlling majority. These additional shares were going to be paid for with 100% of the shares from Rosneft (the shares that, in their turn, were put into Rosneftegaz). All of this reflected the plans of the so-called Gazprom Gang to acquire Rosneft along with the assets appropriated from Yukos, which had been intentionally bankrupted by the government. Sechin, who was already in charge of Rosneft and swiftly moving toward taking control of Yukos as well, managed to outfox his competitors. As was expected, Rosneft prevailed in its fight for Yukos' largest asset YuganskNefteGaz (YuNG). As a result, Rosneft assets were increased substantially, and, thanks to Sechin's efforts, its merger with Gazprom fell through. Nonetheless Rosneftegaz, the state-owned company that controlled a little over 75% of Rosneft shares, was not dismantled.
Sechin will be using this name to build a new empire, for the time being, on the foundation of Rosneft.  He will build the empire by buying up the shares of the fuel and energy sector companies that were surreptitiously exempt from privatization by President Putin's decree, as per their inclusion on the list of Russia's strategically significant companies. Under the auspices of Rosneftegaz, Sechin intends to create a specialized service holding that would be the largest of its kind on the Russian market.
Аnonymous Kommersant and Vedomosti sources have eagerly shared certain details about the scheme. The idea is to transfer shares from Transneft, Zarubezhneft, and even assets from the electricity sector to Rosneft. Igor Sechin recently succeeded in securing the transfer of the MSRK Holding (IDGC-Interregional Distribution Grid Company, in control of regional grid networks) to the Federal Network Company (which owns the central networks). He did this by prevailing in an inter-faction struggle against another oligarch with close ties to Putin, Sergey Chemezov, whose representative was in charge of MSRK. Now the consolidated company may fall under Rosneftegaz's control. This control will be exercised by a Rosneftegaz affiliate that will supposedly be created solely for this purpose. It will be run by a man of Sechin's—Sergei Shmatko, Russia's former Minister of Energy.
Rosneft also intends to actively pursue the development of its gas business. In order to do sp, it is moving ahead to consolidate its gas assets with Itera, an independent producer. As a result, we are going to see a state-owned umbrella corporation uniting the most attractive assets in Russia's most affluent industries that essentially fuel the economy.  This is the company that has been put in Sechin's hands.
It is important to clarify that Russia's government property is managed by a special agency, the Federal Agency for State Property Management (Rosimushchestvo). Now there will be an intermediate layer, Rosneftegaz, whose assets are defined as strategically significant. This means that any and all decisions about the pertinent assets are to be worked out with the Kremlin, and not the cabinet of ministers.
This also clarifies why Arkady Dvorkovich, a longstanding but weak opponent of Sechin's, was appointed Deputy Prime Minister in charge of the fuel and energy sector. Currently, just about everyone involved is guessing at how this associate of Medvedev's is going to go about overseeing the activities of an oligarch of Putin's who happens to be in control of the country's largest fuel and energy assets. The answer is simple: Dvorkovich is not going to control Sechin. Through Rosneftegaz, Sechin will in fact be managing the assets that are in principle supposed to be under the auspices of Deputy Prime Minister Dvorkovich.
Thus Sechin is making great strides toward the fulfillment of his dream of creating a giant state oil corporation that would dominate the Russian market and actively pursue partnerships with foreign investors on the behalf of the state. Sechin has already taken pains to lay the groundwork for joint projects with ExxonMobil and Statoil, as well as ENI regarding Russia's sea shelf, set to begin once he leaves government service. Anonymous Rosneft sources make no attempt to conceal their patron's ambitious design to transform the company into a major world player. At the moment, rumors abound regarding Rosneft's intentions to buy out the package of BP shares in TNK-BP. As a consequence of this sale, AAR, the billionaires' consortium that is the second largest shareholder in TNK-BP, is expected to become much more amenable to negotiations.
While Sechin's motivations are more or less clear, the rationale behind Vladimir Putin's behavior is another story altogether. It is obvious that without his senior comrade, Sechin would never have had the opportunity to even approach the position he currently occupies in Russia's unofficial pecking order.  No one would ever ask why Sechin needs Putin; the question is why Putin needs Sechin.
The history of the relationship between the two most powerful figures in contemporary Russia has been studied in considerable detail. They initially bonded while serving in the Soviet intelligence service, then they worked side by side at St. Petersburg City Hall. Sechin invariably followed Putin at every stage of his career, taking charge of his secretariat, scheduling, meetings, bureaucratic management, and so on. Putin trusts him on the basis of a simple logic: people are more important than institutions.  Sechin controls all of the paper flow in the Kremlin. It was under his influence that government officials from the so-called "power ministries" – defense, interior, and intelligence – launched their entrepreneurial activities and succeeded in their economic expansion.
The peak of Sechin's success came between 2003 and 2007, when he emerged as the mastermind behind the Yukos affair. Sechin was the one who, from 2003 on, under the aegis and with the approval of Vladimir Putin, stimulated the country to move into a new phase in its development, one characterized by  a single center of power; clannish staffing policies; the elimination of private oligarchies; the resumption of political emigration; and the re-writing of legislation to fit the needs and desires of new executive authorities. The system created during Putin's first presidential term has not changed much. The same cannot be said about its founders, curators, and ideologues. The oligarchs that  ruled the day during the "wild '90s," Putin's favorite objects  of criticism,  have been replaced by grey, obscure, low-profile but extremely pro-government "oligarchs of the state treasury." Their "patriotism" is rewarded with access to the government trough as well as multi-million dollar contracts with state-owned or state-affiliated corporations.
Sechin was frequently named the informal leader of the group of former intelligence officers from St. Petersburg who came to control the Kremlin. By the end of Putin's second presidential term, this group had splintered into a number of rival factions that have been pursuing mutual destruction. The only one to come out unscathed from these inter-factional wars has been Sechin. His people retain powerful positions in the Federal Security Service, Investigative Committee under the Office of the Prosecutor General, Ministry of the Interior, other power agencies and beyond. We are now witnessing the beginning of a new stage in Sechin's career: having served as intelligence officer, assistant to the President, ideologue, and bureaucrat, he is about to assume a role of a world-class business leader.
Over the past four years, Igor Sechin had simply been waiting in the wings while systematically working as Deputy Prime Minister to structure the assets of the energy sector so as to suit his needs as the future chief of an energy super-corporation. Everything has fallen into place according to plan with the exception of two important factors. In his new position, Sechin faces two strategic risks, entirely beyond his control to affect, that not only have the potential of destroying his efforts to build his "bright corporate future," but also threaten to bring about his own personal judgment day.
We are witnessing the beginning of a new stage in Sechin's career: having served as intelligence officer, assistant to the President, ideologue, and bureaucrat, he is about to assume a role of a world-class business leader.
The first of these risks is external. The present establishment remembers the days of November 2008 all too well, when, against the backdrop of a stormy stock market, the main topics of conversation were where to move away from Russia and how they could rescue their money.  A substantial drop in world oil prices could be catastrophic for Russia's economy, its social and political system, its vertical power structure, and the regime overall. "Russian Oil and Gas, Inc." (an inefficient, cumbersome quasi-corporation that also happens to be deep in debt) may, as a result, prove to be an unmanageable burden, leading to unpleasant questions about personal accountability.
The other risk is internal. Sechin's principal asset is his access to Putin. Putin's principal asset is his popularity. Recent polls show a significant and far-reaching drop in support for President Putin among his base, voters who have yet to find an alternative to Putin, given that he managed to clear the field of public politics in the nick of time before the elections.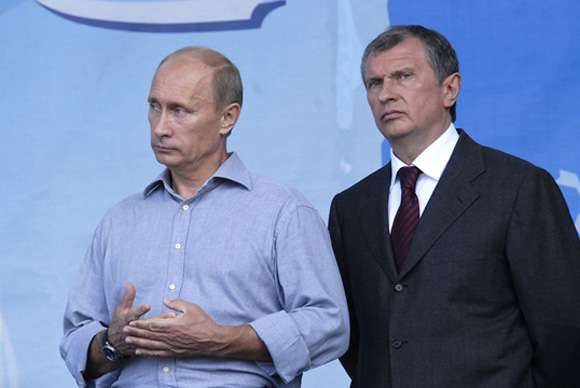 Putin, however, has already lost his aura of "the president of hope." People are no longer grateful to Putin for the stability that is increasingly perceived as stagnation. He has lost his ability to deflect setbacks and his faux-holy status, while his street slang continues to irritate his listeners. A popularity rating driven by inertia will gradually and inevitably fade, thus making room for new, more modern, and more dynamic forces.
As Igor Sechin observes these trends (whether he grasps them or not is another question), one wonders whether he ever considers the possibility that his empire may be pulled out from underneath him in the blink of an eye as soon as Putin is no longer at the helm of the state. No matter how powerful his new super-corporation may be, Sechin will never be able to convert its government-owned assets into his personal property. This is the eternal curse of Gray Eminence, a shadow behind the throne. Sechin is fated to be the most vulnerable, albeit influential, among those of Putin's associates who succeeded in securing large-scale private financial assets for themselves.