On February 9, 2012 a unique art project sponsored by IMR opened at Fotoloft Gallery in Moscow. Part of the project was a photography exhibit featuring the portraits of Russian opposition leaders by a well-known Moscow photographer, Kirill Nikitenko. The opening reception was packed with people, including some of the exhibition's protagonists, such as human rights activists Lyudmila Alekseeva and Aleksey Simonov, independent journalist Sergei Parkhomenko, economists Evgeny Gontmakher and Sergei Aleksashenko, and others.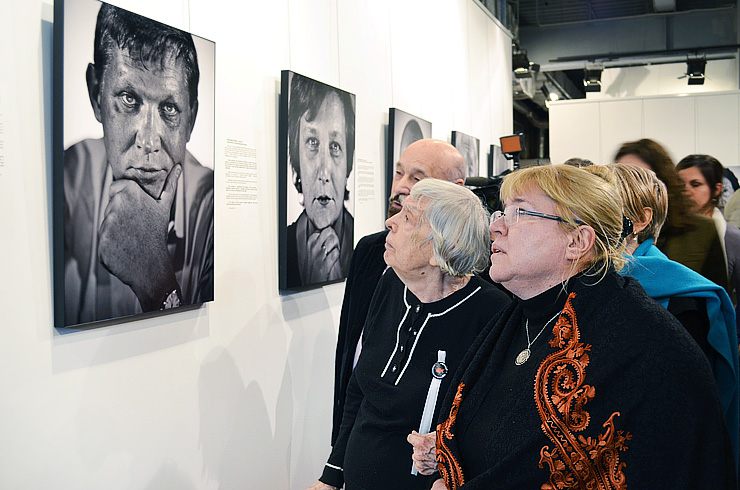 Human rights activist Lyudmila Alexeyeva, head of the Moscow Helsinki Group and Institute of Modern Russia trustee. Alexeyeva was the guest of honor at the exhibit
Russian Visionaries premiered in New York on December 1, 2011. The opening days of the project coincided with the beginning of the recent social upheaval in Russia, which emphasized the political significance  and timeliness of the exhibit. In addition to the art show, the project includes a collection of interviews with figures from the Russian opposition concerning the future of Russia. All project participants were asked the same question: what happens to the country if Vladimir Putin returns as president in March 2012?
Elena Khodorkovskaya, the project curator, noted that before the opening in Moscow, nearly half of the participants approached her and asked to make changes in their initial interview responses in light of recent political developments. "Overall, though it might seem strange, the quotes became more pessimistic. In December, there was some real enthusiasm, which seems out-of-date today. Once again, the mood of the exhibition reflects the mood of the country," she explained.
The exhibit will run in Moscow until February 26th. Afterwards, it will travel to Paris.