On March 8th, 2012 IMR presented a photography exhibit featuring the portraits of  Russian opposition leaders at Galerie Joseph in Paris. The political art-show by Moscow photographer Kirill Nikitenko was curated by Elena Khodorkovskaya. Philosopher André Glucksmann, French Ambassador at large for Human Rights François Zimeray, artist Enki Bilal, Russian economist Sergei Aleksashenko, IMR President Pavel Khodorkovsky, and many others, including representatives of French and Russian press, graced the Paris opening.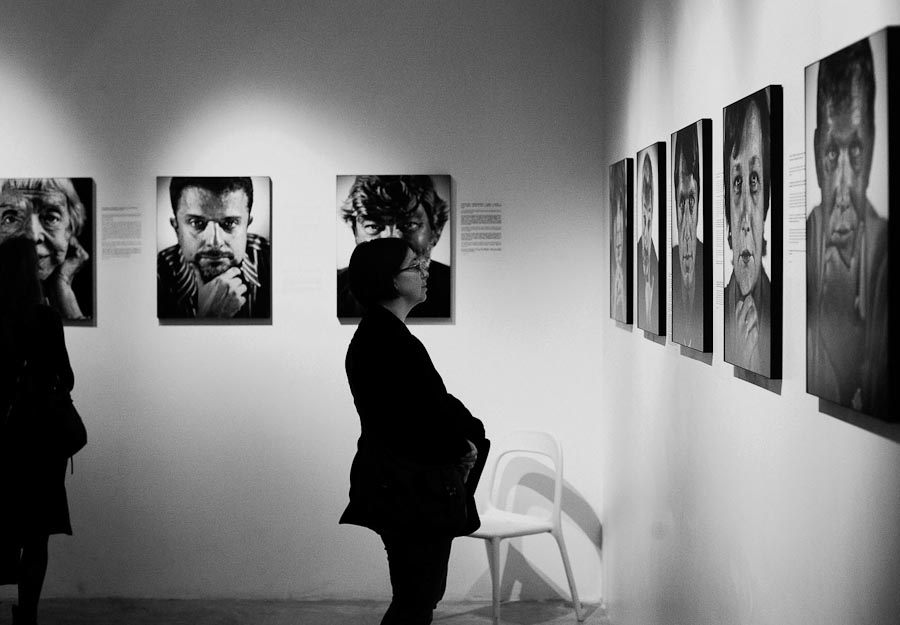 Marie Simon, French journalist for L'Express magazine, in front of Nikolai Uskov's portrait
Russian Visionaries premiered in New York in December 2011, and since has traveled to Moscow, where it opened in February 2012. The exhibition aimed to demonstrate the thoughts and attitudes of Russian intellectuals regarding Vladimir Putin's return to the presidency. The show consists of 54 black-and-white portraits featuring well-known and respected public figures such as Lyudmila Alekseeva, Garry Kasparov, Lyudmila Ulitskaya, and Boris Nemtsov. The portraits are accompanied with placards detailing the subjects' relationship to Vladimir Putin and the new opposition movement.
The only portrait in the exhibition that, for logistical reasons, wasn't by Kirill Nikitenko, showed Mikhail Khodorkovsky in the courtroom during the Yukos trial. In his address to the exhibit guests, François Zimerey singled this portrait out. "I don't know how long it will take, how many days, or months or years," he said, "but I can tell you that as long as Khodorkovsky is imprisoned, France will be on his side, ready to help."
"When we look at all these faces, it reminds us that was has been happening in Russia since December is more than just politics," André Glucksmann said in a speech. "It is the revolt of Russian culture itself; it's Pushkin's Russia against Putin's Russia. This is essential because in the end, culture always wins."
Ecomonist Sergei Aleksashenko, who is also one of the exhibit subjects, gave his own forecast for Russia's future. "Russia changes really fast," he said. "In three years, five years, it will be different. For that, we will have to give credit to the people whose portraits you see here tonight."
Pavel Khodorkovsky also spoke about the subjects of the portraits. "This exhibit is about the future of Russia. These are the portraits of the influential men and women who create the public opinion in my country. Thanks to them, Russian society has finally woken up after 12 years of inertia. These are the visionaries leading modern Russia."
During her speech, Elena Khodorkovskaya quoted Alexei Navalny, whose portrait has become the show's iconic image. "The future doesn't depend on what Vladimir Putin does. It depends on us, on what we do every day."
The show will run in Paris until March 15th.