The Institute of Modern Russia will participate in the 47th Annual Convention of the Association of Slavic, East European, and Eurasian Studies (ASEEES), which will take place from November 19 to 22 in Philadelphia. This is the Institute's fourth time participating in the convention, and it will host two panels and a roundtable discussion.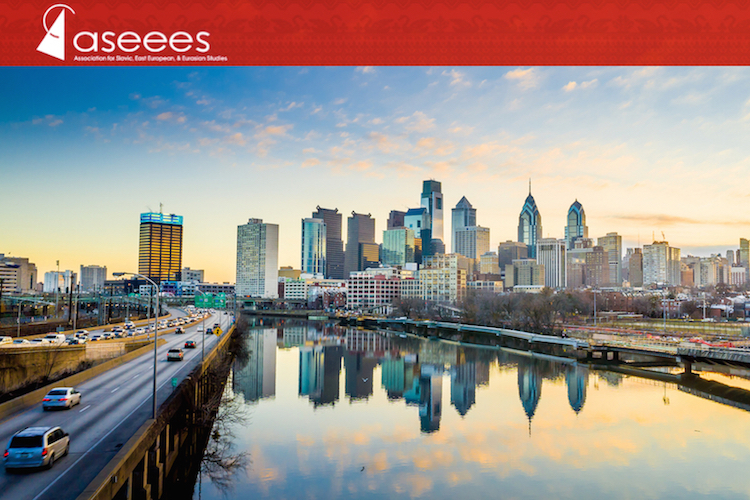 ASEEES is the leading U.S. scholarly organization dedicated to the advancement of knowledge about the countries of the former Soviet Union and Eastern and Central Europe. Every year more than 2,000 scholars, professionals, and graduate students participate in the organization's annual convention. The theme of this year's convention is "fact," chosen in connection with the "information wars" being waged in Russia and across the European continent. Participants will discuss these politically charged battles, their impact on social trust and debate, and the process by which baseless "facts" acquire authority.
IMR's first panel is titled "The Russian World in Contemporary Europe: A Push for Greater Influence?" and will cover Russia's efforts to expand its influence in Europe. The panel participants are: 
Péter Krekó, Director, Political Capital Institute: "Revealing Kremlin Connections in European Institutions"
Alina Polyakova, Dinu Patriciu Eurasia Center Associate Director, Atlantic Council: "Putinism and the European Far-Right: A Mutually Beneficial Agreement?"
IMR researcher Boris Bruk will chair the panel and the discussant will be Mitchell Orenstein, professor of Central and East European Politics at the University of Pennsylvania. The panel will be held on Thursday, November 19, from 5:00 p.m. to 6:45 p.m. in Grand Ballroom Salon G.
The following day, IMR will host a roundtable discussion focused squarely on this year's theme, titled "Information as a Weapon of the Kremlin's Battle." The roundtable participants are:
Mark Galeotti, Professor of Global Affairs, New York University
Ekaterina Mishina, Visiting Professor of Political Science, University of Michigan
Michael Weiss, Editor-in-Chief of The Interpreter, Senior Editor at The Daily Beast
IMR president Pavel Khodorkovsky will serve as roundtable chair. The event will take place on Friday, November 20, from 1:45 p.m. to 3:30 p.m. in Grand Ballroom Salon L.
On Saturday, IMR will hold a panel on digital democratic initiatives in Russia titled "Russia's Democratic Practices Online: Myths, Facts, Threats, and Opportunities." The participants are:
Boris Bruk, IMR Researcher: "E-Participation from Below: Russia's Experience"
Denis Volkov, Sociologist, Levada Center: "The Limits of Social Networks to Mobilize and Recruit People for Protest Activities"
IMR director Lidiya Dukhovich will serve as chair and Olga Khvostunova, IMR analyst and editor-in-chief of Imrussia.org, will serve as discussant. The panel will take place on Saturday, November 21, from 10:00 a.m. to 11:45 a.m. in Grand Ballroom Salon L.
IMR encourages all ASEEES participants to attend these informative discussions.