The Institute of Modern Russia continues its engagement with leading European policymakers to highlight the challenges facing independent and opposition candidates at September's Duma elections.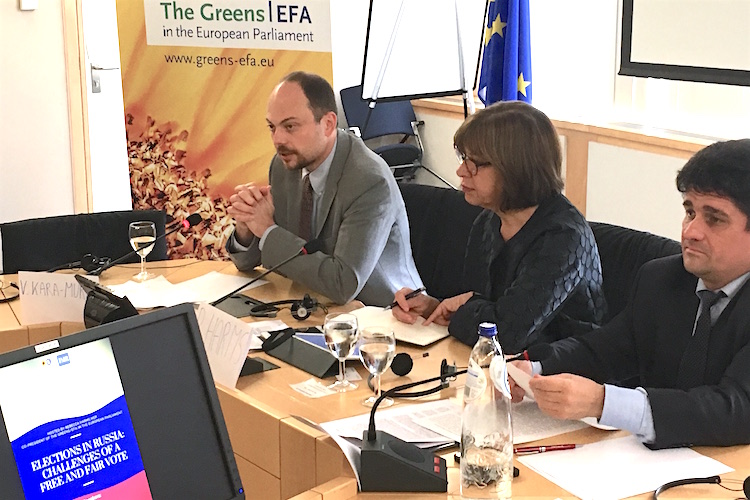 On June 20, Vladimir Kara-Murza, Open Russia's national coordinator and deputy leader of the People's Freedom Party, and Vadim Prokhorov, a member of the Expert Council of the Russian Central Electoral Commission, participated in an event at the Parliamentary Assembly of the Council of Europe (PACE) in Strasbourg, France. The event was organized by the Institute of Modern Russia and the EPP/CD Group, the largest caucus in PACE, which brings together national parliamentarians from the Council of Europe's 47 member states to discuss issues of democracy, human rights, and the rule of law.
Later the same day, Kara-Murza and Prokhorov joined MP Emanuelis Zingeris in an informal discussion on the issues raised during the briefing.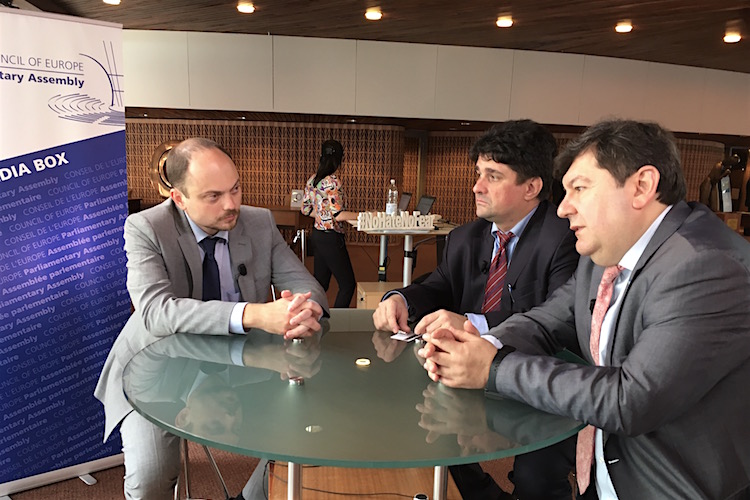 The following day, June 21, Kara-Murza and Prokhorov spoke to guests at a briefing organized by IMR and the Greens/EFA Group in the European Parliament in Brussels, Belgium. They discussed the legal, financial, administrative, and practical barriers to the free and fair participation of independent and opposition candidates in the election.
The event brought together members of the European Parliament, officials, NGO staff, journalists, and diplomats to pinpoint IMR's concerns about the electoral process and to discuss ways in which the European Union can pressure Russian authorities in the run-up to and during the vote.
After the briefing, Kara-Murza, Prokhorov, and Rebecca Harms, Member of the European Parliament and co-chair of the Greens/EFA Group, held an informal meeting on the political context of the forthcoming Duma elections. According to Vadim Prokhorov, the current campaign is unique in terms of the restrictions the government has put on opposition parties, giving them "absolutely unequal access to the main TV channels in Russia." Harms noted that the EU has a "double interest" in democratic development in Russia, because its political system, which she described as "managed democracy, which is not truly democratic," poses threats to European security. Kara-Murza, in his turn, stressed that the Russian opposition is against boycotting the Duma elections because it wants "to use every opportunity to challenge this regime, to get its message across, to present an alternative vision for a free, democratic, and European Russia." 
You can watch the full discussion with Rebecca Harms below.