On March 20, 2017, U.S. Congress House Intelligence Committee held a public hearing on Russia's interference in 2016 elections. FBI director James Comey and NSA director Mike Rogers testified in front of the committee, essentially confirming the ongoing investigation into Russia's role in the U.S. political process and Donald Trump's campaign. Both witnesses admitted that there is, however, no evidence that Russian meddling affected the voting results.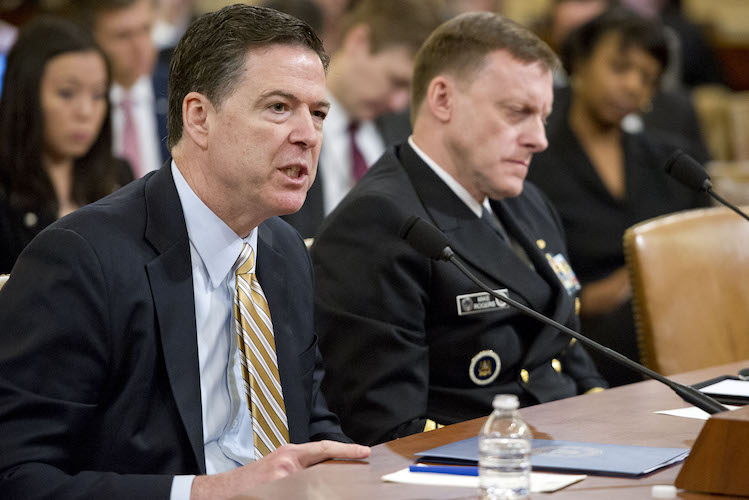 Introductory remarks
Devin Nunes (R-CA), committee chairman:
The Putin regime's aggression abroad has taken the form of both direct military assaults and more covert warfare.

The Kremlin has been waging a disinformation campaign through the RT media network, and has meddled in other countries' elections, including the United States.'

The failure to predict Putin's plans in this regard has been America's greatest intelligence failure since 9/11.
These are the questions we wish to consider:

What actions did Russia take against the U.S. during the 2016 election, and did anyone from a political campaign conspire in these activities?
Were officials or associates of any campaign subject to improper surveillance in the course of investigating these possible connections?
Who has been leaking classified information?
Adam Schiff (D-CA), ranking member:
Russia intervened in American democracy in favor of Donald Trump.
Russia also hacked various Democratic and Republican organizations, think tanks, and other entities.

Russia has used WikiLeaks and other third party organizations to weaponize that information.

American intelligence agencies have determined that Russia could undermine U.S. elections again.
Witnesses' remarks
NSA Director Admiral Rogers:
It would be difficult to overstate Russia's cyber efforts aimed at undermining the United States.
All surveillance conducted by the NSA is conducted in accordance with established norms, laws, and procedures.
FBI Director James Comey:
It is the policy of the FBI not to discuss classified matters in public, which would include confirming or denying the existence of sensitive investigations.
However, when circumstances necessitate it, exceptions are made; this is one of those circumstances.
The FBI is, in fact, investigating Russia's interference in the 2016 elections, including connections between the Kremlin and the Trump campaign.
Discussion:
Devin Nunes (R-CA): Do you have any evidence that Russian interference in the election affected vote tallies?
Adam Schiff (D-CA): With regards to Trump's allegations about Obama wiretapping his phones, are those assertions true?
Comey: I have no information that supports those tweets. The same goes for the Department of Justice.
Schiff: Would it have been legal for Obama to order a wiretap of Trump, unilaterally?
Comey: No president has that authority.
Schiff: Might there be any truth to Sean Spicer's assertion that British intelligence helped Obama wiretap Trump's phones?
Rogers: That would be completely against current intelligence norms and practices.
Schiff: Are you aware that Russia may have disseminated information indirectly, through an intermediary, to WikiLeaks?
Comey: We assessed that Russia didn't deal directly with WikiLeaks, contrary to the way they interacted with DC Leaks and Guccifer 2.0.
Jim Himes (D-CT): Is it fair to say that the line between private citizens and government officials in Russia is quite blurred? That sometimes the Kremlin has private citizens do its bidding?
Comey: I think that would be fair to say—and that is at the center of some of our counterintelligence investigations.
Himes: Is it true that some Russian oligarchs are a part of this group?
Terri Sewell (D-AL): Is it in the Russian playbook to use diplomats and intelligence officers to collect information on influential Americans?
Comey: Adversaries of the United States sometimes use intelligence officers or people with diplomatic cover to gather information.
Sewell: Would you be concerned if any of your agents had a meeting with a Russian official?
Comey: Yes, if that meeting was undisclosed.
Rogers: Disclosing interactions with foreign officials is a requirement for all NSA employees, including myself.
Mike Conaway (R-TX): Is it fair to say that Putin had a clear preference for Trump over Clinton in the 2016 U.S. election?
Comey: Yes. FBI analysts had the view that the Kremlin preferred Trump over Clinton early on, but that it soon gave up on a Trump presidency when polls began favoring Clinton. The Kremlin then shifted tactics toward undermining what they thought would be a Clinton presidency.
Rogers: I agree.
Conaway: Would the Kremlin prefer to deal with U.S. businessmen over political leaders, so that they can be more easily influence these individuals via financial interests?
Comey: Yes. Putin prefers dealing with businessmen because he believes they are more open to negotiation, and are easier to deal with.
Terri Sewell (D-AL): Has the intelligence community been aware of the connections between the Kremlin and RT?
Rogers: We have certainly been aware of the connection between the two entities for a good while. It is in my opinion that Michael Flynn's actions (failing to disclose contact with Russian officials) rises to the level of criminal conduct and should be investigated.
Frank LoBiondo (R-NJ): What should we be doing to prevent future Russian meddling in our elections?
Rogers: Public discussion of this matter is very important, including discussions about election infrastructure and fortifying its defenses against meddling.
LoBiondo: Can you describe Russia's measures used to undermine the legitimacy of the election?
Rogers: Cyber tactics, use of media, disinformation, and leaking of information.
Andre Carson (D-IN): How did Russia take Crimea?
Rogers: Through military force and physical occupation.
The Russian economy shrunk by 3.5 percent in 2015 and had no growth in 2016, due in part to Western sanctions, including on the oil and gas industry.
Paul Manafort, Carter Page, and Michael Flynn all lied to the American public about their Russia connections.
Jackie Speier (D-CA): Is Russia our adversary?
Speier: What are some of the reasons the U.S. imposed sanctions on Russia?
Comey: To punish Russian activity that involve war crimes, violations of UN resolutions, or that are contrary to U.S. values.
Rogers: I agree. Sanctions are a tool we use to influence the actions of others.
Ileana Ros-Lehtinen (R-FL): What did Russia do in this election that it didn't do in previous elections?
Rogers: The use of hacking to gather information and disseminate it unaltered.
Comey: I would add that it is almost as if the Russians wanted the U.S. government to know that they were infiltrating the election. They were unusually "loud" in their activities.
Ros-Lehtinen: What did the FBI or NSA do to counter these Russian actions?
Comey: We alerted people who had been victims of intrusions. We also issued a public statement about what was occurring.
Ros-Lehtinen: Why do you think the Russians didn't care about being discovered?
Comey: I don't know for sure—but it is clear that their main goal is to undermine American democracy.
Ros-Lehtinen: Do you predict that Russia will continue this type of activity in the future?
Comey: I can say that the Russians will be back. One of the lessons that they drew from their actions is that this has proven a successful strategy.
Rogers: I expect them to continue these activities.
Mike Turner (R-OH): What forms the basis for an FBI counterintelligence investigation?
Comey: Credible knowledge of wrongdoing, or information that a U.S. person may be acting on behalf of a foreign power.
Mike Quigley (D-IL): Does there have to be knowing collusion on the part of a U.S. person for damage to occur to national security interests?
Comey: Sometimes actors interact unknowingly with agents of foreign powers.
Brad Wenstrup (R-OH): For how long has Russia interfered in the U.S. election process?
Rogers: We have seen this behavior to some degree for decades.
Eric Swalwell (D-CA): Would you agree that the intelligence community would look at Russian contacts more suspiciously than UK or French contacts, for instance?
Comey: Yes, very much so.
Chris Stewart (R-UT): Would you agree with CIA director Clapper's conclusion that evidence has not pointed to overt collusion between the Trump campaign and Russian officials to undermine the U.S. election?
Comey: I would agree with Clapper's conclusion in that specific report.
Joaquin Castro (D-Texas): Have oligarchs in Russia profited from their connections to the Kremlin?
Castro: Is it true that Russia regularly seeks favorable sources of information abroad?
Rogers: Generally, that has been shown to be true.
Castro: Is it plausible that Russia might seek out Americans to benefit Russian intelligence gathering?
Comey: Yes, that is at the core of Russia's intelligence strategy.
Castro: WikiLeaks was a participant in Moscow's interference in the U.S. election. Do you agree that Moscow colluded with WikiLeaks to establish plausible deniability regarding the released information?
Castro: What is the Russian method of kompromat?
Comey: It is a method used by Russian security services to use compromising or embarrassing information to influence actors to act in Moscow's interests. 
Castro: Has the intelligence community ever encountered situations in which kompromat has been used effectively by Russian security services?
Denny Heck (D-WA): Never before has a U.S. president had so many foreign entanglements. The Trump administration has made baseless wiretapping charges against a former U.S. president, and has argued in favor of moral equivalence between Russia and the United States; it has rarely criticized Russia. Tell us why the American people should care about Russia's interference in the 2016 election?
Rogers: I don't think it's in our country's best interest for a foreign actor to shape our electoral outcomes—that undermines democracy.

Absent some change in the geopolitical dynamic, Russia's activities will not stop.

Comey: One of the United States' greatest assets is its free and fair democratic system. When a foreign actor interferes in our elections, that threatens the country as a whole.
You can watch the full video of the hearing below: