On September 30th, the Institute of Modern Russia (IMR) and InterArt Gallery presented a multimedia program on the Russian protest movement at the Brooklyn Public Library. The event unfolded in three acts: the screening of an acclaimed documentary "Winter, Go Away!", the showcasing of a photographic exhibition "Unfrozen Winter," and a roundtable discussion with IMR president Pavel Khodorkovsky, journalist and historian Vladimir Kara-Murza, and editor of "Novaya Kozha" almanac Igor Satanovsky.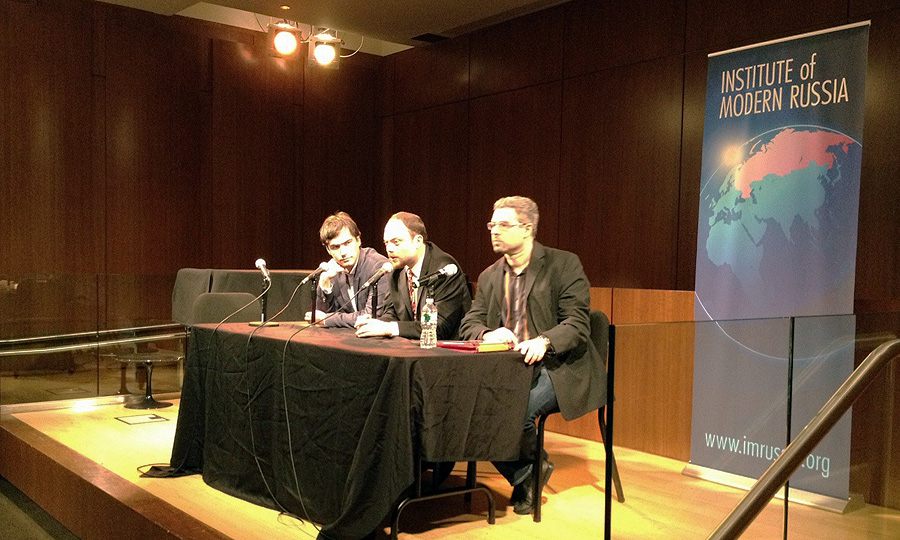 Left to right: IMR president Pavel Khodorkovsky, journalist and historian Vladimir Kara-Murza, and "Novaya Kozha" almanac editor Igor Satanovsky.
The "winter" theme in the program's projects was not accidental: it was during the winter of 2011-2012 that Russia witnessed the largest mass protests in the last 20 years of its history. Despite the bitter biting cold, tens of thousands of people took to the streets to express their discontent with the rigging of parliamentary elections and with Putin's regime at-large.
The protest mood of the Moscow citizens was captured in the works of Aleksei Kharitonov, Tatiana Sushenkova and other Russian photographers, resulting in the project entitled Unfrozen Winter. Backed up by PHOTODOC studio of Moscow Sakharov Center, this exhibition was showcased throughout the event in the Brooklyn Public Library, courtesy of InterArt Gallery.
The course of events during those Moscow winter days were also chronicled in the documentary Winter, Go Away! -- a thesis project of graduate students Maria Razbezhkina and Mikhail Ugarov's studio. For two months, ten young filmmakers hardly let go of their cameras, shooting unique footage of the 2011-2012 Moscow street demonstrations. Random pedestrians, protesters, opposition leaders, supporters and opponents of Russian president Vladimir Putin were captured on camera. The footage turned into a rich imaginary that, to a large extent, reflected the public moods of that period. Initially a student project, the documentary has gone on and entered international film festivals, such as those of Locarno (Italy) and Valdivia (Chile).
The screenings were followed by a round-table discussion. Khodorkovsky, Kara-Murza, Satanovsky, exchanged their views about the reasons why the protest movement was triggered and the movement's prospects. All participants agreed that the protest movement continues to grow and to organize itself, which can only imply the popular termination of Putin's regime.
The scale of endemic corruption has reached the point, at which people realized it is preventing their personal growth.
Pavel Khodorkovsky
The key triggering event was Vladimir Putin's decision to come back as a president (the so-called "castling" with Dmitri Medvedev, former president, now prime minister), Vladimir Kara-Murza explained. "When Putin announced that he will be back for 12 more years, he was not expecting that tens of thousands would get to the streets to say 'Enough is enough!' He miscalculated." Member of the Federal Council of the Russian Republican Party—Party of the People's Freedom (RPR-PARNAS), Kara-Murza affirmed that today's protest mood will not go away: the political process that started last winter is developing and will result in Putin's resignation. He predicts that it is likely to happen before 2018 when Putin's third term as Russian president will officially end.
Next, in his speech, Pavel Khodorkovsky noted that, for a long time, the Russian public had been passive, most people did not care about civil or political issues; they only cared about their own personal lives. In the last 10 years however, Russian authorities have been continually and repressively interfering in people's personal lives. "One may call this problem an endemic corruption," suggested Khodorkovsky. "The scale of this problem has reached the point, at which people realized that it prevents their personal growth." Commenting on the movement's prospects, he mentioned one of the crucial problems for Russia: the lack of a coherent national idea. He remembered his recent conversation with the foreign desk editor at Le Monde who told him that many Russians are similar in their resilience, which can be seen as a uniting idea. "I think that today the regime is testing this very quality, the resilience, observed in Russian citizens; and because they are resilient, they will continue to fight," said the IMR president. "I have high hopes for regional elections. If opposition candidates start to win them, it will help people to see the difference between the current regime and democracy."
In his turn, Igor Satanovsky spoke about the nature of power that is destined to expand and become corrupt, unless a civil society can restrain and counter it. But, in modern Russia, the social contract had been broken. "By coming back as president, Putin made a huge mistake - it's unforgivable for politicians," Satanovsky pointed out. "But [Putin] couldn't help it, and that is his Shakespearian tragedy: he is chained to the president's chair, because through his Ozero Co-Operative he stole up to half a trillion rubles from the Russian people. He has nowhere to go." Satanovsky also mentioned the recent legislations passed by the State Duma (on demonstrations, on "foreign agents," and on "black lists" on the Russian internet), which he thinks will only stimulate a reacting protest, as many people will go to demonstrations as a matter of principle. "The country has changed, but the regime hasn't realized it yet," Satanovsky concluded.