Leader of Russian opposition movement Solidarity Boris Nemtsov spoke at Columbia University about decline of the country during the past 10 years with Vladimir Putin in power and the fight that the united opposition is to put up in the upcoming elections.
Boris Nemtsov's visit to the United States included a meeting with Michael McFaul, President Obama's top Russia advisor, U.S. Senator Benjamin Cardin and David Kramer, Executive Director of Freedom House, on the Capitol Hill. The date, November 16, was chosen for a reason -- to commemorate the death in prison of Sergei Magnitsky, the Russian lawyer of Hermitage Capital Management. The event featured the premier screening of documentary about the case ("Justice for Sergei") telling a heartbreaking story of Sergei Magnitsky who discovered a major corruption scheme implemented by the officials of Ministry of Internal Affairs. He testified that they defrauded Russian budget of $230 million dollars, but shortly after that was arrested and held in detention for about a year in torturous conditions and finally died, denied of any medical help.
This outrageous case caused revolt of many human rights organizations. It also prompted U.S. Sen. Benjamin Cardin to introduce the Justice for Sergei Magnitsky Act of 2010. As one of the steps in the struggle for human rights protection in Russia Sen. Cardin suggested to "deny the individuals involved in this crime and their immediate family members the privilege of visiting our country". This initiative was supported by Russian opposition leaders. As Boris Nemtsov pointed out in Capitol there's even more that the United States can do – to extend the "black list" by including in it everyone who's responsible for corruption, censorship and violation of human rights in Russia. He also named as #1 Vladislav Surkov, the Deputy Head of President Medvedev's administration and Kremlin's leading ideologist, who, ironically enough, co-chairs with Mr. McFaul in the bilateral commission on civil society.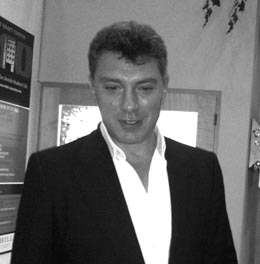 On the next day speaking at Columbia University Mr. Nemtsov was more specific about what can and should be done to promote democracy in Russia. He called for ratification of START-2 treaty, cancellation of Jackson-Vanik amendment and encouragement of Russia joining WTO. Mr. Nemtsov also raised the question of regular attacks of Russian journalists – deaths of Anna Politkovskaya, Natalia Estemirova, Paul Khlebnikov and recent beating of Oleg Kashin that all result from Putin's corrupted regime. "Putinism and corruption are the same things", Nemtsov said giving figures from Transparency International reports and data from his own report Putin: 10 years results. He added that repercussions of Putin's regime would be catastrophic for the country.
According to Mr. Nemtsov, the upcoming parliament elections in 2011 and presidential in 2012 are the crucial moment for the united opposition in its long fight for the votes. "I know that we're forbidden from Russian TV and popular newspapers but there's still internet and some independent press in Russia", he said. "We're also working to let people know of the scale of corruption in Russian government, going from region to region, talking, and explaining. Today politics in Russia can be done in the streets, and recent mass protests in Kaliningrad, Khimki and Abakan turned out to be successful".
Describing the perspectives of Russian double power system, or tandem, Mr. Nemtsov asserted that there might not be a peaceful ending to it. "President Medvedev was not elected, he was selected because he was loyal and weak". But as many notice he really wants to stay in the office for the next term. And in Nemtsov's opinion his chances are no more than 10% unless he can do one brave gesture – sign a decree to release Mikhail Khodorkovsky, though it's not likely to happen. "It will be the end of Putin", underlined Mr. Nemtsov.
read more (Putin: Results, full text)