IMR is launching a new human rights project—a monthly digest dedicated to serious human rights violations in Russia. Many of these incidents take place in the regions and rarely end up in the national media in Russia, let alone in the West. Our goal is to bridge this gap.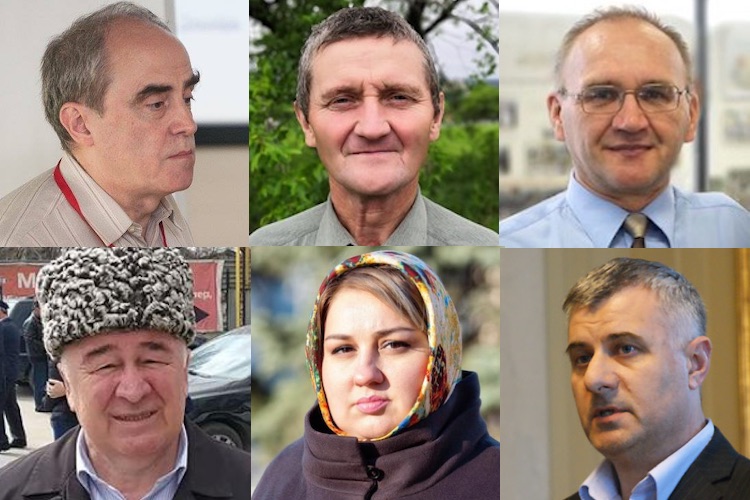 Memorial: $75,000 in penalty charges
Since late October 2019, Memorial Human Rights Center and Memorial International Society have been slapped with over twenty fines for not designating themselves as "foreign agents" on the websites of their regional branches and on social media accounts (part 2, article 19.34 of the Administrative Code)
By the end of January, the total amount of fines reached a whopping 4.7 million rubles (about $75,000), including 900,000 rubles ($14,000) to the name of Memorial's chairman, Yan Rachinsky.
Memorial Human Rights Center was declared a "foreign agent" by the Russian Ministry of Justice in 2014; Memorial International Society was designated likewise in 2016. The organizations maintain that "the 'foreign agent' designation is humiliating and contradicts the very nature of Memorial's activities. Memorial is no one's agent. Its function is to preserve the memory of the Soviet repressions."
In December 2019, for the first time in its history, Memorial launched a crowdfunding campaign to cover its growing fines. You can support them here.
Jehovah's Witnesses: suspended sentences, searches, arrests
This January, the large-scale persecution campaign against Jehovah's Witnesses continued in the Russian regions.
On January 13, in Stavropol Territory, criminal cases were opened against three members of Jehovah's Witnesses (their names are not revealed); they are accused of creating an extremist organization (parts 1 and 2, article 282.2 of the Criminal Code).
On January 19, members of Jehovah's Witnesses were detained and questioned in Kazan. According to the organization's website, among those detained were two women aged over 80 and two children aged 9 and 12.
On January 21, in Primorsky Territory, a court gave local resident Grigory Bubnov a five-year suspended sentence on charges of setting up an extremist organization (part 1, article 282.2 of the Criminal Code).
On January 24, in Murmansk region, two men were penalized on the same charges: Viktor Trofimov was fined 350,000 rubles ($5,500), and Roman Markin 300,000 rubles ($4,750).
On January 27, in Sverdlovsky region, three more members of Jehovah's Witnesses were handed conditional sentences on charges of participating in an extremist organization (part 2, article 282.2 of the Criminal Code). Alexander Pryanikov was given 2.5 years, Venera Dulova two years, and her daughter, 19-year old Darya Dulova, one year.
The Administrative Center of Jehovah's Witnesses in Russia was declared an extremist organization in 2017, but members of this religious group had been persecuted in the country long before that. Russia's own ombudsman spoke out against such persecutions in 2013, and concerns were also raised by the Parliamentary Assembly of the Council of Europe (PACE), the United Nations Human Rights Committee, the S. State Department, and numerous Russian and international human rights activists.
According to Memorial, over 200 people have been persecuted as part of the Jehovah's Witnesses case.
Ingushetia case: new accusations of extremism
As of the end of January, over 30 activists of the Ingush opposition stand accused of using violence against law enforcement officers during the March 27, 2019 protest in Ingushetia's capital, Magas.
A wave of peaceful protests had been triggered in October 2018 by a controversial agreement to redraw the borders between Ingushetia and the neighboring Chechnya that provisioned the former losing some of its territories.
At the end of December 2019, a new criminal case was initiated against eight leaders of the Ingush protest movement, accusing them of creating an extremist association.
On January 15 and 16, four of them were officially charged: Barakh Chemurziev, Zarifa Sautieva, and Ismail Nalguiev based on part 2, article 282.2 of the Criminal Code (participation in an extremist organization), and Akhmed Barakheyev based on part 1, article 282.2 of the Criminal Code (organizing an extremist organization).
On January 17, new charges were also brought against Malsag Uzhukhov, leader of the Council of the Teyp (Clan) of the Ingush People. He was accused of organizing an extremist association. His previous charges include use of violence against representatives of the authorities endangering their lives or health (part 3, article 33; and part 2, article 318 of the Criminal Code) as well as management of an organization whose activity could induce individuals to commit unlawful deeds (part 2, article 239 of the Criminal Code).
Similar charges are expected to be brought soon against two more Ingush opposition members, Musa Malsagov and Bagaudin Khautiev.
According to MediaZona, since the Ingush siloviki refused to participate in the protest crackdown, National Guard officers were brought in from neighboring regions. The decision not to engage cost the head of the Ingush interior ministry his job.
In its statement on the case, Memorial notes: "There is no doubt that the key goal of the instigators of the 'Ingushetia case' is to behead the protest movement in the republic and to teach a lesson to other Russian regions."