April saw the prosecution of several cases related to extremism and terrorism intensify. New charges were brought against a Dagestani journalist, Abdulmumin Gadzhiyev, while four activists of the BARS monarchist movement received guilty verdicts. In a separate case, the prison term of Konstantin Kotov, a participant in the 2019 Moscow protests, was remitted, however human rights activists largely viewed the court's decision as a mockery of justice.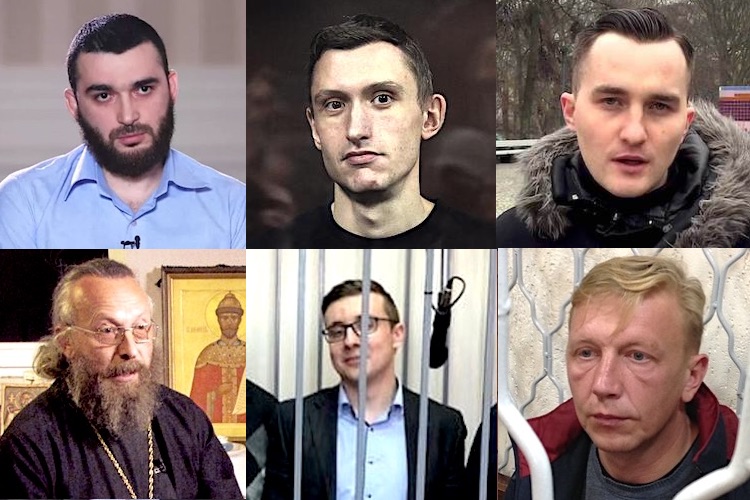 Persecution of Abdulmumin Gadzhiyev: new charges of terrorism and extremism
In mid-April, a new criminal case was brought against Abdulmumin Gadzhiyev, a journalist for the independent Dagestani publication Chernovik (Draft). He is now accused of participation in an extremist organization (part 2, article 282.2 of the Criminal Code).
Previously, the investigation accused Gadzhiyev and three other people of involvement with two banned organizations—the Congress of Peoples of Ichkeria and Dagestan, and the High Military Council of the United Mujahideen Forces of the Caucasus. Gadzhiyev's role in these organizations was not specified in the criminal proceedings of his case.
Gadzhiyev, who headed the religion desk at Chernovik, was detained in June 2019 on suspicion of financing terrorism (part 4, article 205.1 of the Criminal Code) and of participation in a terrorist organization (part 2, article 205.5). According to the prosecution, in 2011, Gadzhiyev entered into a "criminal conspiracy" with the preacher Israil Akhmednabiyev (known as Abu Umar Sasitlinsky). By publishing articles on the preacher's charity work in Chernovik, he allegedly helped raise funds for the Islamic State (IS). Akhmednabiyev, who had been put on an international wanted list by Russian authorities, denies any involvement in IS.
Apart from Gadzhiyev, another ten people are connected to the case of financing terrorism. Charges against him are based on the testimony of one of these people, businessman Kemal Tambiev. However, he later reported that he had signed the interrogation protocol under torture.
Chernovik is known for its anticorruption investigations targeting local officials and siloviki. According Magomed Magomedov, deputy editor-in-chief of the publication, "not a single of Abdulmumin's articles contained any extremism." "[He] worked in a peaceful realm, was engaged in educational activities. … Planting drugs or weapons on him would be a too clear indication of foul play. Thus, the only way was to connect Gadzhiyev to a terrorist-extremist story and to convict him based on evidence delivered under torture," explained Magomedov.
The Memorial Human Right Center recognized Gadzhiyev as political prisoner. "We believe that the charges against Gadzhiyev were fabricated in order to intimidate independent Dagestani journalists so that they stopped their critical coverage of the law enforcement agencies and government officials," the center's official statement said.
At the end of January, Russian journalists published a collective video address demanding Gadzhiyev's At the same time, one-person pickets in support of the Dagestan journalist were held in Moscow.
The case of Konstantin Kotov: "remitting" the unprecedented verdict
April saw new developments in the high-profile case of Konstantin Kotov, a programmer and civil activist. In September 2019, he was sentenced to four years in a penal colony for "repeated violations" of the rules for holding mass rallies (article 212.1 of the Criminal Code). Kotov became the second victim of this highly controversial article after another high-profile case, that of Ildar Dadin, had been thrown out.
On April 20, the Moscow City Court remitted Kotov's sentence to 18 It is noteworthy that the prosecution asked to reduce his prison term to one year, while the defense demanded to close the case due to lack of evidence, release Kotov, apologize for the persecution, and grant Kotov the right to rehabilitation.
"Konstantin Kotov's new verdict is perhaps even more shameful than the first one," said Sergey Davidis, head of Memorial's political prisoners program. "This is a spit in the face of not only society, but also the Constitutional Court, the basic principles of law." According to Davidis, the current verdict "not only did not clear all the charges, which would be the only legal decision, but did not even reduce the prison time to what had already been served—which would [still] be vile, but would let the authorities save face by through compromise."
Kotov was detained on August 10, 2019, following a protest for fair elections. His case is part of a larger so-called "Moscow case." In what human rights activists see as a politically motivated trial, the court refused to examine key evidence of Kotov's defense—footage from surveillance cameras that shows he was detained almost immediately after exiting the subway, which is to say before he could even attend the protest.
During the trial, Kotov's defense cited a ruling of the Constitutional Court, according to which real sentence under article 212.1 is given only if the accused "caused real harm or posed a real threat" to health, property, or public order. No claim of such harm or threat was backed up by evidence in the Kotov case. His trial lasted only two days.
By late 2019, Kotov's lawyers filed a complaint with the Constitutional Court. A month later, Vladimir Putin instructed the Prosecutor General's Office to check the "legality and validity" of Kotov's guilty verdict. A few days later, the Constitutional Court decided to review the verdict, intervening in a specific case for the first time in its history and pointing out violations.
Article 212.1 was included in Russia's Criminal Code in 2014, after the Euromaidan revolution in Ukraine and protests in Russia against verdicts in the Bolotnaya case. The article envisions punishment of up to five years in prison for those who have been penalized for administrative violations at rallies more than twice in 180 days.
Guilty verdicts in the BARS case: new persecutions on extremist charges
On April 17, guilty verdicts were given to the members of the monarchist movement called the "Baltic Avantgarde of the Russian Resistance," or BARS.
Alexander Orshulevich was sentenced to eight years in a penal colony on charges of creating an extremist organization (part 1, article 282.1 of the Criminal Code), and Alexander Mamaev and Igor Ivanov were sentenced to six years for participating in this organization (part 2, article 282.1). All three were also found guilty of public calls for terrorism (article 205.2 of the Criminal Code) and extremism (part 1, article 280).
Nikolai Sentsov, who was charged with illegal possession of weapons and explosives (part 1, article 222; and part 1, article 222.1 of the Criminal Code), received three years in a penal colony. He was, however, released in the courtroom as the time he had served in the pre-trial detention facility was taken into account.
All four defendants have been in custody since 2017. None of them admitted guilt.
According to the FSB, BARS activists, who advocate, among other things, renaming Kaliningrad back to Koenigsberg (the city's name before 1946), planned to forcibly seize power in the Kaliningrad region and push for its secession from Russia and movement toward joining the European Union. To achieve their goals, they allegedly were going to incite ethnic conflicts and spread extremist inscriptions, including those calling for the assassination of Putin.
Human rights activists believe that the case against BARS is politically motivated, that the investigation was carried out with gross violations, and that some of the evidence could be falsified.
In 2017, sources of the Russian newspaper Nezavisimaya Gazeta linked the BARS persecution with new appointments in the regional branches of the Ministry of Internal Affairs and the FSB: "The most likely explanation is that the newcomers are eager to show their Moscow curators how they will rein in rebellious Kaliningrad before the [2018] presidential election. And how they will bring order to the region surrounded by enemies from NATO, the region where the internal Germanizers clearly created a 'fifth column.'"
Memorial recognized all the defendants in the BARS case as political prisoners, deeming it as part of the trend "that began in 2014 and intensified in 2017, when people who hold opposition views started facing, on a regular bases and without any serious reason, accusations of creating terrorist and extremist organizations."