June was the most abundant month so far in terms of cases of political persecution and human rights violations in Russia. On June 26, the verdict was announced in the high-profile case of the Seventh Studio, whose defendants received suspended sentences and heavy fines. The persecution of Russian scientists accused of high treason continued, as well as a large-scale campaign against Jehovah's Witnesses. Russia's longest-serving political prisoner Alexey Pichugin was denied pardon for the third time.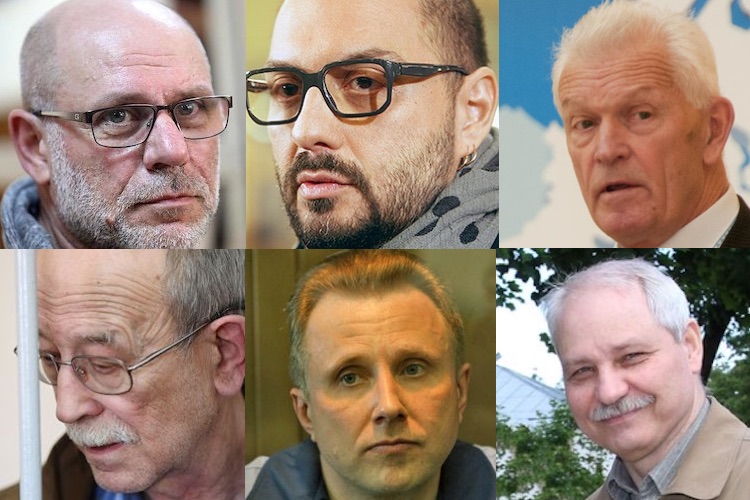 Seventh Studio on trial: criminal prosecution for the popularization of art 
On June 26, a Moscow court announced sentences in the high-profile case of the Seventh Studio theater and its celebrated director Kirill Serebrennikov. The prosecutor requested four to six years in prison for the five people involved in the case, but the court handed down suspended sentences.
Serebrennikov and Yuri Itin, former CEO of the Seventh Studio, were given suspended sentences of three years each and fines of 800,000 rubles ($11,300) and 200,000 rubles ($2,800), respectively.
Alexey Malobrodsky, the company's former general producer, received a suspended sentence of two years and a fine of 300,000 rubles ($4,200). Sophia Apfelbaum, another defendant in the case and a former employee of the Russian Ministry of Culture, was found guilty of negligence, but was exempted from the fine due to the expiration of the statute of limitations.
The court also decided to recover from the defendants almost 129 million rubles ($1.82 million) in favor of the Ministry of Culture.
The criminal case against the Seventh Studio was brought on charges of especially large-scale fraud (part 4, article 159 of the Criminal Code). According to the investigation, from 2011 to 2014, Serebrennikov and his colleagues, who had allegedly organized a criminal group, misappropriated parts of the Ministry of Culture's funding allocated to the Seventh Studio's project to popularize contemporary art.
The defendants admitted that they used cash and that their bookkeeping "was very bad," but claimed that all the money was spent on activities under the project.
Of all the defendants in the case, only the former chief accountant of Seventh Studio Nina Maslyaeva pleaded guilty. She already had a criminal record for embezzlement. Maslyaeva made a deal with the investigation and testified against the other accused; her case was separated in a different procedure.
On June 30, Maslyaeva was sentenced to two years and three months in prison, but released in court because she had already served this time in pretrial detention and under house arrest.
"The 'Theater case' was a frameup, [it was] politically motivated. The goal [of the prosecution] was to intimidate and remind the art community that we have no law, only unprecedented lawlessness. And that no one can feel safe if they do not follow the 'correct' course, not only in politics, but also in art," said the joint statement of PEN-International's Moscow Center and the Free Speech Association.
In his last word in court Serebrennikov noted: "Those who concocted this 'case' and accused us of some nasty things <...> did everything to make Russia look like a place where people can be bulled and accused, without a shred of evidence, of something they didn't do."
FSB against Russian scientists
Russian authorities continue to fabricate criminal cases of high treason (article 275 of the Criminal Code) against scientists.
On June 5, a court extended the house arrest of Valery Mitko, 78, president of the Arctic Academy of Sciences, who stands accused of high treason and now faces the maximum punishment of 20 years in prison.
According to investigators, starting in spring of 2017, Mitko collaborated with Chinese intelligence, collecting information on Russian submarines in exchange for financial gains. In March 2018, he allegedly travelled to China to hand over the collected data, "fully aware that his actions would damage Russia's national security," accordingto online newspaper Meduza.
In February, a search was conducted at Mitko's apartment, after which the court placed him under house arrest.
Mitko doesn't admit guilt, insisting that the documents found by the investigation in his luggage and allegedly containing state secrets were compiled based on information from open sources. The scientist maintains that he intended to use these materials in his lectures at the Dalian Maritime University in China, where he had taught as a visiting professor.
In a different case, on June 11, Vladimir Lapygin, 79, an employee of the Central Scientific Research Institute of Engineering (TsNIImash) and a teacher at the Bauman Moscow State Technical University, was released on parole. In September 2016, he was convicted of high treason and sentenced to seven years in a maximum security colony.
The prosecution alleges that Lapygin sent to China a file containing a secret program for calculating the aerodynamic characteristics of hypersonic aircraft. Lapygin's defense argues that the transferred file did not contain state secrets, and that the so-called "expert opinions" presented to the court were given by "incompetent persons under pressure from the FSB."
On June 19, the prosecutor's office appealed the court's decision to release Lapygin on parole.
On June 22, a Moscow court sentenced another TsNIImash employee, Roman Kovalev, to seven years in a maximum security colony. He was initially investigated under the same case as his colleague, Viktor Kudryavtsev, who had been accused of high treason in July 2018.
According to investigators, Kudryavtsev, under the guise of scientific cooperation with Belgium's von Karman Institute for Fluid Dynamics, passed to NATO countries secret data on hypersonic technologies used in the Russian missile systems Vanguard and Dagger.
In September 2019, Kudryavtsev was released from the pre-trial detention center due to health issues on recognizance not to leave town, but the case against him was not closed.
In recent years, Russian scientists who found themselves involved in similar cases of high treason include: Sergey Meshcheryakov, 77, another TsNIImash employee (placed under house arrest); Viktor Prozorov, 72, director of the Chernomorets Central Design Bureau, Sevastopol (sentenced to 14 years in a high security colony ); and Alexey Temirev, 64, doctor of technical sciences from Novocherkassk (sentenced to 5 years in a maximum security colony).
The proceedings of high treason cases are classified; courts usually hear them behind closed doors.
According to the Memorial Human Rights Center, "The sharp increase in the number of [high treason] cases <...> is the result of the state's deliberate policy and propaganda that create a wartime atmosphere in society, accompanied by the search for the 'fifth column' and 'enemies of the state.' To maintain this atmosphere, new criminal cases against alleged 'spies' and 'traitors of the motherland' are needed, which is why the law enforcement agencies fabricate cases, artificially criminalizing the completely legitimate actions of [Russian] citizens."
Alexey Pichugin: another denial of pardon 
On June 4, Alexey Pichugin, former security officer at the Russian oil giant Yukos, was denied pardon for the third time. Having been in prison for 17 years, he is the longest-serving political prisoner in Russia.
Pichugin's arrest in June 2003 laid the foundation for the infamous Yukos affair. Pichugin was tried twice on charges of organizing a series of murders and attempts to murder. In 2005, he was sentenced to 20 years and, two years later, to life in a maximum security penal colony.
Pichugin doesn't admit guilt. In fact, he maintains that prosecutors have repeatedly pushed him to commit perjury against Yukos' top management, in particular Mikhail Khodorkovsky and Leonid Nevzlin. During interrogations, Pichugin was reportedly given a potent psychotropic substance—the so-called "truth serum."
According to the late Lyudmila Alekseeva, chairwoman of the Moscow Helsinki Group, "Pichugin personally didn't interest anyone [in the Kremlin]. The verdict was revenge taken upon him [by the prosecutors] for not living up to their expectations, for not testifying as they wanted him to, for not slandering people who had nothing to do with the murders [that they had been accused of], for not confessing as a murderer. Pichugin is so cruelly punished because of his honesty, decency, and human dignity."
The European Court of Human Rights has twice stated that Pichugin's trials violated Article 6 of the European Convention on Human Rights ("right to a fair trial"), and recommended that the Russian authorities review his case. In 2017, the ECHR awarded Pichugin compensation of over 15,000
In November 2018, the UN Working Group on Arbitrary Detention prepared an opinion on the Pichugin case. The group's experts concluded that he was "arbitrarily deprived of his liberty because of his failure to cooperate with the authorities in the [Russian] government's open persecution of Yukos." The document concludes that Pichugin should be immediately released and accorded "an enforceable right to compensation and other reparations."
Despite all of this, the Russian government continues to ignore these recommendations.
Jehovah's Witnesses: searches, arrests, sentences
A large-scale campaign continues to unfurl in the Russian regions targeting Jehovah's Witnesses—a religious movement that was designated as an extremist organization and banned in Russia. According to the Memorial Human Rights Center, the total number of believers persecuted for their involvement in this movement exceeds 330.
In June, searches were conducted in the homes of Jehovah's Witnesses in the Moscow Region, Astrakhan, and the Krasnoyarsk Territory.
On June 4, the Crimean Supreme Court, at the request of the prosecutor's office, toughened the punishment meted out to Artem Gerasimov, who had been convicted for rendering services interpreted by the prosecution as "organizing activities of an extremist organization" (part 1, article 282.2 of the Criminal Code). Instead of a fine of 400,000 rubles ($5,600), Gerasimov was given six years in a general regime colony.
On June 9, a Pskov court sentenced Gennady Shpakovsky to six and a half years in prison for allegedly creating and financing an extremist organization (part 1, articles 282.2 and 282.3 of the Criminal Code). This is the most severe sentence imposed on a Jehovah's Witness in modern Russia.
In Astrakhan, Jehovah's Witnesses Sergey Klikunov, Rustam Diarov, and Evgeny Ivanov were placed in pre-trial detention, whereas Olga Ivanova was put under house arrest, as was Sergey Oganyan in the Moscow Region.
In the Stavropol Territory, a new criminal case was opened against Konstantin Samsonov, Alexander Akopov, Shamil Sultanov, and Alexey Shcherbich for allegedly financing an extremist organization (part 1, article 282.3); these believers are already charged under part 1, article 282.2 ("participation in an extremist organization").
In Sochi, Jehovah's Witness Vyacheslav Popov was denied bail despite health problems. He is accused of organizing activities of an extremist organization.
In April 2017, the Supreme Court declared the Jehovah's Witnesses Administrative Center in Russia an extremist organization and ordered its dissolution. All of its regional branches were put on the list of banned organizations.
"Jehovah's Witnesses are a fat target, they have always annoyed the [Putin regime] because they essentially refuse to cooperate, but would always obey the law," explained Alexander Verkhovsky, head of the SOVA Center, a Moscow-based think tank promoting human rights. "In addition, their administration style is American, which also makes [them] suspicious to [Russian] authorities."