November saw continuous persecutions of members of Hizb ut-Tahrir, a religious and political organization banned in Russia. According to Memorial Human Rights Center, a total of 309 people have been persecuted for their association with this organization. In Moscow Region, tensions have grown in the case against Alexander Dorogov, a blogger who was investigating police corruption for the publication Rosderzhava. A new criminal case was opened against Ivan Zhdanov, director of Alexei Navalny's Anti-Corruption Foundation (FBK). The brutality of the Russian penal system led to the death of pianist Anna Korovushkina.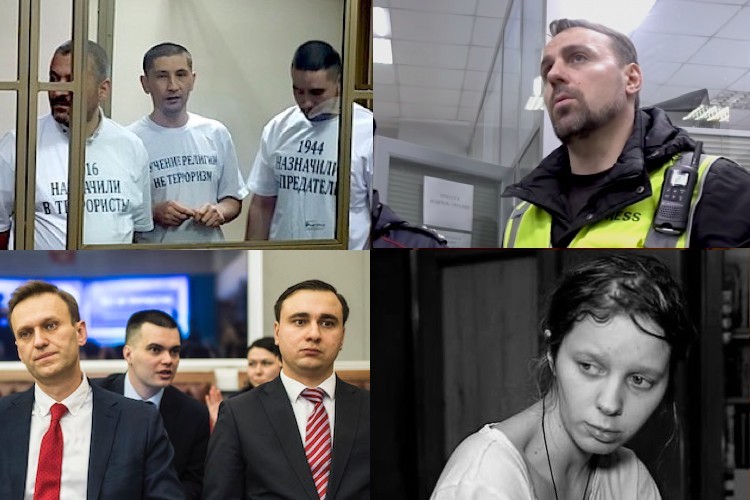 Hizb ut-Tahrir persecution: a case of simulated counter-terrorism
Persecution of Muslims associated with Hizb ut-Tahrir al-Islami (Islamic Liberation Party) continues in Russia. New cases have been increasingly initiated against its members since the 2014 annexation of Crimea.
Hizb ut-Tahrir (HT) was declared a terrorist organization and banned by Russia's Supreme Court in 2003. Human rights activists argue that this decision is unreasonable and unlawful, pointing out that, based on the case materials, "there are no specific facts indicating terrorist or any violent activity." Moreover, HT operates legally in most European countries.
On November 3, in Rostov-on-Don, in the case against the local HT branch, three defendants from Crimea were found guilty of creating a terrorist organization (part 1, article 205.5 of the Russian Criminal Code) or participation in one (part 2, article 205.5). All three were given lengthy sentences: Rustem Emiruseinov received 17 years in a high security colony, Arsen Abkhairov 13 years, Eskender Abdulganiyev 12 years. According to the investigation, the defendants studied HT ideology and persuaded fellow villagers to participate in a "terrorist organization."
On November 6, five members of another HT branch were detained in Kazan. According to the FSB, "they spread terrorist ideology among Tatarstan residents and recruited Muslims into their ranks." During the searches, the security forces seized HT printed materials, communications, and electronic equipment.
On November 30, in Samara, Aleksei Botva was sentenced to five years in a strict regime colony. He is charged with participating in the activities of a terrorist organization, namely "illegal meetings, where [he] learned more about HT ideology."
Also in November, in Russian regions and in Crimea, restraint measures were extended to other individuals persecuted for involvement in Hizb ut-Tahrir.
The defendants in the so-called "Bakhchisarai case"—Seytumer Seytumerov, Osman Seytumerov, and Rustem Seytmemetov—were left in pre-trial detention for another six months, and Amet Suleymanov's house arrest was extended until December.
In Tyumen, the detention of another ten accused of HT membership—Marat Saibatalov, Alim Timkanov, Ruslan Bariyev, Damir Abdrafikov, Rafis Idrisov, Aidar Tashbulatov, Tuvan Fomin, Farrubukhozkamov—was extended until February 2021. Some of them reported being tortured by electric shocks and threatened with sexual violence in order to induce confessions.
The arrests of persons involved in the Belogorsk HT case—Crimean Tatars Rize Omerov, Enver Omerov and Ayder Dzhapparov—were extended until January 2021. The court ignored the defense's argument that coronavirus cases had been detected in their pre-trial detention center, and medical assistance was not being provided to the prisoners.
In a HT case in Alushta (Crimea), the court upheld its previous decision to extend the arrest of another group of HT members—Ruslan Nagaev, Ruslan Mesutov, Eldar Kantimirov and Lenur Khalilov, who will remain in pre-trial detention center until January 2021.
Seven defendants in various criminal cases regarding HT affiliation in Crimea will also remain under arrest: Zekirya Muratov (a disabled person of group III) will remain in custody until May 2021, Vadim Bektemirov, Ismet Ibragimov, Alim Sufyanov, Seyran Khairedinov, and Emil Ziyadinov until March. Alexander Sizikov—disabled person of group I—is left under house arrest.
Memorial keeps an updated list of people persecuted for involvement in Hizb ut-Tahrir in Russia and Crimea. As of November 23, the list included 309 people, with 205 convicted, 78 receiving lengthy sentences—15 years in prison or more. Memorial recognized 221 persons from this list as political prisoners.
Human rights activists argue that people persecuted in HT cases have become easy prey for the Russian security forces, since it is very convenient to imprison them and report on the "fight against terrorism." "Solving HT-related cases is extremely easy, minimal efforts are required to achieve 'high results.' The special services take the opportunity to improve their stats (and show their own usefulness) many times over, inflate the perceived terrorist threat, and replace the real anti-terrorist struggle with an imitation," explains Memorial in its statement.
Rosderzhava: a criminal case for covering police corruption 
In November, Alexander Dorogov, a video blogger and journalist for the publication Rosderzhava, having been detained earlier this year on extortion charges, reported that the administration of the pre-trial detention center where he is being held is putting pressure on him.
In a letter from the detention center, Dorogov says that his personal file was updated to include information that he was "prone to suicide." "So if they hang me or something else, they will be able to say 'he's a freak and climbed into the noose himself.' If this happens, then you know who is responsible!" The blogger also reported that his complaints to the public oversight commission (a watchdog for prisoners' rights) had not been registered by the detention center, nor had the penal officers sent these complaints to the commission.
Dorogov and his colleague, Yan Katelevsky, were detained in late July 2020. Both are accused of extortion in order to obtain property on an especially large scale (part 3b, article 163 of the Russian Criminal Code). According to the investigation, the defendants allegedly tried to get 1.3 million rubles ($17,000) from a traffic police officer in exchange for not publishing compromising videos. Katelevsky is additionally charged with damage of property caused by hooliganism (part 2, article 167).
The bloggers believe that the criminal case against them is fabricated in order to stop their professional activities, particularly their investigations into police corruption, which they published on their YouTube channel.
In August, Dorogov was reportedly severely beaten in the detention center. According to his lawyer, the attack took place with the knowledge of the prison administration.
In late September, Dorogov was released from the detention center and placed under house arrest. However, a few weeks later, this decision was reversed upon the prosecution's complaint. Dorogov will now remain in custody until December 29. Katelevsky's detention was extended until January 2021
Pressure on FBK: fines, searches, criminal cases
Postscript: in memoriam of Anna Korovushkina
The story of pianist Anna Korovushkina (27), who died on November 14, speaks volumes about the situation with human rights (including prisoners' rights) in modern Russia.
For many years, Korovushkina suffered from a number of chronic conditions, including a rare liver disease, which is accompanied by acute pain, and was in constant need of painkillers and other treatments. Due to a conflict situation at her local hospital, she was refused prescribed drugs and essentially pushed to seek illegal alternatives.
In 2018, she was arrested for illegal drug possession (heroin) and consequently sentenced to two years in prison. In detention at the Matrosskaya Tishina prison, Anna's health deteriorated sharply, but she was not provided with much-needed medical assistance. In December 2019, she was transferred to a prison colony in Vladimir.
According to the account of events told by Alexander Shestun, a former Moscow Region official, who was kept at the prison's intensive care unit next to Korovushkina, he "heard her cries for help every day, but the doctors just injected her with water… These prison doctors are not human, they called her a drug addict and sent her to the Vladimir colony, having previously mislaid her certificate of disability."
In September 2020, Anna Korovushkina was released early from the colony. She died two months later.