The last month of 2020 showcased some of the worst repressive trends in Russia. Former district official in the Moscow region Alexander Shestun, who gained publicity for releasing records of the region's governor threatening him, was sentenced to 15 years in prison. Similarly long prison terms were given to residents of Kaliningrad, Antonina Zimina and Konstantin Antonets, for alleged treason, and to former Inter-RAO top manager Karina Tsurkan for alleged espionage. The politically motivated prosecution of Moscow municipal deputy Yulia Galyamina, however, resulted in a suspended sentence.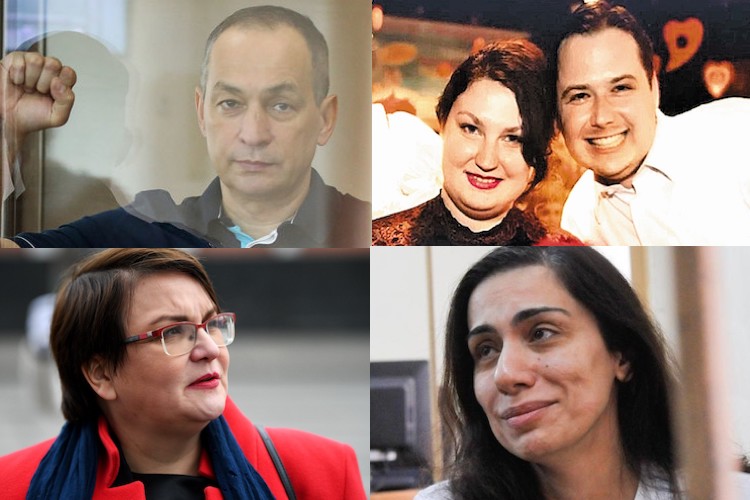 Alexander Shestun: crushed by the system
On December 25, Alexander Shestun, former head of the Serpukhov municipal district of the Moscow region, was sentenced to 15 years in a strict regime colony and fined 49 million rubles ($660,000). He was found guilty on the counts of swindling on an especially large scale (part 4, article 159 of the Russian Criminal Code), money laundering (part 4 (b), article 174.1, ibid), illegal participation in business activity (article 289), and bribe-taking on an especially large scale (part 6, article 290, ibid).
Shestun was detained in June 2018 on charges of abuse of office (part 3 (c), article 286, ibid), which was then changed to "swindling"; other charges, e.g. multiple fraud with land plots and bribe-taking, were added later. Shestun did not admit guilt and called the case against himself a "hit job."
In the spring of 2019, the court seized Shestun's and his relatives' assets worth 10 billion rubles (~$160 million).
In April 2018, Shestun published two video addresses (one of them to Vladimir Putin) speaking out against the pressure he was subjected to by Moscow region governor Andrei Vorobyov, presidential administration officials, and the FSB. Audio recordings of his conversations with these individuals showed that Shestun had been forced to resign and abandon re-election plans for the district head position, as well as threatened with criminal prosecution and confiscation of his home (Shestun has five children). In particular, the head of the local branch of the FSB's Directorate of Economic Security ("K") said that otherwise Shestun would "simply be run over."
Shestun claimed that these threats were connected with his giving permission to local activists to hold a protest against constructing a landfill in the district, as well as his harsh criticism of the administrative reform in the Moscow region that envisioned the liquidation of the Serpukhov district.
During his detention, Shestun repeatedly complained of beatings and bullying by the corrections officers. He went on hunger strikes several times (one lasted over 200 days) and even attempted suicide—all this resulting in his health seriously deteriorating.
Shestun has form when it comes to causing trouble for the Putin regime. In 2011, he became one of the key witnesses in the case against Moscow region prosecutors involved in covering up underground casinos, and was even included in the witness protection program, where he learned how to secretly record his conversations.
The Memorial Human Rights Center believes that Shestun's persecution is politically motivated and linked with his public activities and criticism of the authorities and security forces.
Citing serious violations of the law during the investigation and the inconclusiveness of the charges brought against Shestun, human rights activists are demanding that the verdict be quashed and a re-trial be held.
Spy mania: treason and espionage
At the end of 2020, harsh sentences were handed down in cases of treason and espionage.
On December 24, a Kaliningrad court found spouses Antonina Zimina and Konstantin Antonets guilty of high treason (article 275 of the Russian Criminal Code). Zimina received 13 years and Antonets 5 years in a penal colony, and additionally fined 100,000 rubles ($1,350) each.
Zimina was detained in the summer of 2018; at that time she worked as an expert at the Gorchakov Public Diplomacy Fund and headed the Baltic Center for the Dialogue of Cultures. Her husband, who previously worked as a lawyer at the Kaliningrad region's Economic Ministry, was arrested a year later. The spouses were accused of transferring to the Latvian intelligence service secret information about the financing of Kaliningrad's special economic zone. Antonets allegedly had access to such data through his employment.
Another charge in this case concerned the alleged disclosure of the identity of a local FSB officer, who was a guest at the defendants' wedding. According to the investigation, the spouses took a photo of him and subsequently sent it to the Latvian counterintelligence unit, indicating his rank and position. The defense argued that said officer was under alcoholic influence and openly discussed his job at the wedding, handing out calling cards and taking pictures with other guests.
In another spy case, former top manager of energy holding Inter RAO Karina Tsurkan was sentenced to 15 yearsin a penal colony on December 29. She was found guilty of spying for Moldova (article 276 of the Russian Criminal Code).
Tsurkan was arrested in June 2018. According to the prosecution, in 2015 she handed over to Moldova's intelligence services a classified document taken from the Russian Ministry of Energy that contained information on electricity supply to the self-proclaimed republics of Donetsk and Lugansk. These materials were allegedly later transferred to NATO. "With this information, foreign states could accuse Russia of supporting the armed conflict in eastern Ukraine," argued the FSB.
Tsurkan did not admit guilt. She received Russian citizenship in 2016, having renounced her Moldovan passport. However, the FSB insisted that she had committed the crime as a citizen of Moldova, charging her with espionage, not treason.
According to the defense, Tsurkan did not have access to state secrets and never signed a nondisclosure agreement. "The FSB is trying to prove their case of Tsurkan's spying for Moldova with photocopies of documents written with [grammatical] errors and the testimony of an anonymous security officer who allegedly received these copies from an unknown source," Mediazona, an independent outlet covering Russia's penal system, wrote with sarcasm.
Tsurkan's lawyers were also known to have been forced to learn the case materials by heart, since the court, at the request of the FSB, prohibited them from copying documents or even taking notes.
In October 2020, Memorial recognized Tsurkan as a political prisoner, making the following statement: "The initiation of the case against Tsurkan, her arrest, and the nature of her persecution reflect the general trend of recent years, associated with a rise in persecution under articles of espionage and treason after the start of the Russian-Ukrainian conflict and the intensification of the confrontation between Russia and Western countries since the beginning of 2014."
Additionally, the human rights center pointed out that "to maintain the image of Russia as a besieged fortress surrounded by enemies, more and more cases are required against 'spies' and 'traitors' to the Motherland, and the activities of [Russian] counterintelligence are often aimed at fabricating such cases."
What makes persecution in the cases of espionage and treason even more serious is the fact that they are usually classified, with hearings held behind closed doors, which makes civic control impossible, depriving the defendants of the right to a proper defense.
Over the past 10 years, the number of guilty verdicts under articles related to counterintelligence activities has increased by five times, according to Charges can be brought under the following articles of the Russian Criminal Code: 275 (high treason), 276 (espionage), 283 (disclosure of state secrets), 283.1 (illegal receipt of information comprising a state secret).
If prior to 2014, 5-6 guilty verdicts per year were administered under article 275 and 1-2 under article 276, then "after the annexation of Crimea and the aggravation of [Russia's] relations with Western countries, both articles have been applied more often."
Yulia Galyamina: attack on the political opposition  
On December 23, a Moscow court delivered a verdict in the highly controversial case brought against municipal deputy Yulia Galyamina. She was given a two-year suspended sentence for alleged repeat violation of the procedure for holding public events (article 212.1 of the Russian Criminal Code). The prosecution sought three years in a penal colony.
The criminal case against Galyamina was initiated in the summer of 2020. She was charged on six counts, including: calling on social media for a public gathering in connection with the Moscow authorities' refusal to admit independent candidates to elections to the City Duma (she was among the banned candidates); participation in three protests concerning the same issue in July 2019, as well as organization of a protest against the 2020 constitutional amendments.
"There is every reason to believe that the criminal case against Galyamina is part of an ongoing pressure campaign against potential opposition candidates ahead of the 2021 State Duma elections," Memorial said in a statement.
Last spring, participating in elections was further restricted in Russia: those convicted, including under article 212.1, will not be allowed to run in elections for five years after their terms expire.
In her powerful last word in court, Galyamina addressed the authorities and Vladimir Putin in particular: "You proved to the whole country that I pose a real threat to you. Me, a teacher, a municipal deputy, a politician advocating for non-violent change, for an honest political struggle, for a decent life for people. I, a woman, pose a threat to a man who is seemingly vested with all possible power. But this man is just a little person who is afraid of soft feminine power. He is afraid because <...> he has absolutely nothing to offer the Russian people, except for cheap pasta and violence."
Yulia Galyamina is the eighth Russian citizen prosecuted under the repressive article 212.1, first added to the Russian Criminal Code in 2014 following Euromaidan in Ukraine and the protests against the guilty verdicts in the Bolotnaya case. The article envisions criminal punishment for those who receive within 180 days more than two administrative fines for violating the rules for holding rallies.
Human rights activists view article 212.1 as illegal and unconstitutional, since it implies double responsibility for the same acts—first administrative, then criminal. The article was harshly criticized by Memorial, Amnesty International, the head of the Presidential Human Rights Council, and Russia's human rights ombudsman.