In June, the Russian authorities focused on purging the political space ahead of the September elections: Criminal cases were opened against oppositionists Maxim Reznik, Ketevan Kharaidze, and Dmitry Gudkov. New guilty verdicts were given to participants in the January protests in support of Navalny and against the arbitrariness of the authorities. Persecution of Muslims associated with the Hizb ut-Tahrir party—an organization recognized as terrorist in Russia—continued in the regions.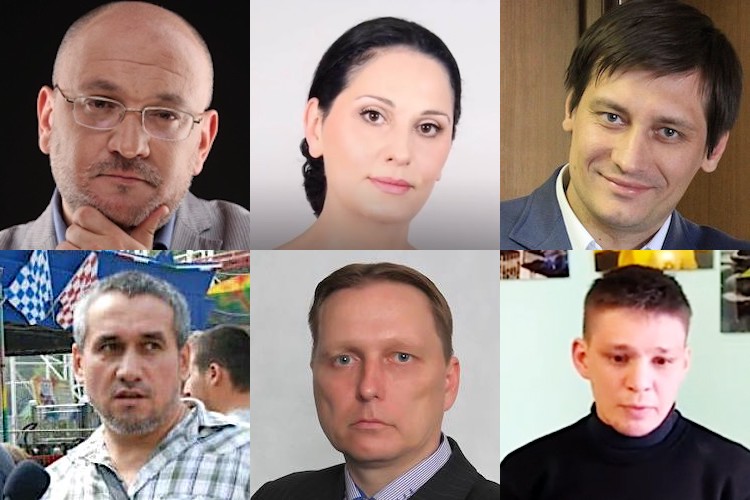 Criminal prosecution of oppositionists: purging the political field before the elections
Ahead of Russia's parliamentary elections slated for September, pressure on the political opposition is growing.
On June 17, security officials searched the apartment of the opposition politician Maxim Reznik, currently a deputy at the St. Petersburg legislative assembly. He was detained on charges of illegal drug trafficking (Part 1, Article 228 of the Criminal Code). According to the investigation, in March of this year, Reznik acquired 18 grams of marijuana "for personal consumption." Prior to that, he was a witness in a drug case initiated against his distant relative.
The court put Reznik under house arrest until mid-August. He is not allowed to leave the apartment or communicate with anyone other than his relatives and a lawyer, or use any means of electronic or written communication.
His associates say his criminal prosecution is connected to the upcoming elections to the regional assembly. According to Ilya Yashin, "Reznik is one of the last independent deputies who is not afraid to openly speak out [on the critical issues, which is considered] unacceptable by the authorities. He openly supports Alexei Navalny, openly opposes the authorities. United Russia cannot beat Max in a fair competition, he is popular with voters. Therefore, his was removed from politics in a safe and proven way—through fabrication of a criminal case."
On June 18, the Investigative Committee's officers detained Ketevan Kharaidze, a municipal deputy of the Tverskoy District in Moscow. Prior to that, a search was carried out in her apartment. Following the arrest, she was denied seeing her lawyer for several hours. It is noteworthy that in May, Kharaidze announced her intent to run for the State Duma in September of this year.
Kharaidze was charged under Part 4, Article 159 of the Criminal Code ("swindling committed by an organized group or on an especially large scale"). The details of the case are unknown: the politician's lawyer signed a nondisclosure agreement.
The court sent Kharaidze to a pretrial detention center for two months. She was reportedly denied drinking water in the detention center and went on a short hunger strike as a sign of protest.
Another opposition politician, Dmitry Gudkov, was also persecuted last month. On June 1, he was arrested on suspicion of causing damage to the Moscow Property Department (Clause b, Part 2, Article 165 of the Criminal Code: "infliction of property damage through deception or abuse of confidence on a large scale"). The case was initiated on the pretext of a debt under a lease agreement for nonresidential premises that were rented by a company owned by Gudkov's relative.
Two days later, Gudkov was released without being charged and immediately left Russia. He explained his decision in a Facebook post: "Several sources close to the presidential administration said that if I do not leave the country, this fake criminal case will be continued until I'm arrested. If I stay, it was said that the Gudkov issue should be resolved 'by any means.'"
Hizb ut-Tahrir: an article on terrorism as an instrument of repression
The persecution of Muslims associated with Hizb ut-Tahrir al-Islami, an Islamic religious and political party, continues across Russia.
In 2003, Russia's Supreme Court recognized Hizb ut-Tahrir as a terrorist organization and banned it. However, according to human rights activists, "the text of the court decision does not correspond to the definition of terrorist activity" adopted in Russian legislation, and those criminally prosecuted for terrorism due to their association with this organization are given harsh sentences in the absence of corpus delicti.
In recent years, charges for membership in Hizb ut-Tahrir have become an instrument of massive repression against Crimean Tatars, in particular activists of the Crimean Solidarity human rights movement created to support victims of political persecution following the annexation of Crimea.
As part of these efforts, on June 21, the court of appeal upheld a harsh sentence for Ildar Ibragimov from Kazan. Earlier, he was sentenced to 16 years in a strict regime colony under Part 1, Article 205.5 of the Criminal Code ("organizing the activities of a terrorist organization"). During the search, no weapons or explosives were found at Ibragimov's apartment; the case materials contain no evidence of him committing or calling for violent acts.
On June 22, in Ufa, FSB officers conducted mass searches and detained six people, allegedly in the Hizb ut-Tahrir case. Three detainees—Radik Talipov, Timur Khabibullin, and Farit Kharisov—were taken into custody for two months.
In Rostov-on-Don, the prosecution requested 14 to 19 years of imprisonment at a high-security colony for the defendants in the Alushta chapter of the Hizb ut-Tahrir case: Lenur Khalilov, Ruslan Mesutov, Ruslan Nagaev, and Eldar Kantimirov.
According to the Memorial Human Rights Center, as of June 2021, at least 327 people have been prosecuted in Russia and Crimea for association with Hizb ut-Tahrir. Two-hundred eleven were convicted; most of them were sentenced to 10 or more years in prison.
"In none of the criminal cases known to us, in which more than 250 Muslims have already been imprisoned, are there any signs of not only terrorism, but also the preparation for or even discussion of terrorist attacks or the use of weapons," Memorial said in a statement.