July was marked by increased government pressure on independent journalism in Russia. The investigative publication Project was recognized as "an undesirable organization," The Insider as a "foreign agent," more than a dozen journalists were also included in the list of "foreign agents." As part of the Yukos case, Alexei Pichugin, political prisoner and the company's former head of security, was transferred to Moscow, presumably to testify against his ex-boss, Mikhail Khodorkovsky. Meanwhile, the mass persecution of followers of Jehovah's Witnesses continues in the Russian regions.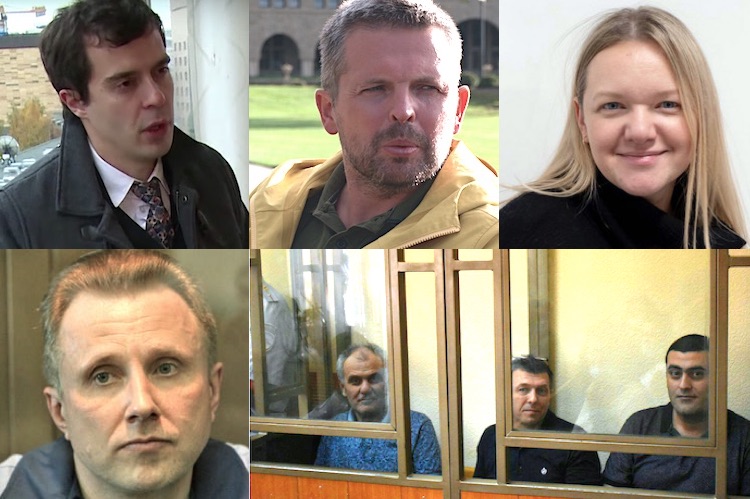 Crackdown on independent media: searches, criminal cases, recognition as "foreign agents"
A new wave of repression against independent media is surging in Russia.
On the morning of July 28, the security forces paid a visit to the founder and editor-in-chief of the investigative publication The Insider, Roman Dobrokhotov. After the search, he was taken to a police station for questioning. He was reportedly planning to fly out of Russia on a business trip that same day.
Dobrokhotov is currently a witness in a libel case (Part 2, Article 128.1 of the Criminal Code) that was initiated in April at the request of the Dutch blogger Max van der Werff. The reason was a tweet posted by the journalist about van der Werff's involvement in a disinformation campaign about the Malaysian Boeing (flight MH17) shot down over Donbas.
In November 2020, The Insider, together with Bellingcat, published an investigation into the connection between the Bonanza Media project founded by van der Werff (dedicated to "alternative" versions of the MH17 crash) with the Russian special services. In particular, the article claimed that van der Werff collaborated with the GRU (Russia's military intelligence service) and received money from the Russian defense ministry for spreading fakes about the Boeing crash.
The police seized Dobrokhotov's passport and equipment. A search was also carried out in his parents' apartment. According to the journalist, the investigators' main purpose was to gain access to his gadgets "to find out his sources of information." "… This is a new trend—journalists are becoming 'criminals.'. And now it was my turn. The overarching task is to destroy investigative journalism in Russia," he said.
A few days before the searches, the Ministry of Justice listed The Insider as a "foreign agent." Dobrokhotov commented on this decision: "The Insider is a Latvian publication that is registered in Latvia under Latvian law. [It] is not interested in what the Ministry of Justice wants … There is no office in Russia, so all these crazy laws do not apply to The Insider; [it] will continue to operate as before," he added.
In July, the authorities also targeted another investigative media outlet, Project. The Prosecutor General's Office declared it an "undesirable organization," and eight members of the editorial board (Roman Badanin, Olga Churakova, Yulia Lukyanova, Maria Zheleznova, Pyotr Manyakhin, Mikhail Rubin, Sofya Groisman, and Yulia Apukhtina) were put on the list of media persons acting as "foreign agents."
On July 29, it was reported that Project editor-in-chief Roman Badanin and his deputy Mikhail Rubin were in the United States and did not plan to return to Russia. Badanin said that the publication will continue its work, and most of the team will be evacuated from Russia to a neighboring country "to avoid potential judicial and extrajudicial prosecution."
Also last month the status of "foreign agent" media representative was given to journalists Yulia Yarosh, Maxim Glikin and Ilya Rozhdestvensky (all employees of Open Media), Yelizaveta Mayetnaya (Radio Liberty) and Alexei Posternak (Realii).
In July, the Moscow Regional Court once again extended, until August 21, the arrest and pre-trial detention of Yan Katelevsky and Alexander Dorogov, opposition blogger and journalist, respectively, of the Rosderzhava
Katelevsky and Dorogov have been in custody since the summer of 2020 on charges of extortion in order to obtain property on an especially large scale (Part 3, Article 163(b) of the Criminal Code) and insulting an official (Article 319 of the Criminal Code).
According to the investigation, the journalists extorted3 million rubles from a traffic police inspector, promising in return not to publish compromising videos.
The defendants consider the criminal case against them to be "custom-made" and associate it with their professional activities, namely with investigations of corruption in the Moscow Region police.
Alexei Pichugin: transfer to Lefortovo 
In early July, Novaya Gazeta, citing its sources, reported that the prominent political prisoner Alexei Pichugin, former head of Yukos' economic security department, who is serving a life sentence in a penal colony in Orenburg Region, was convoyed in an unknown direction for "investigative reasons." A few days later, he turned up in the Lefortovo pre-trial detention center in Moscow.
Pichugin refused the services of lawyers who had been representing his interests for many years. According to human rights activists, he could have made this decision under duress. Members of the Moscow Public Monitoring Commission were not allowed to see the prisoner under a far-fetched pretext.
Pichugin's relatives believe that he was taken to Moscow to testify against former Yukos CEO Mikhail Khodorkovsky, who was arrested in absentia in 2015 on charges of organizing murders and attempted killings. For this same purpose, Pichugin had been previously brought to the capital in 2016. At the time, he cited Article 51 of the Russian Constitution (protects individual rights and freedoms) and, following several months spent in Lefortovo, was taken back to the Orenburg colony.
As Novaya Gazeta notes, "Pichugin's transfer from the colony took place two months before the Dutch Supreme Court made a final decision on Yukos shareholders' claim against Russia for payment of $57 billion for illegal expropriation of assets. It is expected that the Dutch court will announce this decision on 24 September."
Alexei Pichugin has been in prison for over 18 years. His arrest in June 2003 marked the beginning of the so-called "Yukos affair." Pichugin was tried twice on charges of organizing a series of murders and assassination attempts: in 2005 he was sentenced to 20 years in a maximum security colony, in 2007 to life imprisonment in a high-security colony.
Pichugin has never admitted guilt. He reported that employees of the Prosecutor General's Office had repeatedly tried to force him to perjure his former bosses. During interrogations he was reportedly administered potent psychotropic substances—the so-called "truth serum."
The charges against Pichugin were based on the testimony of convicted serial killers and rapists. "Some of them later retracted their testimonies, admitting that they had followed the investigation's lead, which promised them concessions and reduced terms in exchange for testimony against the Yukos shareholders."
The Memorial Human Rights Center is convinced that Pichugin "became a hostage to the Kremlin's repressive campaign against the Yukos owners, and that he is being harshly persecuted for refusing to perjure and incriminate others."
The European Court of Human Rights (ECHR) twice recognized that during Pichugin's trials Article 6 of the European Convention (Right to a Fair Trial) was violated, and recommended the Russian authorities to reconsider his case. In 2017, the ECHR awarded him 15,000 euros in compensation.
In November 2018, the UN Working Group on Arbitrary Detention prepared an opinion on the Pichugin case. The experts concluded that he was "arbitrarily deprived of his liberty for refusing to cooperate with the authorities in the open government prosecution of Yukos," and demanded his immediate release.
The Russian side consistently ignores international organizations' resolutions.
Jehovah's Witnesses: mass searches, conditional and real sentences
Persecution of Jehovah's Witnesses continues in the Russian regions. According to Memorial, at least 388 people are currently being prosecuted for belonging to this religious movement, banned in Russia as an extremist organization.
On July 29, in Rostov-on-Don, three Jehovah's Witnesses were sentenced: Alexander Parkov and Arsen Avanesov received 6.5 years in a general regime colony, Vilen Avanesov 6 years. They were found guilty of "organizing the activities of an extremist organization" (Part 1, Article 282.2 of the Criminal Code); Arsen Avanesov was also charged with "collection of funds to finance such an organization" (Part 1, Article 282.3). The court considered it a crime of an extremist nature to discuss the Bible and Christian teachings.
The Court of Appeal in Abakan upheld the harsh sentences handed down to Valentina and Roman Baranovsky. In February, 70-year-old Valentina Baranovskaya was sentenced to 2 years in prison, her son Roman to 6 years. The court's decision is unique in that for the first time in modern Russia, a woman has been given a real sentence not for organizing, but for participating in a banned organization. Previously, Jehovah's Witnesses were given a suspended sentence under this article.
In Chelyabinsk, 75-year-old Vladimir Suvorov was conditionally sentenced to 6 years in prison under Part 1, Article 282.2 of the Criminal Code. In March, the court gave his wife, 73-year-old Valentina Suvorova, probation for 2 years.
In Amur Region, Konstantin Moiseenko received a suspended sentence of 6 years (Part 1, Article 282.2). Moiseenko's fault lies in having arranged meetings of fellow believers. The prosecution reportedly relied on video recordings obtained by an embedded FSB agent.
In Birobidzhan, Irina and Anna Lokhvitsky and Natalia Krieger were convicted for "participation in the activities of an extremist organization" (Part 2, Article 282.2). The court sentenced them to 2.5 years conditionally: according to the investigation, the women, along with other persons involved in the case, resumed the activities of a previously liquidated local "cell" of Jehovah's Witnesses.
Believers from Sverdlovsk Region and Rostov-on-Don were also sentenced to suspended sentences (Part 2, Article 282.2): Alexander Pryanikov received a 2.5-year suspended sentence, Venera Dulova and Olga Ganusha two years each, Daria Dulova a one-year suspended sentence.
Kristina Golik and Maria Portnyagina from Blagoveshchensk were also charged with participation in an extremist organization. Both women are under recognizance not to leave town. Kristina Golik's husband, Dmitry Golik, was sentenced to 7 years in prison at the end of June under the "organizing an extremist community" article.
In Arkhangelsk, a court fined Yevgeny Yakka 850,000 rubles ($11,600). Large fines were imposed on three believers from Kirov: Andrei Shchepin was fined 500,000 rubles, ($6,800), Alexander Shamov 420,000 rubles ($5,700), Yevgeny Udintsev 200,000 rubles ($2,700).
Mass searches were carried out in the homes of Jehovah's Witnesses in the Kabardino-Balkaria, Tver, Murmansk and Kurgan regions, as well as the Krasnoyarsk and Primorsky territories. In several cases, the court chose a preventive measure in the form of recognizance not to leave town or house arrest. During the searches, Investigative Committee and FSB officers seized electronic devices and religious literature.
In April 2017, the Supreme Court declared the Administrative Center of Jehovah's Witnesses in Russia extremist and liquidated it. "All of its regional branches (about 400) were put on the list of banned organizations, after which a wave of criminal cases against followers of this religious movement began in Russia.
Those accused and convicted under "extremist" articles are included in the "list of terrorists and extremists" of Rosfinmonitoring, Russia's financial watchdog; their bank accounts are blocked.
The criminal prosecution of Jehovah's Witnesses contradicts Article 28 of the Russian Constitution, which guarantees freedom of religion.
According to lawyers, the security forces treat believers as "expendables," and numerous cases against Jehovah's Witnesses help them to fulfill their work plan.