In August, in the runup to Russia's State Duma elections slated for mid-September, the pressure on opposition activists increased. Former members of the Open Russia movement Liya and Artem Milushkin were given lengthy sentences in a fabricated drugs case. Several defendants in the so-called "sanitary case" were handed down guilty verdicts. For "undesirable" jokes about xenophobia in Russia, standup comedian Idrak Mirzalizade was expelled from Russia.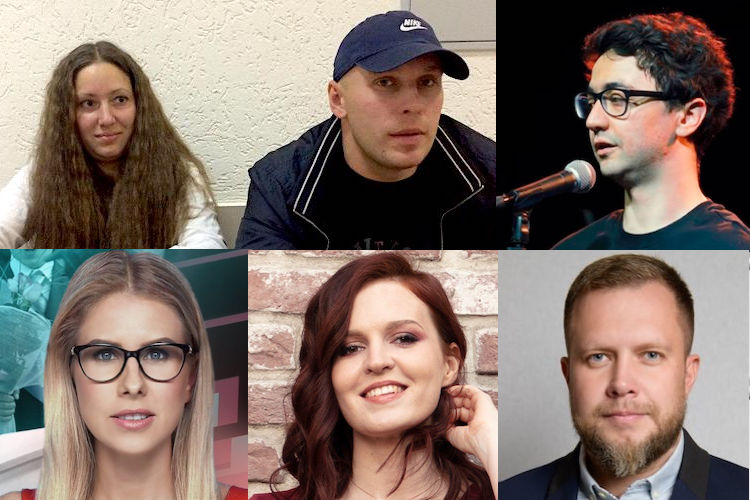 Repressions against dissent: prison terms in a fabricated case
In the Russian regions, opposition activists continue to be persecuted. On August 12, the court sentenced Liya Milushkina, former coordinator of the recently liquidated Open Russia movement (launched by Mikhail Khodorkovsky), to 5 years in a general regime colony (sentence postponed until 2024). Her husband, Artem Milushkin, an activist in Alexei Navalny's network of regional campaign offices, received an 11-year term in astrict regime colony. The couple has two young children.
The Milushkins were detained in January 2019 on charges of selling drugs on a large scale (Part 4, Article 228.1 of the Criminal Code). Artem was placed in custody, Liya under house arrest. Later, Artem was additionally charged with organizing a series of arsons (Part 1, Article 167).
During the search of their home, investigators seized several Kinder Surprise containers with traces of amphetamine.
The defense argued that the case against the Milushkins was fabricated, calling it a planned special operation conducted by "full-time and freelance police officers and agents." According to the lawyers, the containers found in the activists' apartment had been planted by the security forces, and the prosecution had also (initially) based its case on "unreliable" testimonies of secret witnesses, "which have not been confirmed by objective data."
The defendants are confident that their case is politically motivated: both activists are members of the non-systemic opposition and are known in Pskov for repeatedly exposing violations committed by law enforcement officers.
Previously, in November 2018, Artem Milushkin had been detained on his way to a protest (which he himself had organized) against police arbitrariness and corruption. In an interview with MBKh Media, an opposition media outlet funded by Khodorkovsky, he said that one of the security officials had threatened him: "I'll tell everyone totreat you the same way everywhere. And next time you'll have a dozen grams [of drugs,—Editor's note] in your pocket." Milushkin reported the threat to the regional Investigation Committee, but his complaint was dismissed.
According to the Memorial Human Rights Center, "The argument that the opposition activists, known for exposingsecurity officials, took part in the sale of drugs looks extremely dubious and calls to mind other cases of criminal persecution of activists, journalists, and human rights defenders."
Idrak Mirzalizade: Exiled from Russia for "undesirable" humor
The word "undesirable" is gaining traction among Russian authorities, as the space for independent politics and discourse continues to
On August 9, a Moscow court placed standup comedian Idrak Mirzalizade, a citizen of Belarus, under 10-day administrative arrest on charges of inciting hatred (Article 20.3.1 of the Administrative Code). The penalty was given in response to one of his shows, broadcast on YouTube, in which Mirzalizade ridiculed the xenophobia that people of "non-Slavic appearance" have to deal with when trying to rent housing in Moscow.
An "insulting" joke from his monologue mocking Russian nationalism was specifically cited in the court indictmnent.
The joke and other similar statements by Mirzalizade were picked up on by Kremlin propaganda outlets and online communities. A month before the comedian was arrested, he had been attacked in central Moscow and beaten up; the attackers demanded that he apologize for his joke.
On August 30, the Ministry of Internal Affairs permanently exiled Mirzalizade from Russia for life. The officials decided that the comedian's speech "contained expressions inciting hatred and hostility towards persons of Russian nationality, degrading their human dignity." His further stay in Russia was thus recognized as "threatening public order" and "undesirable."
According to MediaZona, an independent outlet, while Mirzalizade has a residence permit in Russia, "the ministry's decision is extremely difficult to challenge, as in such cases, the courts agree with the position of the security forces."
One lawyer cited by MediaZona noted: "If [Mirzalizade had been given] a criminal sentence, [the exile decision] would still be possible to comprehend. And here's what happens: you said a word, and now you need to go home? I'm also struck by the term 'permanently.' Even the Constitutional Court cannot say [the punishment] should be permanent, there should there be a concrete term, because where then is the statute of limitations? Even for murder, there is a statute of limitations, and here we have a 'permanent' [punishment] just for words."
According to some observers, the real cause of the exile was Mirzalizade's jokes about Rosneft head Igor Sechin and State Duma Speaker Vyacheslav Volodin, which he made during a solo show in May. The concert video is no longer available online.
According to the law, a foreigner who is recognized as "undesirable" by the Russian authorities is obliged to leave the country within three days, otherwise they will be forcefully deported. Mirzalizade, reportedly, managed to leave and is currently "neither in Russia nor in Belarus."
Mirzalizade's expulsion is aligned with the general course of Russia's "party of power." In August, the pro-Kremlin United Russia introduced a bill prohibiting entry into the country for so-called "Russophobes," that is, foreigners who incite hatred and hostility, "humiliate people" based on their nationality and language, insult the memory of the Defenders of the Fatherland, defile symbols of Russian military glory, distribute false information about the activities of the Soviet Union during the Great Patriotic War (WWII), or justify Nazi crimes.
"Sanitary case": guilty verdicts for Navalny's associates 
In August, several defendants were handed down sentences in the so-called "sanitary case," initiated on January 24 following mass protests in support of opposition leader Alexei Navalny.
Among those prosecuted are a number of public figures, opposition activists, and Navalny associates: his former spokesperson Kira Yarmysh, former lawyer of the Anti-Corruption Foundation (FBK) Lyubov Sobol, Navalny's brother Oleg Navalny, former FBK employee Nikolai Lyaskin, former coordinator of Navalny's Moscow campaign office Oleg Stepanov, member of the Pussy Riot group Maria Alekhina, head of the Alliance of Doctors Anastasia Vasilyeva, and Moscow municipal deputies Lucy Stein and Dmitry Baranovsky. All of them were accused of violating sanitary and epidemiological rules during the pandemic (Part 1, Article 236 and Part 4, Article 33 of the Criminal Code).
According to the investigation, on January 18-23 the defendants went on social networks and called for participation in an unsanctioned protest in central Moscow. "Under the influence of these calls" at least 4,000people showed up, including "citizens with signs of coronavirus infection," reads the case file. Thus, these people created a threat of "mass disease by negligence."
Sobol, Yarmysh, and Baranovsky were sentenced to 5 years of freedom restrictions; Lyaskin, Stepanov, and Stein to one year. Oleg Navalny received a one-year suspended prison term.
Under the freedom restrictions, a convicted person is prohibited from leaving home from 10 pm to 6 am, to leave Moscow and the Moscow region (or the region of their official residence), and attend mass events.
Alekhina's house arrest was extended until January 8, while Vasilyeva was given a measure of restraint in the form of a "ban on certain actions."
Another defendant in this case, 22-year-old Muscovite Dani Akel, was sentenced to a fine of 100,000 rubles ($1,365) for violating the sanitary and epidemiological norms. According to the prosecution, he went on the January 24 protest even though he had been sick with coronavirus and had to self-isolate.
Following the announcement of the sentences, Sobol and Yarmysh reportedly left Russia.
The Memorial Human Rights Center recognized the "sanitary case" defendants as political prisoners (with the exception of Dani Akel). "The fight against the spread of coronavirus infection <...> has become a cynical reason to strengthen repression against Russian citizens and curtail their civil rights," the organization noted in its statement.