The beginning of the year was marked by outrageous lawlessness on the part of Chechen security forces who virtually kidnapped Zarema Musayeva, wife of a retired federal judge and mother of outspoken Chechen activists. Artist and activist Pavel Krisevich remains illegally held in a temporary detention center for his performance against political repressions. After a year of several large protests in support of Alexei Navalny, Russian courts continue to sentence people in the so-called "palace case."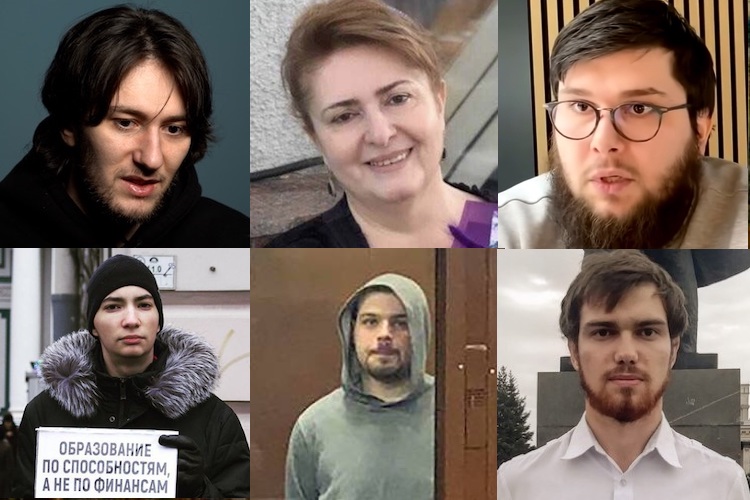 Kidnapping of Zarema Musaeva
The events of January once again illustrated how authorities in Russia use law enforcement against their critics.
On January 20, in Nizhny Novgorod, Chechen security forces barged into the apartment of Saidi Yangulbayev, former judge of the Chechen Republic's Supreme Court, forcefully seized his wife Zarema Musayeva, and drove her to an undisclosed location—without outerwear, documents, and necessary medications (she has type II diabetes). The woman fainted during the arrest; Yangulbaev, who tried to defend her, and their daughter were both beaten.
It was later reported that Musayeva had been brought to Grozny for interrogation as a witness in a fraud case. Upon arrival, she was placed in a special detention center, and a local court sentenced her to 15 days of administrative arrest for allegedly attacking a policeman.
Her attorneys were reportedly denied access to Musayeva, who later refused their services—most likely under pressure from
On January 31, criminal proceedings were initiated against Musayeva on the charge of inflicting violence on a representative of authority (article 318, part II of the Criminal Code). According to the investigation, she severely scratched the face of the policeman who was drawing up a report on On the next day, a Grozny court ordered a two-month arrest.
In response to these events, the Committee Against Torture filed an urgent complaint to the European Court on Human Rights, citing Rule 39 of the Rules of Court (requesting urgent measures), which applies when there is an imminent risk of irreparable damage to a person's life or health. The Court ordered Russia to answer questions on Musayeva's arrest by February 7. (When this article was published, the Russian authorities had not responded to this request.)
The kidnapping of Musayeva has been linked to her sons' activism and human rights advocacy: Abubakar Yangulbaev is a former lawyer of the North Caucasus branch of the Committee Against Torture, and Ibragim Yangulbaev administers online communities which openly criticize the Chechen authorities.
In an interview with Novaya Gazeta, Ibragim said that back in 2015 he, his brother, and his father were kidnapped and driven to Chechen President Ramzan Kadyrov's private residence, where they were tortured and beaten, including by Kadyrov himself. Saidi Yangulbaev was forced to resign under the threat that Imbragim would be killed otherwise.
In February 2021, Ibragim left Russia with his younger brother Baisangur. After that, their family members who stayed in the country began receiving messages with threats of kidnapping, rape, and killing, Novaya Gazetareports.
Ibragim is on Russia's federal "wanted" list and has been arrested in absentia on the charge of public incitement to terrorism (article 205.2, part 2 of the Criminal Code). He is suspected of involvement in the oppositional Telegram channel 1ADAT, whose materials are considered extremist in Chechnya.
Abubakar Yangulbaev was likely interrogated in regard to the same case in late December: Chechen security forces searched his apartment in Pyatigorsk. Soon afterwards, he left the country.
The Yangulbaevs' relatives who still reside in the Chechen Republic experience continuous pressure. After the kidnapping of Musayeva, they can no longer be reached and have not been seen in their home since. According to Abubakar Yangulbaev, Kadyrov's men could have seized them with a view to making a video in which they would denounce the Yangulbaevs—a tactic that has long been used in the Chechen Republic.
Kadyrov directly threatened the Yangulbaev family. In his Telegram channel, he wrote that "this family is going to end up either in jail or underground," and accused them of terrorist activity. "They must be arrested in accordance with the law and punished. If they resist, they should be destroyed as terrorist aides, which is exactly what they are," added Kadyrov.
After these statements were posted online, Saidi Yangulbaev and his daughter left
According to the statement by Amnesty International, "this despicable campaign of prosecuting Abubakar Yangulbaev, his family, and other critics of the Chechen authorities has crossed all the lines. If this cruel treatment of dissidents and their family members continues, we will be forced to conclude that either [Russia's] federal authorities have no influence on the regional security actors, or that they are accessories to that same lawlessness."
Pavel Krisevich: repressions for protesting against repressions  
On January 19, the Moscow City Court refused to change the pre-trial restriction measures for the 21-year-old activist Pavel Krisevich, leaving him in a temporary detention center until February 11.
The defense asked for Krisevich's transferral to house arrest: during previous hearings, investigators failed to provide grounds for his further arrest beyond the six months legally provisioned in his case. That period expired in December 2021.
The activist is facing charges of hooliganism committed with objects used as arms (article 213, part 2 of the Criminal Code, with a maximum punishment of seven years in prison), as a result of his performance against political repressions. In June 2021, he fired a noise gun into the air and then imitated a shot to his own head on Red Square.
Before that, Krisevich declared a manifesto, saying, in particular, that "the state puts the stigma of crime on the act of protest. It forces us to perceive ourselves as criminals in prison cells and chatrooms. But what is it without state coercion? Clearly an empty space."
He was immediately handcuffed by the police and removed from Red Square. Two days later, the court ruled on his arrest.
The investigation claims that the artist had "severely violated public order by expressing his sham superiority over others" and made them feel "fearful and anxious."
Krisevich is well-known for his performances on political issues. In August 2020, he "hanged himself" on Troitsky Bridge in St. Petersburg to express his support for Russian political prisoners and those arrested during the mass protests in Belarus. In November 2020, Krisevich "crucified" himself by the FSB building in Moscow in front of a pile of burning criminal case files; for this performance, he was arrested for 15 days on the charge of disobeying policemen (article 19.3 of the Code of Administrative Offenses) and suspended from the Russian University of Friendship of Peoples. In January 2021, he held a performance titled "Sphere of the Russian soul" on Old Arbat street. Wearing a prison robe, he climbed into a ball of barbed wire and shouted political slogans from inside. For this performance, the activist spent a total of 39 days in a special detention center.
Human rights advocates believe that Krisevich's months-long detention is disproportionate to the "threat" posed by his actions to the public and contradicts the law. They maintain that criminal proceedings against the artist have clear signs of political motivation.
"Political prosecution of workers of culture and art is one of the current regime's most vicious practices, which has been long established as a tool of suppressing criticism and dissent…" concludes the Memorial Human Rights Center. "Law enforcement agencies regularly demonstrate absolute intolerance of any political statements made in a provocative form."
Anniversary of the "palace case"
Russian courts continue to sentence people as part of the "palace case" (dvortsovoye delo)—a major series of criminal cases initiated in the aftermath of last year's protests in support of Alexei Navalny and against the lawlessness of the authorities.
The main triggers that brought thousands of protesters into the streets of more than 100 cities across Russia in 2021—on January 23, January 31, February 2, and April 21—were Navalny's arrest following his return from Germany and the Anti-Corruption Foundation's investigative film about Putin's palace. OVD-Info estimates that 11,000 people were arrested during the winter protests, and more than 2,000 in April.
On January 12, in Moscow, Vyacheslav Igumnov was sentenced to 5 years in a general penal colony on charges of hooliganism and violence against representatives of authority (article 318 of the Criminal Code). According to the investigation, during the January 23 protest, he threw a flare in the general direction of police officers.
In Kaluga, the prosecution requested 3 years in a residential colony for Alexei Lukyanov, also charged under article 318. The defendant allegedly hit a policeman while trying to release one of the people detained at a January protest. Lukyanov said that he had ended up at the protest by accident.
Also in January, a Moscow court left the sentence of activist Gleb Maryasov unchanged. Last October, he was sentenced to 10 months in a penal colony on the charge of "blocking transport communications" (article 267, part 1 of the Сriminal Code) during a protest. Additionally, the Moscow Metro and Mosgortrans, a bus operating company, successfully sued him for a total of 2.7 million rubles ($36,000).
According to the OVD-Info data, at least 170 people are being criminally prosecuted on the basis of the "palace case," which is more than the combined number of those sentenced in two other major cases—the Bolotnaya Square and Moscow cases.
At least 28 people were given real prison sentences, 21 received conditional sentences, 14 were sentenced to restrictions of freedom, 2 to correctional labor, 15 ended up with administrative fees, 13 cases were dismissed, one was forwarded for reconsideration, and dozens more are under investigation.
Participants in the 2021 protests face prosecution on various charges, including violence against representatives of authority (article 318 of the Criminal Code), putting out of commission transport vehicles or communications (article 267), calls for mass riots (article 212), violation of sanitary and epidemiological rules (article 236), repeated violation of public assembly regulations (article 212.1), hooliganism (article 213), involvement of minors in the commission of acts that pose a danger to the minor's life (article 151.2), vandalism (article 214), public appeals for extremist activities (article 280), intentional destruction or damage of property (article 167), offense to a representative of authority (article 319), and others.
Text translation: Elizaveta Agarkova.