The new intercontinental class of "Global Russians" and TV's sexy "Russian Dolls" are the faces of a culture on the rise across America. But to some who speak it here, keeping Russian alive matters more than any clash of cultures, writes W.P. Norton.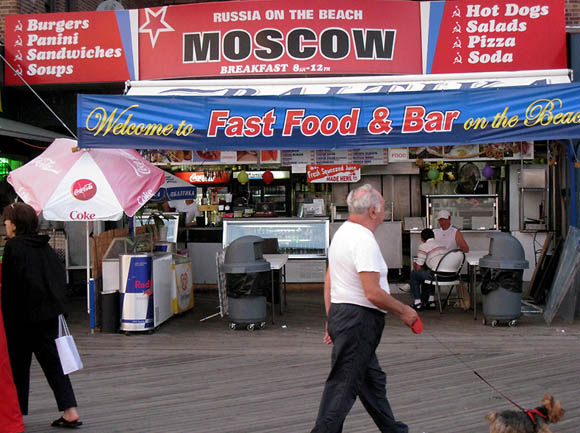 Russian America has a population of 3.13 million people who call themselves Russian by reason of birth, background or ethnicity — just over one percent of the U.S. population of 304 million people, according to the latest available Census Bureau figures. Russian and English are spoken at home by 851,174 people over the age of four. That's 391 percent more than in 1980, when 173,226 people told the Census they spoke both languages at home.
Russian America is mostly bi-coastally clustered around the Atlantic and Pacific oceans: 36 percent reside in the Northeast region where stands the symbolic cultural capital of Brighton Beach, says the Census; some 26 percent are settled in the West, 21 percent favor the sunny South, and 17 percent call the Midwest heartland home.
Speaking of real estate, big-spending Russians are bringing back the heat to a bear-market that hasn't seen this much action since the Czar sold most of the territory formerly known as "Russian America" to the United States in 1867. (We called it the "Alaska Purchase" at the time.)
The onion-domed Orthodox church and other rebuilt structures of the old Russian Empire's southernmost American settlement at Fort Ross, Calif., were the beneficiaries of $1 million in preservation funds pledged by Viktor Vekselberg in 2010. That same year, Brooklyn's endangered Atlantic Yards redevelopment — New York's biggest since Ground Zero — was brought back from the brink by a $200 million investment from Mikhail Prokhorov. The deal gave Prokhorov an 80 percent ownership stake in the New Jersey Nets basketball team and 45 percent of the arena being built for it in Brooklyn. So in a sense, Russian America also has its own piece of the NBA.
Forget the New Russians. The numbers paint a picture of a demographic the likes of which we've never seen before. Call them the "Global Russians."
The term itself was originally coined to describe the affluent, intercontinental target audience of Snob magazine, a hardcopy-slash-Internet-enabled journal created in 2008. Snob, a media platform with offices in Moscow, London and New York City, was created for Prokhorov by such top-flight Russian editorial talent as Vladimir Yakovlev and Masha Gessen.
Interestingly, Russians themselves disagree heatedly when it comes to defining the concept. Gessen has described a Global Russian as one who "aggressively adopts traits of other cultures without betraying his own — cooking like a Frenchman, entertaining like an American, and forming friendships like a Russian." It can be helpful, however, to consider the demographic in terms of its opposite. And for that, a 2011 reality television series called Russian Dolls fits the bill.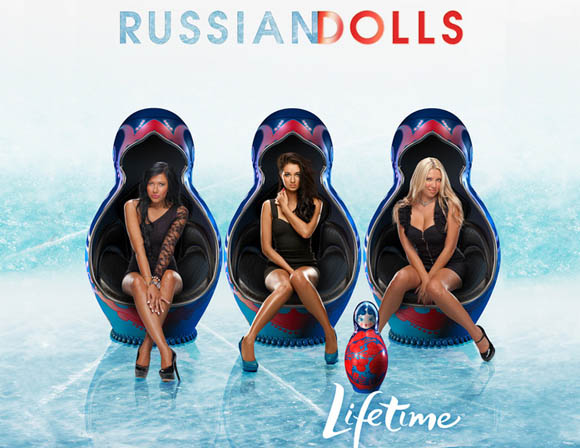 "Russian Dolls" offers a weekly half-hour close-up on the exceedingly dramatic loves, lives, families and frenemies of eight Russian-speaking, foreign-born women of Brighton Beach, Brooklyn.
The show's summer-2011 debut on basic-cable's Lifetime Network was nothing short of a pop-culture birth announcement: Russian America has arrived. It quickly drew fire from local officials who called for its cancellation on the grounds that it gave Brighton Beach a bad name. One question becomes obvious: at this time of the rise of the affluent, cultured Global Russian, how ironic is it that a high-drama, lowbrow reality show is giving more weekly airtime to Russian Americans than anything else on basic cable?
Delivering the cultural critique is Russian-born author Michael Idov, who's been based in the U.S. since 1998 and writes in his non-native English with a subtle intelligence that make him a fine guide to the anthropology of "Russian Dolls."
"I found it profoundly sad," says Idov, contributing editor at New York Magazine, author of the novel Ground Up and editor of Made In Russia: Unsung Icons of Soviet Design. "It's a total failure on every level — it doesn't even work as camp."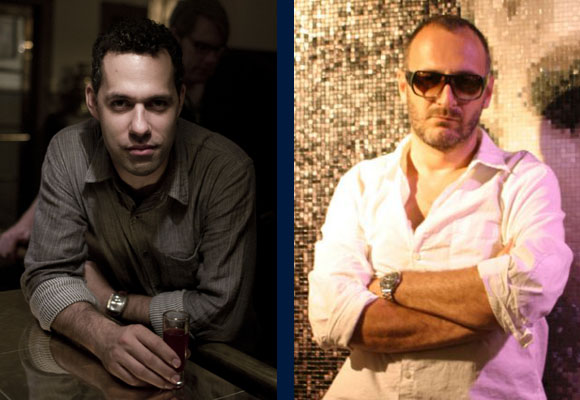 Quite the opposite view is held by Vas Sloutchevsky, a New York multimedia designer who left Moscow for the States in 1992. Sloutchevsky sees "Russian Dolls" as doing no harm to the image of Russian Americans in Brighton Beach or anywhere else.
If anything, he says, the show "confirms the image": "It's partially true. It's not just something that was made up by a show producer who operates with exaggerated stereotypes. Whatever is in the show — the passions, the people, the way they talk, the way they think — it's really part of the Russian experience in this country."
Their tastes in reality TV are not the only thing that divide Sloutchevsky and Idov.
Just last year, Idov wrote about the Global Russian phenomenon in a New York Magazine article entitled "Klub Prokhorov",  a reference to Muscovite billionaire Mikhail Prokhorov, who indirectly kick-started the concept when he financed Snob, for whom Idov also used to write. (The name isn't what you think; rather, it's an acronym derived from the Russian words for accomplished, independent, educated and thriving: sostoyavshiisya, nezavisimyi, obrazovannyi, blagopoluchnyi.)
It was at Idov's behest that Sloutchevsky and two-dozen other New York Russians sat for a photo to illustrate "Klub Prokhorov." It almost seems like the photograph was manufactured to confirm Idov's point of view: "That photo gives a false impression that we are a tight-knit community," Sloutchevsky says. "But in fact, Russians in New York are a dispersed and eclectic collection of people with their language being the only thing in common."
Sloutchevsky recalls that when he sat for the New York Magazine photo shoot, he was only acquainted with four of the 25 who were there: film producer Darya Zhuk, film editor Dima Rozin, artist Alina Bliumis, and artist and filmmaker Alexandra Lerman. (The rest, in the order they were listed: singer and writer Alina Simone; editorial assistant Mark Krotov; reporter Irina Aleksander; photographer Jenia Fridlyand; novelist Gary Shteyngart; novelist Anya Ulinich; professor Alexander Nazaryan; artist Veronika Georgieva; educator Olga Breydo; software developer Stepan Pachikov; educator Maria Genkin; gallery owner Oksana Salamatina; novelist Lara Vapnyar; Prof. Nina Khrushcheva; Snob staffer Bela Shayevich; educator Marina Flindell Levin; Russian-art expert Sonya Bekkerman; Snob staffers Tusha Yakovleva and Anna Komar; and educator Marina Kvitko Cherner.)
"I believe that there are enough Russian ex-pats with education and money to blend in and adapt to any given society," says Sloutchevsky. "They're well-travelled and in-tune with cultural trends, but that alone does not necessarily make them Global Russians." Then what does?
More than a year after the infamous photo shoot, Sloutchevsky insists he admires Idov's achievements and agrees with most of his writings. Idov himself has left Snob. Ironically, since the separation, he also appears to have distanced himself from his New York Magazine manifesto on the phenomenon.
"To be honest, I don't quite buy the 'global Russians' tag as defined by Snob et al," Idov says. "Right now, there exists a kind of international iPad-and-Moleskine set, centered around design, media and tech industries, whose members have much more in common with their counterparts in other cultures than with the rest of their own countrymen. But only a closed-off culture would require a 'global' tag to describe these people: a 'global Englishman,' for example, is nonsense. So the term is, alas, more of an accidental indictment of Russia."
One who might beg to differ is Stepan Pachikov, co-founder of Evernote Corporation and other software companies that have made strong contributions to the development of handwriting recognition and virtual-reality technologies. Pachikov makes two cameos in "Klub Prokhorov." Insiders know Pachikov as a stalwart of New York Snob's Global Russian club, which has made real achievements in just a years' time.
Another word or two of definition is called for. "Russian Dolls" is a reference to the famous lacquered nesting dolls Russians call matrioshki, which consist of a simplified human-shaped outer shell that can pulled apart at the midpoint to reveal a smaller doll, which in turn contains an even smaller one, and so on. One of my favorite matrioshki dolls had a pugnacious Boris Yeltsin on the outside, a smaller Mikhail Gorbachev inside, an ever-smaller succession of figures going back in time from Leonid Brezhnev to Nikita Khrushchev to Joseph Stalin and finally, a tiny, yet still-sinister Vladimir Lenin, mastermind of the Russian Revolution and original architect of the USSR. In a way, the eponymously titled reality series follows a somewhat similar design: the outer shell suggests one thing, but pop it open and you'll find another image suggesting a deeper message — maybe even a contradictory one.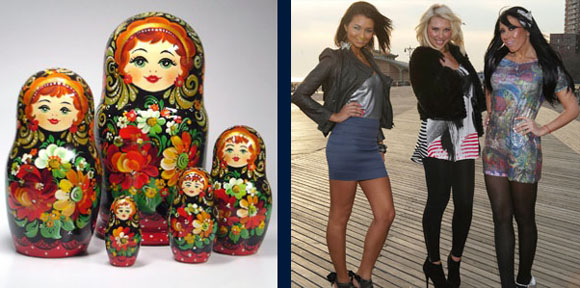 The Svetlanas and Natashas of the show call themselves Russian, and knock back shots of vodka with the élan you expect from a Russian. But are they really Russian?
The shocking answer comes when Idov answers the questions emailed from Chicago, U.S.A., to him in Moscow, including this one: Do Russians in America talk much about the show?
"Yes," Idov answers, "actually, they do! They've been downloading it. To them, it's a double joke: look at the dumb Americans mistake these provincial Jews for us."
Idov continues his critique: "The interesting thing about the stereotype Russian Dolls tries to sell is that it's neither confirming nor replacing an older stereotype. It just creates one out of thin air, because even ten years ago, the 'Brighton Beach' identity (as opposed to both a zero-generation immigrant and a fully assimilated Russian-American) didn't even exist. To be frank, I'm not even sure the average American viewer of reality TV has a well-defined stereotype of a Russian. And I think these characters — who are, in look and style and values, indistinguishable from their Italian, Armenian, etc. counterparts — may only muddle the matter further."
In search of clarity on the topic of what is a real Russian, we return to Sloutchevsky for a second opinion. An alternative interpretation may be called for here, and Sloutchevsky is willing to supply it. Friends describe him as a "cool guy" who is nevertheless possessed of a certain wariness when it comes to unplanned encounters with his countrymen. At the same time, he would love to meet real Russians who are also nice people.
As it turns out, "Russian Dolls" very nearly offers something of the sort. "This is not something that I would watch on my own will, to be honest," he says. "But I found it funny and entertaining; there's something about it that's kind of captivating and sad at the same time."
In the final analysis, words alone do little justice in discerning the multiple messages of "Russian Dolls" — or of Global Russians, for that matter. That's probably why Idov, in New York Magazine's "Klub Prokhorov," falls back on a description of two photographs when summing up the ramifications of the Global Russian to sum up his thoughts on the demographic and its billionaire godfather.
"The only other Russian I can think of who has managed to slip into the city's cast of notable characters as effortlessly is Mikhail Baryshnikov," Idov writes. He goes on to describe a 2010 snapshot taken of a "breakfast photo op with Mayor Michael Bloomberg and Jay-Z: a perfectly orchestrated tableau of New York relevance." He then juxtaposes his description of the breakfast photo with another description of a photo from the seventies, in which Baryshnikov is "lolling on a Studio 54 couch, sandwiched between Steve Rubell and Mick Jagger."
"In most respects, Prokhorov and Baryshnikov couldn't be more different," Idov continues. "But seeing the two Russians flanked by such iconic New York figures had the same effect on me. [Both] pictures helped make me feel like I belong in New York, like my life, and those of my countrymen, is bigger somehow than it was back home."
The definition of a "true" Russian still inspires debate, especially among those fluent in the language of Pushkin. But there's no arguing the fact that the Russian language is a treasure beyond measure, and an inheritance that must be preserved, for not only Russia's children, but also the world's.
The Sloutchevsky household stands firmly in the mainstream of the growing Russian-American tradition that gives pride of place to both Russian and English. Some 851,174 people age five or older are reported to be leading fully bilingual lives in Russian-American households, according to the Census Bureau's 2008 American Community Survey, which reports on data from 2007, the most-recent information available on this topic. American Community Survey figures are based on samples obtained from households, institutional-living facilities, college dormitories and other group quarters. The survey counts both single and multiple ancestries, a term it defines as referring to "a person's ethnic origin or descent, roots, or heritage; or the place of birth of the person, the person's parents, or ancestors before their arrival in the United States."
Sloutchevsky proclaims his love of the English language. But he also speaks with deepest pride of what he calls "our duty, our obligation" to school his children well in Russian that it may be passed down through the centuries.
"My oldest son is 11. He speaks perfect Russian and English. He's absolutely bilingual and bicultural. My daughter is only three and she speaks only Russian at home. I guess we figure English is not going anywhere. She'll learn. It's more important to lay the foundations of the Russian language while she's young.
"The Russian language is great, and our children should inherit it. That's their inheritance. That's the only thing that really matters."
EDITORS NOTE: while this feature was being translated into Russian and prepared for publication, Lifetime aired the final five episodes of "Russian Dolls" on October 7, as a special marathon event due to low ratings. The show ended, not having realized the high hopes of its producers. 1 - 0 in favor of "global Russians", we say!