The recent London Olympics saw an historic first: Russia's failure to place among the top three countries in gold medals won; the U.S., China, and Great Britain all ranked higher. Elite sports and politics are interconnected, and the Russian team's letdown highlights the current regime's shortcomings. IMR's Olga Khvostunova discusses the implications of the Russian authorities' unfulfilled promises.
U.S. president John F. Kennedy once said that a country's prestige in the international arena can be measured in two ways: nuclear missiles and Olympic gold medals. While Russia's nuclear power remains strong, the drastically diminished number of gold medals at the London Olympics could be a sign of country's declining prestige.
Russia, as part of the USSR, first participated in the Olympics in 1952. Soviet athletes won 22 gold medals in Helsinki and, to everyone's surprise, came in second overall. The Soviet Union subsequently established itself as a sports superpower. In the Summer Olympics that followed, the country always placed first, with only two exceptions: in Tokyo (1964) and in Mexico-City (1968) it lost to the U.S. The last time the Russians won a Summer Olympics was in 1992. The Soviet Union had already collapsed, but athletes came as a united team under the banner of the Commonwealth of Independent States. After that began a gradual decline in the country's athletic performance. In 1996 and 2000, Russia placed second. In 2004 and 2008, it came in third. Finally, in 2012, it was fourth.
During the London Summer Olympics, Integration Foundation and NewsEffector Agency ran a poll that showed that 69% of Russians were dissatisfied with their team's performance, calling it "a failure." To be fair, Russia had won only ten gold medals at that point and ranked 8th overall. Later in the tournament the team managed to surge into fourth place. Nevertheless, the results are symptomatic of both athletic and political decline.
Despite the final upturn, Russia's public mood was still at odds with officials' triumphant statements and state television's news coverage. From the moment Russia dropped to third place in the Olympics (giving way to the U.S. and China), Russian authorities have started their own ranking system based on teams' overall medal count rather than gold medal count, the International Olympic Committee's (IOC) standard. By this measure, with 82 medals overall, Russia placed third, showing up the Brits and their 62 medals. Officially, however, Great Britain came third, with 29 gold medals to Russia's 24.
During the Games, Russian Sports Minister Vitaly Mutko held several press conferences. He constantly asserted that Russian calculations, based on the overall number of medals, were more correct. Another Russian official Aleksander Zhukov, president of the Russian Olympic Committee, said in an interview with Komsomolskaya Pravda that the failure of the Russian team was "a myth invented by journalists." State-owned Channel One's news programs repeatedly reported that judging by the number of bronze medals, the Russian team had outperformed all other countries. As bloggers later sarcastically commented, if there were tin, iron, or clay medals at the Olympics, the Russians would not face any competition at all.
As always, the Olympics were a good platform for political propaganda. Russian Prime Minister Dmitri Medvedev was spotted at the opening ceremony in London. Later, he visited the Russian athletes in the Olympic Village and even came out to see Russian volleyballers play. A few days later, Vladimir Putin, famed for his love of judo, came to support Russian judoka Tagir Khaibulaev. Luckily for Khaibulaev, he won gold. Surrounded by young warriors, Mr. Putin used the opportunity to show off and score political points he would be able to put in his piggy bank. In the midst of this media and political bluster, the lonely voice of Sergei Ivanov, chief of staff of Russia's presidential administration, was hardly heard when he termed Russia's performance a failure.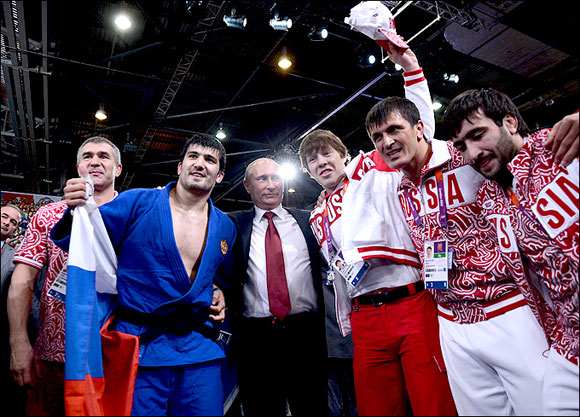 Incidentally, this bravado is a symptom of something far more dangerous: Russian authorities are increasingly switching into political amnesia mode. This makes them more likely to commit critical mistakes. Beijing and Vancouver Olympics were disappointing and bewildering for the Russian public. The Russian team's poor showing in the Beijing Olympics (third overall) led to the high visible resignation of Leonid Tyagachev, head of the Russian Olympic Committee. Sports Minister Vitaly Mutko once again lifted his hands in dismay, saying everything possible had been done. The question is what he means by "everything."
Vyacheslav Fetisov, former head of the State Sports Committee, unwittingly provides the answer: "Government is investing enormous resources to train athletes. Russians' victory bonuses are higher than anyone else's in the world, but bonuses don't determine results. At the moment, we're investing more than we ever have in sports." Indeed, gold medal winners are said to receive 4 million rubles ($125,000). A silver medal will bring 2.5 million rubles ($78,100), and bronze 1.7 million rubles ($53,100).
The question remains: why haven't these goals been achieved? On a macro level, the answer lies at the core of Russia's governmental modus operandi. Putin's "vertical power" structure is incapable of flexibly reacting to problems; lack of competition creates a primitive political field and results in endemic corruption, which brings to naught any effort to change the situation. Besides, for Russian authorities, money is everything. But as the Olympics show, it is impossible to conjure international prestige with money alone. Something greater is required: dignity, respect, pride in country. These are the qualities that are lacking in Vladimir Putin's regime.
Countries aspiring to world leadership use sports as a propaganda tool to promote themselves and their values. It happened in 1936 in Nazi Germany. It also happened in 1980, in the midst of the cold war when the U.S., West Germany, Japan, and more than 60 other countries boycotted the Moscow Summer Olympics. Then, in 1984, the Los Angeles Summer Olympics were in turn boycotted by the USSR and Warsaw Pact countries. The Soviets always claimed Olympic victories proved their way of life was better, while their key geopolitical opponent the U.S. would use the same argument to underline the advantages of capitalism. In 2008, at the Beijing Summer Olympics, China did everything in its power to impress the international community and to shore up its position as a global sports superpower.
Elite sports are an important element of a country's international image, and policies cannot ignore that. But this shining exterior has a dark underside, sports participation nationwide. Despite abundant investment in Russian athletics, the country still lacks a clear plan for a national sports program. For instance, the federal program entitled "Development of Physical Culture and Sports in the Russian Federation for 2006-2015," allocates about 58.8 billions rubles ($1.84 billion) over 10 years. This money is supposed to be spent on the construction of 1,500 sports venues. But the program is characterized by declarative pronouncements, and low-level sports officials who usually depend on abstract slogans. One of the program's key talking points is that by year 2020, 40% of Russians should be involved in physical culture activities. Today, the figure is roughly 20%. It is unclear, though, how building sports venues will double the number of Russian sports enthusiasts.
In 2014, the Winter Olympics will take place in the Russian city of Sochi. They are doomed to become the most expensive Olympic games in history and will surely break Beijing's record $40 billion price tag. Unofficially, preparations for Sochi-2014 have already cost more than $30 billion, and there is still a year and a half of work ahead (more shocking since Winter Olympics usually cost less than Summer ones.)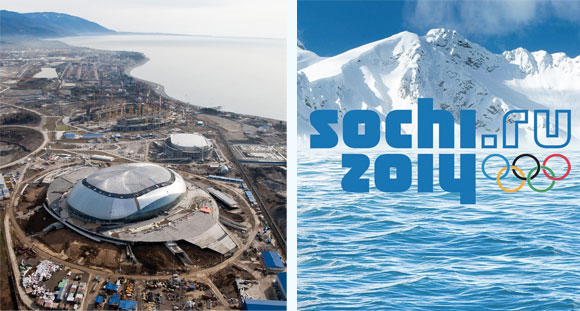 Such preposterous overspending is easily explained, the Sochi Olympics being president Putin's pet project. In 2007, he attended the IOC meeting in Guatemala to show support for Russia's bid. It is believed that Putin had studied profiles of each IOC member and, upon meeting them, displayed detailed knowledge of each member's interests. IOC officials were amazed by the Russian president's knowledge and attentiveness. This ploy might have been the determining factor in the committee's choosing Sochi.
Even now, one can be sure that the Sochi Olympics will be a vanity fair at its best. Russian authorities will attempt to demonstrate the country's grandeur, its technological and athletic achievements, and to once again promote Russia in the international arena. Today, skeptics predict that the opening ceremony of the Sochi Games will be the most pretentious of all time. Officials have already started to make ambitious promises (again), but it is extremely doubtful that anyone takes them seriously this time.
Trying to prove to the world that Russia remains strong not only in nuclear weapons but in gold medals, the Kremlin has invested heavily in elite sports, turning its backs on average citizens. Meanwhile, in Sweden, Germany, Finland, and countries with similarly elevated standards of living, every third or fourth citizen plays sports without being pressured by the government. In these countries, officials are not as anxious about the number of the gold medals won at Olympic Games, though elite sports victories are undoubtedly greatly appreciated there, too. However, Finnish and German government attention is not as obsessive as it is in Russia, which cannot seem to let go of its superpower past.
Truth be told, Russian authorities are not the ones who feel bad about the national team's failures – it is Russia's citizens who feel let down. If the Russian team performs poorly at its own Sochi Olympics, it will trigger much larger protests than the ones Russia saw this past winter.