Speaking at a conference hosted last week by The Heritage Foundation, Russian opposition leader and chess grandmaster Garry Kasparov delivered a withering critique of the Obama administration's policies toward Russia. Seduced by the illusion of liberal reform during the presidency of Dmitry Medvedev, Kasparov said, Washington placed its bets on an impossible scenario, as Vladimir Putin never actually left the seat of power. James Kimer reports from Washington, DC.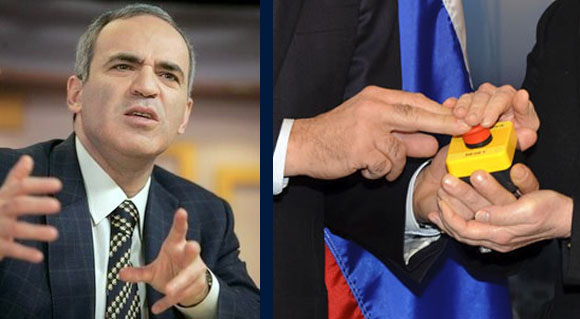 "The system is not corrupt, corruption is the system," Garry Kasparov said. In order to encourage democracy and freedom in Russia, Washington should show strength and "use banks, not tanks, to hit these corrupt officials in the wallet, as that's the only language they understand."

The full day conference, entitled "The Risks of the Reset: Why Washington Must Watch Its Step with Moscow," featured three separate panels of experts and policymakers debating the security risks, economic relations, and rule of law issues that have characterized the last few years of U.S.-Russia relations.

Some of the strongest statements came from House Speaker John Boehner, who stated, "In Russia's use of old tools and old thinking, we see nothing short of an attempt to restore Soviet-style power and influence. Soon, Russia will be led by someone known to harbor intense Soviet nostalgia."  He continued, "Instead of downplaying Russia's disregard for democratic values and human rights, we should call them on it -- publicly, forcefully, frequently," indicating that the House stands ready to pass legislation to give "teeth" to these efforts, which may refer to proposed visa sanctions against certain Russian officials accused of human rights violations.

The critical tone of both Kasparov and Boehner was echoed in the panel discussions.  The first panel, which featured Baker Spring of the Heritage Foundation, Stephen Blank of the U.S. Army War College, Svante Cornell of Johns Hopkins University, Congressman Michael Turner (R-OH), and Kim Holmes of Heritage, focused heavily on the strategic risks presented by the reset policy.  In particular, Dr. Blank focused on the deepening relations between Russia and other dangerous states, such as Iran and Venezuela.  Dr. Cornell discussed the aftermath of Russia's invasion of Georgia, while Spring and Holmes criticized the arms control and nuclear strategy of the reset. Congressman Turner concluded the panel on a much stronger note, insisting that Obama administration's "reset" policy had proven to be a failure.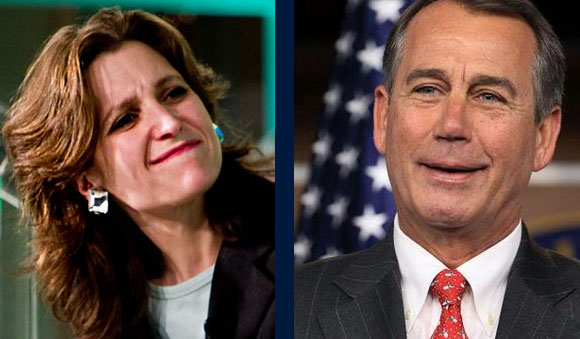 The next panel was chaired by Heritage Fellow Ariel Cohen, featuring Jeff Gedmin of Legatum Institute, David Kaufman of the Brookings Institution, Chrystia Freeland of Reuters, David Satter of the Hudson Institute, and Congressman Doug Lamborn (R-CO). Focusing on the global economic risks posed by an unchecked Putin regime in Moscow, the panelists highlighted Russia's use of energy as a political weapon, state intervention in private business, including not only the Yukos affair but also a number of publicly listed Russian companies, and the relationship between oil prices and repression of civil rights.

According to panel moderator Ariel Cohen, the United States has given up too much leverage in the reset, and received very little cooperation in return on vital issues of human rights and rule of law.

Chrystia Freeland, a highly influential journalist with a deep understanding of Russian political life, shared an interesting insight: Apparently General Electric's CEO Jeff Immelt looks favorably upon Putin's return as President. Freeland attributes this to the fact that transnational corporate leaders feel comfortable dealing with a Russian authoritarian leader while private domestic businesses have no chance to survive if they do not obey Putin's rule.    
The final panel of the day on rule of law featured Donald Jensen of John Hopkins University, Arch Puddington of Freedom House, Clifford May of the Foundation for Defense of Democracies, and Charles Stimson of Heritage.  Jensen strongly contested the notion that Russia's lack of judicial independence is not related to U.S. interests, arguing that the policymakers regularly engage in legally binding agreements with their Russian counterparts, which are endangered by the country's failure to uphold real rule of law.

Puddington characterized the Putin era as a "Wizard of Oz" performance, featuring false and empty acts of political theatre, such as "Putin's Plan," the balance of the tandem, and other posturing designed to offer the impression of possible reform and modernization.  Instead, underneath the show Putin has continued to consolidate power and control over the political process, leading to a situation not dissimilar from the leaders that have fallen to the Arab Spring, Puddington said.

A special appearance was also made at the conference by the Honorable Trent Franks, the Republican Congressman from Arizona who serves on the House Armed Services and Judiciary Committees.  Rep. Franks spoke at length on the topic of religious freedom in Russia, and urged the leadership not to "sacrifice our values or give up our interests" in dealing with a regime that "cozies up to terrorists, and offers them technical support."  Franks blasted President Obama for exercising "naïve deference" towards Russia, and placing the United States at a "significant strategic disadvantage."

Taken altogether, the event was seen as an effort to define the Republican position on Russia policy ahead of next year's presidential elections, challenging the president to take a tougher line toward the Putin government at a critical moment in the relationship.