Page 1 of 4
New York City Rallies in Solidarity With Russian Protesters
also St. Petersburg, Geneva, Washington.
Saturday, December 10 in New York City will be remembered as the day when Russians made their voices heard. At least 300 people showed up to the Russian Consulate to protest in support of fair elections. It was the largest Russian rally in the city's history. IMR's Olga Khvostunova joined the protesters and offers this report.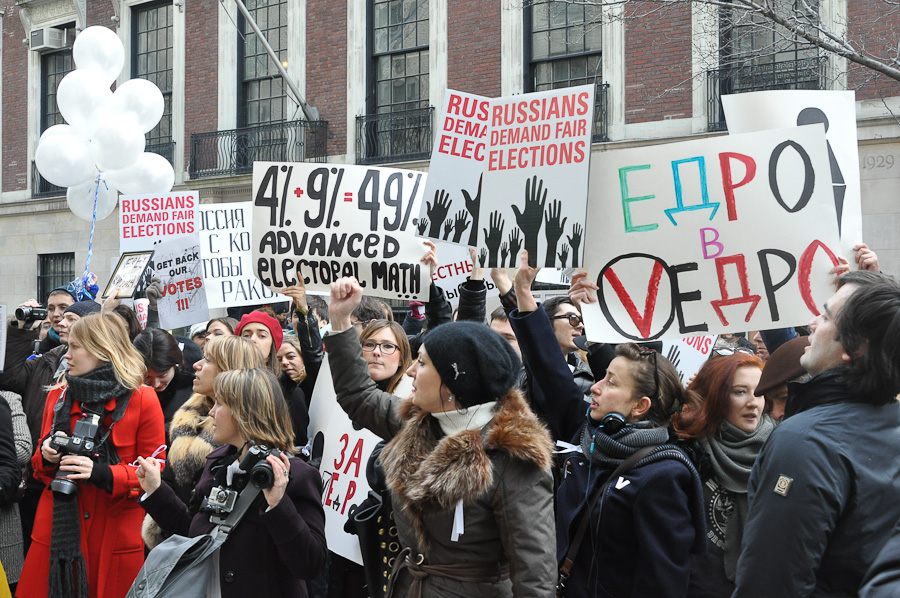 More than 300 people showed up at the protest in New York on December, 10.
Policemen from the 23rd precinct were nervous: they must have never seen so many Russians gathered together. When I got to the Russian Consulate at East 91st Street at noon, there were already more than a hundred people holding colorful signs, white flowers and white balloons, chanting "Fair elections for Russia!", "Putin is a Thief!", and "Russia without Putin!" Police officers didn't know what to expect of the Russian crowd and tried to keep protesters, who occupied the entrance to the Consulate, behind metal barriers that to me looked exactly like the ones you see in the Moscow subway during rush hour.
And rush hour it effectively was, as people of all ages, occupations and social backgrounds kept arriving. Everyone was a Russian speaker and everyone was—it is hard to believe—smiling. The fact that Saturday's peaceful and successful rally in Moscow was the largest protest of the last 20 years, was already in the news. Despite a penetrating December chill, protesters warmed up with their coffee and their optimism. The air was tinged with the joy of togetherness and hope.
In the middle of the crowd stood Natalia Pelevine of the Committee for Democratic Russia, an outspoken activist and long time organizer of NYC protests. This protest, too, was organized by Natalia Pelevine, together with Xenia Grubstein, a New York-based Russian journalist. Pelevine's energy inspired people surrounding her to repeat and chant her slogans: "Fair vote for Russia!" and "Putin, resign!"
At some point Pavel Khodorkovsky, Institute of Modern Russia president, read a message from his father, the Russian political prisoner Mikhail Khodorkovsky, who had called him that morning from jail. The crowd cheered and started chanting again, "Free political prisoners!"
Funny slogans, too, materialized on the spot. For instance, when two locals passed by carrying a large Christmas tree, people started chanting "New Year without Putin!", and then "Putin, skis, Magadan!"
Meanwhile, on the opposite side of the road behind police barricades, more people gathered, holding up signs, tri-color Russian flags and, surprisingly, also a green flag of Adygea (a small southwestern republic in the Russian Federation). As it turned out, a couple of the republic's natives also joined the protest.
In the back of the crowd, someone was playing guitar, singing Viktor Tsoi's Peremen ("Change"), which only increased the feeling of celebration. And there was good reason: Russian civil society seemed to have finally "woken up," as one of the signs suggested.
Ironically—the rally taking place on a Saturday morning, the Consulate being shut and with no personnel inside—the protesters' chants and calls were, quite literally, addressed to the walls of an empty building.
Nonetheless, luck was on the protesters' side: at the end of the rally, a lonely figure stopped at the corner of 91st and Madison, stunned. It was Andrei Yushmanov, Russia's Consul General in New York,  who was taking a walk from the Russian Orthodox church, situated nearby, where he spent his morning. Protesters, busy with chanting, didn't see him, so Snob's correspondent Ksenia Semenova and I walked up to the Consul general, to ask for an official comment, but he refused. In a friendly manner though, he remarked  that he was quite surprised by the number of protesters but didn't support their demands, since he felt the parliamentary elections were clean, and any mistakes made were within the margin of error. Still, it was evident that Mr. Yushmanov heard the message sent by his fellow compatriots here in New York.
Hopefully, the message will be also heard by the authorities in Russia.