On October 30, the Legatum Institute will host a conference titled "The Menace of Unreality: Combating Russian Disinformation in the 21st Century." Editor-in-chief of The Interpreter Michael Weiss and journalist Peter Pomerantsev, authors of the IMR's upcoming report on the Kremlin's information war, will participate in the discussion. The report will soon be published on imrussia.org and interpretermag.com.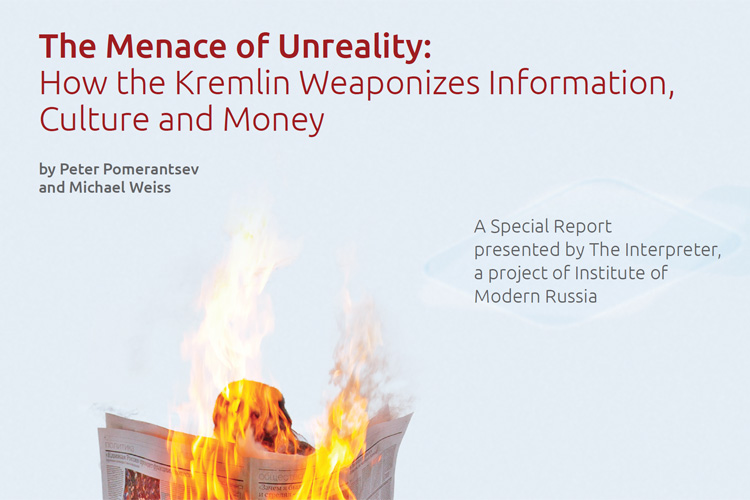 Countering Russian disinformation is the subject of a conference this week at the Legatum Institute, a London-based think-tank. It will be held in association with the Atlantic Council (Washington, D.C) and will be attended by high-level government, academic and media figures.
Coordinating the conference is Anne Applebaum, Pulitzer-prize winning author and Director of the Transitions Forum programme at the Legatum Institute. "After 1991 the West thought it had won the information war— but in reality we had only won a battle," she says. Russian channels such as the multilingual RT (formerly Russia Today), backed with hundreds of millions of dollars, spread confusion and mistrust. This misinformation has played a crucial role in the recent conflict in Ukraine—where Russian media created a frenzied atmosphere of suspicion and hostility, celebrating 'patriots' who backed Putin's troops and condemning 'fascists' who called for resistance.
How can the West counter this wave of misinformation? Who is best placed to raise the alarm and counter the mighty Russian propaganda machine?
The public panel discussion will include:
Geoffrey Pyatt, US Ambassador to Kiev;
Oleksander Scherba, Ambassador-at-Large for the Ukrainian Ministry of Foreign Affairs;
Michael Weiss, Editor-in-Chief, The Interpreter;
Peter Pomerantsev, author of Revolutionary Tactics: Insights from Police and Justice Reform in Georgia;
John Herbst, Director of the Atlantic Council's Dinu Patriciu Eurasia Centre.
Anne Applebaum, journalist and author of 'Gulag' and 'Iron Curtain; The Crushing of Eastern Europe 1944-56' will moderate.
This event is hosted in cooperation with the US Department of State and the US Embassy in London.
The discussion will be livestreamed.
Media Enquiries
For more information or to arrange an interview with the speakers, please contact:
Cristina Odone, Director of Communications
Tel.: +44 (0) 207 148 5425
Email: cristina.odone@li.com
Or, at the Atlantic Council:

Madeleine Levey Lambert

Tel.: +1 202 864 2831
Email: press@atlanticcouncil.org