On October 30, the National Endowment for Democracy held a round table discussion entitled "Is Democracy Possible in Russia?" According to participants, in light of current political developments, it appears unlikely that Russia will become a democracy anytime soon.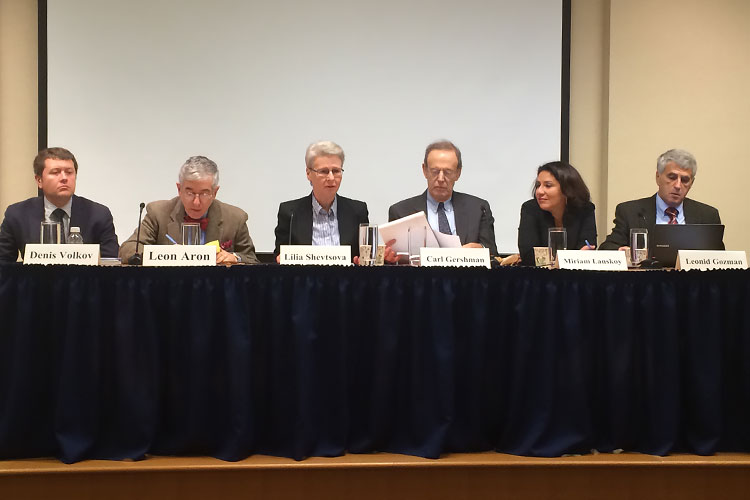 Participants in the National Endowment for Democracy's (NED) October 30th round table included Lilia Shevtsova, senior associate at the Carnegie Moscow Center; Leon Aron, director of Russian studies at the American Enterprise Institute; and Denis Volkov, Levada Center sociologist. Leonid Gozman, president of the Union of Right Forces, and Miriam Lanskoy, director of Russia and Eurasia programs at NED, served as discussants. The round table was moderated by NED president Carl Gershman.
Lilia Shevtsova, the first to present at the round table, announced that a "drama of geopolitical and civilizational dimension" is currently unfolding in Russia. Previously, Russia's "personalized power" system was widely viewed as part of Euro-Atlantic civilization and, despite certain disagreements, was moving in the same general direction as Europe. But it has become increasingly evident that the Russian system is changing and searching for new ways to legitimize its authoritarian regime.
Since 2012–2013, Shevtsova noted, Russia's official rhetoric has been based on the idea that Russia is not a part of the West, and, in fact, offers an alternative to the West—one based on its unique civilization and "traditional values." In this context, Russia's foreign policy becomes a crucial instrument for achieving its domestic goals, serving as means to mobilize Russian society. According to Shevtsova, Russia has returned to ideas that were popular in the times of Peter the Great and Stalin, particularly those of patriotic military consolidation. "Now, the question is how to find a peaceful way to get out of this mobilization," she concluded.
According to Denis Volkov, the phenomenon of negative mobilization—mobilizing society through fostering fear, anger, tension, and hostility—has been observed at least three times in Russia in recent years: in 1999, 2003, and 2008. With the development of the Ukraine crisis, negative mobilization has again become a part of Russia's public discourse. President Vladimir Putin's approval rating has increased considerably, and he's developed what political analysts call "a Teflon coating," meaning that regardless of his policies, Putin's ratings remain high. Volkov believes that the systematic elimination of various sources of political influence, economic alternatives, and sources of independent information is the key reason for the current state of affairs. As a result of diminished alternatives, Russian citizens have become more dependent on the state. Yet despite multiple barriers, Russian activists demonstrate resilience in dealing with repressions; they continue to help others and defend their civil rights in court. In addition, Russian dissidents have launched a number of new media projects, and people continue protesting. The most recent example is the Peace March protesting Russia's invasion of Ukraine, a march in which thousands of Russian citizens participated.
"A drama of geopolitical and civilizational dimension is currently unfolding in Russia. Russia's official rhetoric has been based on the idea that Russia is not a part of the West, and, in fact, offers an alternative to the West—one based on its unique civilization and traditional values."
Leon Aron addressed Russia's deteriorating economic situation, noting that the country's economy is in a nosedive. By the end of 2009, he said, the Russian economy had shrunk by 7.9 percent as a result of the global financial crisis and a drop in oil prices. At that time, Russia had the opportunity to move away from a commodity-based economic model—an opportunity it missed. The issue of improving the investment climate in Russia has certainly been addressed in the Kremlin. In 2013, former finance minister Alexei Kudrin discussed with the president and the prime minister possible solutions: independent judicial and legal systems that guarantee property rights; competitive, free, and fair elections; a substantial, freely operating, and responsible opposition as a permanent element of national politics; and state accountability to society. But the leadership passed on these suggestions. According to Aron, they chose instead to toughen the regime at that time. "Having rejected the route toward institutional reform and modernization, and thus closing the door to economic growth as a legitimizing component of the regime, the regime had to transform itself in order to defend itself," Aron concluded.
As part of his talk, Leonid Gozman suggested that opportunities for democratic change have been rapidly diminishing in Russia. "While Mr. Putin is in the Kremlin, democracy is impossible in Russia," Gozman said, adding that even "if we have a chance for democracy after Putin, it will not happen immediately." Gozman believes that in the near future, Russia will have a much more nationalistic political system, in part because Russian volunteers currently assisting separatists in Ukraine are likely to return home and demand political representation. As a result, Gozman believes, Russia could experience a period of true fascism: "We have it now, but now it's similar to Mussolini's Italy. After Putin, there will be Hitler's [type of state]." Gozman stressed that it is important for the opposition's voice to be heard now. Although psychologically speaking, individuals tend to agree with the majority (for instance, the widespread belief in Russia that Crimea is Russian land), the level of conformity in Russian thinking will inevitably decrease if even one person out of a hundred questions the majority's view.
Miriam Lanskoy pointed out that despite a number of negative trends in Russia, there are still reasons to be optimistic. For example, Russian civil society showed a remarkable degree of resilience and cohesion in pushing back against the "foreign agents" law, and Russia's Soldiers' Mothers Committee, despite significant difficulties, was able to "publicize the fact of Russian servicemen fighting and dying in Ukraine," a reality that had been kept secret by the authorities. According to Lanskoy, many are saying that at present, there's little hope of improving Russian civil society, and that the only thing left to do is focus on exchange education programs. However, following an incident in which a gay Russian high school student requested asylum in the U.S., claiming he faced persecution at home as a homosexual, the popular exchange program "FLEX [Future Leaders Exchange] has been just closed." Lanskoy disagreed with Gozman, saying that fascism in Russia is unlikely, especially given that Russian nationalists have never been a strongly cohesive group.
The round table participants agreed that with regards to Russia, the West cannot afford to stand on the sidelines. Gozman warned that "[Russia] will not stop in the southeast of Ukraine; [it] will go farther and farther. [It] will [take] the whole [of] Ukraine, Belarus.... Many people think [Russia] must keep North Kazakhstan, Eastern Estonia, parts of Latvia, including Riga, because it is Russian world." Aron noted that it's important for the West to remember that the "unpredictable dictatorship" in Russia has in its possession nuclear weapons and launchers.
According to the round table participants, the West has a range of appropriate options for responding to Russia, such as providing assistance to Ukraine and other countries neighboring Russia, developing educational and exchange programs, and supporting independent Russian media and civil society.
Concluding the discussion, Carl Gershman reminded everyone that on November 13, there would be a hearing on the lawsuit to liquidate Memorial, a prominent human rights group in Russia. In Gershman's view, it is critically important that the West show solidarity with Memorial: "[T]hey are [the] voice to say 'no,' to say the truth, and there are other voices like that.... It's our hope that their impact will grow."