On May 28, the Atlantic Council in Washington D.C. hosted a presentation of two reports on the war in Ukraine. The first report, Putin: War, draws on materials collected by the late Boris Nemtsov and his allies and was presented in English for the first time. The other report, Putin's War in Ukraine: Hiding in Plain Sight, was prepared by the Atlantic Council experts.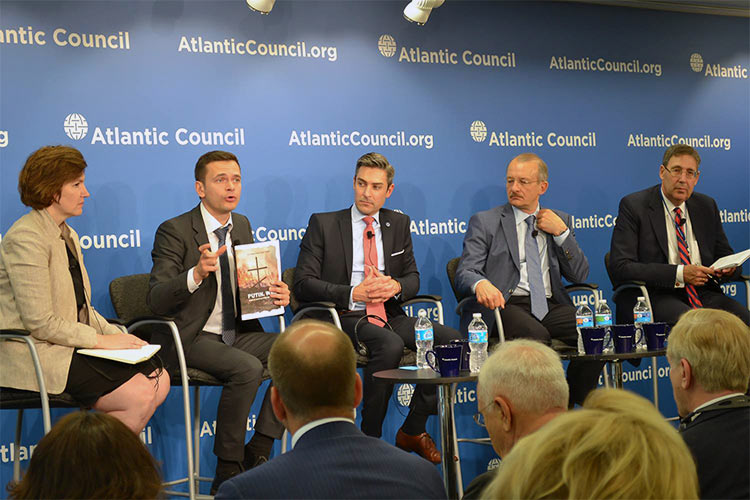 In his introductory note at the May 28 Washington D.C. presentation of two reports on the war in Ukraine, president of the Atlantic Council Frederick Kempe said, "If you take the reports together we'll ensure that Putin's 'secret war' in Ukraine is no longer secret. At the Atlantic Council we are acutely aware that the ongoing war in Ukraine's East is not just about Ukraine. It's about the global order; it's about the future of Europe, whole and free; and it's about the future of Russia itself." According to the reports, the number of people killed in Ukraine has already exceeded 6,000, whereas the displaced (refugees) account for 6 million people. Kempe believes all these tragedies are the direct result of Vladimir Putin's decisions and actions.
"Since the beginning of the crisis, the Kremlin has been waging a highly sophisticated hybrid war involving subversion, Russian leadership of armed groups, Russian weapons, Russian money, Russian propaganda, and regular Russian troops. All the while, Vladimir Putin insists that Russia is not involved in the conflict in Ukraine. Some take this claim at face value <...> The purpose of these reports is to shed light on this deception," noted Kempe.
Russian opposition activist and editor of the report Putin: War,* Ilya Yashin, opened with bad news from Moscow, announcing that Open Russia coordinator and senior policy advisor of the Institute of Modern Russia Vladimir Kara-Murza had been hospitalized in Moscow. He was still in a critical condition at that moment.
Yashin reminded the audience of Boris Nemtsov, one of Russia's brightest and most charismatic politicians, who had been murdered three months earlier. Nemtsov was concerned about the war launched by Putin in Ukraine. He wanted to let Russian society know about that crime. Shortly before his death, Nemtsov started working on the report titled Putin: War (Nemtsov's previous reports Putin: Results and Winter Olympics in the Sub-Tropics sought to expose Putin's corrupt regime). The new report includes evidence of deployed Russian troops in Ukraine. Nemtsov himself was unable to complete the report. His allies did instead.
"In March of 2014, when Russia started the annexation of Crimea, Putin told Russian society that there was an independent self-determination process ongoing in the peninsula and that Russian troops were in no way involved in the military actions there," said Yashin. "However, even then we knew that it was no other than the Russian military operating in Crimea. In early 2015, Putin's rhetoric had drastically changed: he admitted that all those military troops were special forces of Russia's GRU (Chief Intelligence Directorate) and that it was a military operation led directly by Putin." Yashin emphasized that if Putin lied then, he would lie in the future as well.
"Putin violated the international commitments to which Russia was a party, namely the commitment to ensure Ukraine's territorial integrity," continued Yashin. "By surrendering Ukraine, Putin has completely ruined the reputation of our country." As the opposition activist noted, Putin's war in Ukraine is "a devastating war for Russia—from economic, political, and moral perspectives. It's a shameful war."
Yashin then yielded the floor to Leonid Martynyuk, a journalist who also assisted with the preparation of the report. Leonid said that in late 2014 Boris Nemtsov pointed out two curious facts in relation to Putin's "secret war" in Donbass. On the one hand, social polls showed that the majority of Russians believed Russia should not be militarily involved in the conflict in Donbass. On the other hand, the majority of Russians believed there were no Russian troops in Donbass. Given this data, Nemtsov concluded that the Russian people should be informed of the Russian Army's presence in Donbass. He hoped this would eventually cause Putin's approval rating to go down. "Russia's current leader doesn't care about the violation of international norms, the number of casualties, refugees, and other humanitarian issues," said Martynyuk. "But a falling rating is something that could force Putin to give up Ukraine and end the war."
Following Martynyuk, Damon Wilson continued the presentation. Damon is the Atlantic Council expert and a co-author of Putin's War in Ukraine: Hiding in plain sight. "This work was conducted independently from the Putin: War report. However, our team reached a common conclusion: Putin led his nation into war against a peaceful neighbor and lied to his people," said Damon. "This report is our effort to offer some clarity. We set out to tell the true story of Russia's war in Ukraine. This is not a civil war, rather the story of regular Russian soldiers readied for combat on improvised bases along the Russian-Ukrainian border, backed by a steady flow of arms and equipment, and at times supported by cross-border artillery [shelling]. Our report documents each of these four pillars. We make this case using only open-source, unclassified materials and none of it is provided by government sources. We used works by human rights defenders, social media forensics, and geo location to back this up."
As another Atlantic Council expert, Maksymilian Czuperski, explained, the search for information in social media played an important role in the preparation of the report. "Everyone shares. People share pictures from their family trips, from private events. But they also share pictures of convoys driving through their towns. And we took that curiosity and we match it up together with the geo tags that nowadays are on social media posts. We then use the method of geo location to cross-verify the geo tags. The photos of military equipment, for instance, contain the time and location where the photo was taken, and Google satellite images allow us to see what that location looked like at a given moment in time. Using this method, we were able to track the movement of the military vehicles from Russia to Ukraine. Similarly, we can track the path of the soldiers who post their photos in social media."
The presentation of the reports was followed by a Q&A session. During the session, John Herbst, former U.S. ambassador to Ukraine and also a panelist, said, "Putin wants to conduct war in such a way that people in Europe and in Washington don't have to pay attention to the fact that there is war. <...> He's playing both to Western weakness and to a strong feeling among his own people against war in Ukraine." Russian economist Sergey Aleksashenko, who was also on the panel, spoke about Putin's recent decree that classifies data on soldiers killed during peacetime. He noted that this law aims to "threaten relatives of soldiers who died in Ukraine. Their parents are now being bribed (2–3 million rubles) to keep silent. If the number of casualties grows, the truth will be hard to hide and no decree will be able to conceal it."
* Catherine A. Fitzpatrick of IMR's project The Interpreter translated the report.