On October 9, Vladimir Kara-Murza, coordinator for the Open Russia movement, joined Leon Aron, AEI's director of Russian Studies, to discuss concerns about the direction of the Kremlin's foreign and domestic policy agendas.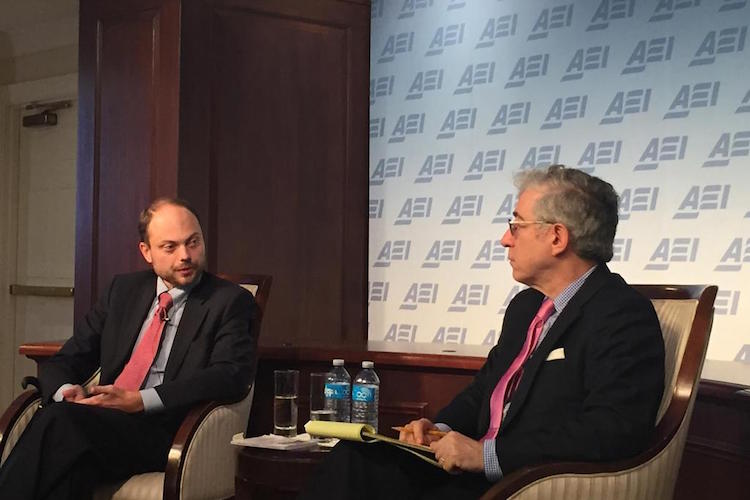 Vladimir Kara-Murza began the conversation by reminding the audience that the event was being held on what would have been the 56th birthday of Russian opposition leader Boris Nemtsov, who was murdered in late February in Moscow. According to Kara-Murza, despite the Russian saying that "there are no irreplaceable people," Nemtsov was irreplaceable as a political leader, as a human being, and as a friend. He paid the ultimate price in the struggle for a free and democratic Russia, Kara-Murza said. Commenting on his own sudden illness that occurred in May, Kara-Murza said that doctors had given him only a 5 percent chance of survival. The cause of his poisoning remains unknown, but Kara-Murza is certain that it was not an accident and was connected with his opposition activities in Russia.
Kara-Murza's recovery coincided with major events in the international arena involving Russia, among them the Kremlin's military campaign in Syria. In response to Leon Aron's question about Vladimir Putin's motives in Syria, Kara-Murza said that all the foreign policy adventures undertaken by the current regime have been motivated by domestic policy. He said he believes that in many cases, the regime has acted at the expense of the long-term interests of the country, being driven by the goal of preserving its own power. The Kremlin's involvement in Ukraine, for instance, was primarily a result of domestic concerns that a successful democratic neighbor could become a "contagious example" for Russian citizens. In Syria, the regime is attempting to produce "new ammunition for the propaganda machine, [the regime's] main pillar," as well as to assist a "fellow dictator to stay in power," Kara-Murza said.
He argued that domestically the Kremlin demonstrates weakness and fear. In his words, the Russian government "shuts off every single legal avenue for protest and the expression of alternative opinions." There are currently "no free elections, no independent media on a big scale, no working judicial system …" in Russia. Given those circumstances, it is unsurprising that the regime will likely not change through constitutional and peaceful means, he said. 
He believes that all democratic changes in Russia should be made by Russians themselves, not by anyone else. Kara-Murza argued that if the United States wants to show solidarity with those who see Russia's future based on democracy and the rule of law, it is critically important for the country to "stand by [its] own principles." Specifically, he said that America's founding values should "inform the attitudes toward [Putin's] regime that routinely abuses the rights of its own citizens, as well as … the borders and sovereignty of other nations." Kara-Murza said that bold enforcement of the Magnitsky Act against Russia's corrupt officials and human rights abusers would be an important instrument to demonstrate solidarity with a democratic Russia. He said it was also essential that the West maintain communication with Russian civil society and understand and emphasize the difference between the current regime and Russia as a whole.
Kara-Murza said he believes that Russia is not destined to remain under dictatorial rule and deserves better than its current system. Quoting Vladimir Bukovsky, a prominent Soviet-era dissident, he argued that despite all the challenges, there have always been and always will be European-minded people in Russia who want a normal future for their country based on the principles of the rule of law, democracy, and respect for human dignity. Kara-Murza said that he sees many individuals of that kind, including young people, as he travels around the country. In his words, one of the main tasks of the Open Russia movement is to support and consolidate such people.
As Kara-Murza argued, the last few months have been very "dark," but he quoted a famous saying of Soviet dissidents: "The night is darkest before the dawn." He said the expression might hold true for present-day Russia as well: "I still believe that freedom and justice will prevail in Russia. I think we have to do everything we can to bring that day a little bit closer."