On December 5, IMR's Vladimir Kara-Murza spoke with Leon Aron, director of Russian Studies at the American Enterprise Institute, on Russia's upcoming presidential election, in which Vladimir Putin is viewed as the prohibitive favorite. Still, many issues continue to concern Russia watchers in the West.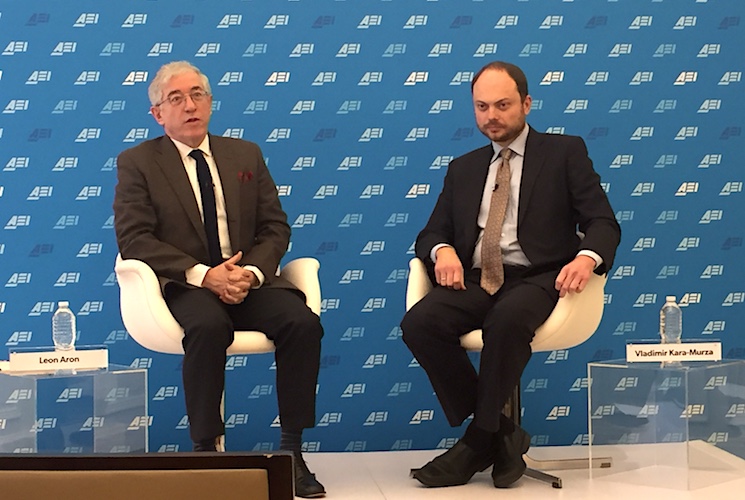 At the beginning of the discussion, Leon Aron congratulated Vladimir Kara-Murza on becoming the recipient of the Sergei Magnitsky Human Rights Award for his work as an "Outstanding Russian Opposition Activist." In response, Kara-Murza humbly reminded his audience that one of the key campaigners for the Magnitsky Act was Russia's slain opposition leader Boris Nemtsov, who once called it "the most pro-Russian law ever passed in a foreign country" because it individually targets those who abuse the rights of Russian citizens.
Further discussion touched upon the current political climate and socio-political developments in Russia. Dr. Aron cited recent data that shows how the Russian economy is slowly—and somewhat paradoxically—recovering after the crisis caused by the drop in oil prices and Western economic sanctions. Still, 2017 has seen protest activity on the rise across the country, while, as former Finance Minister Alexei Kudrin pointed out, poverty looms as one of Russia's major challenges. In this context, Aron wondered, is there a political side to these "social protests?"
Kara-Murza noted that while social and economic issues can become drivers of political protest, one should remember that the largest protests in modern Russia took place when the economy was doing quite well, in 2011-2012. Through his work across Russia as the vice chairman of the Open Russia movement, he has witnessed a growing awareness among younger Russians that it is not normal for a European country in the 21st century to have an irremovable leader for 18 years. There is also a clear demand for civic dignity among the protesters. Kara-Murza quoted one of the recurring slogans of the 2011 protests: "We are not cattle." It is also noteworthy that this year's protests took place in over 200 Russian cities—from Kaliningrad to Vladivostok. Some of these cities haven't seen any major political action since the early 1990s. This means that the current political paradigm [of passivity and non-participation] is gradually breaking, Kara-Murza concluded.
Commenting on Ksenia Sobchak's presidential bid, Kara-Murza expressed the view that she is essentially a Kremlin project; an imitation of an opposition candidate, much like the billionaire Mikhail Prokhorov in the presidential election of 2012.
Kara-Murza also recalled that the so-called "systemic opposition" in Russia (that incorporates parties represented in the State Duma and some political figures connected to the Kremlin) is not a real opposition in the Western sense of the word. The real alternative to the Putin regime lies with the "non-systemic opposition" that has been deliberately excluded from the official political field. The two genuine opposition leaders who were planning to challenge Putin in the 2018 election were Boris Nemtsov and Alexei Navalny. Nemtsov was assassinated in 2015 under the Kremlin's walls, while Navalny was convicted on trumped-up charges and banned from running.
Kara-Murza's crucial take-home message was addressed to Western leaders. He noted that after 2000, OSCE observers have never assessed elections in Russia as free and fair, but many Western leaders preferred to ignore these conclusions and called Putin to congratulate him on his victories. "I am puzzled as to how these two things make sense together," Kara-Murza said and called for Western leaders not to congratulate Putin on winning in 2018, because they will be essentially congratulating him on a "successful theft" of the vote.
Aron asked Kara-Murza about the goal of the Kremlin's aggressive rhetoric, increased military spending, and general war-mongering: "Does it mean the Kremlin is preparing for war?" In Kara-Murza's view, rhetoric is all that the Kremlin has left to rally domestic support and consolidate people around the fictional notions of a "Russia rising from its knees" and "Russia as a besieged fortress."
In conclusion, Aron suggested looking beyond Putin's upcoming fourth (de facto fifth) term and imagine what may happen to Russia in 2024. Kara-Murza noted that, as modern history has shown, the political situation in Russia can change very rapidly, and cited Harold Wilson, who once said that "a week is a long time in politics." According to Open Russia's vice chairman, it is important to lay the groundwork for a post-Putin future today, which is why the movement is focused not so much on replacing Putin with an alternative figure as on changing the entire system, transforming Russia from a presidential into a parliamentary republic.
The video of the discussion will be available shortly on the AEI website.