The Institute of Modern Russia is launching a new project, "Russia under Putin," to mark the 20th anniversary of Vladimir Putin's first election as president.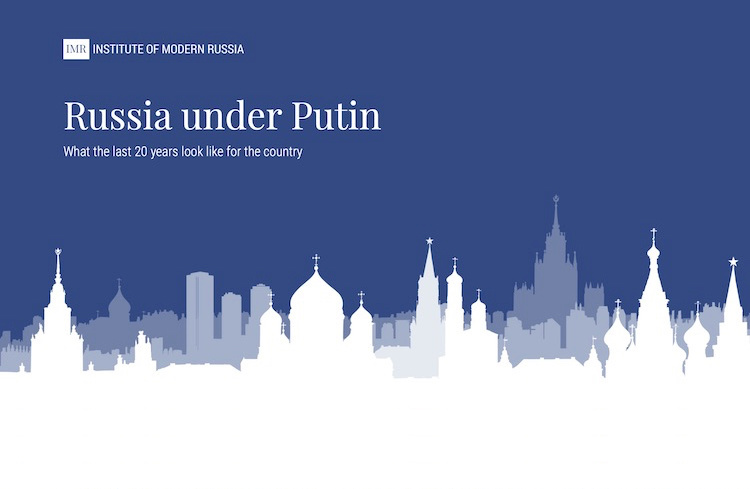 On March 26, 2000, Vladimir Putin was elected president of the Russian Federation. Hardly anyone could have expected then that two decades later he would still lead the country—or that a constitutional reform announced in January 2020 would allow him to stay in power for many years to come.
A 20th anniversary is a good excuse for pausing, looking back, and drawing some conclusions. That is why IMR is launching "Russia under Putin," in which we will try to recreate a fuller, more objective picture of the country's political development.
Most national and western media have adopted an approach to covering Russia that is focused on Putin, which is not surprising under such a personality-based regime. However, as a result, developments within civil society—no less crucial than Kremlin intrigues—are often excluded from the agenda. Another problem is the short-term perspective of such coverage and analysis, which often obscures (or altogether leaves out) long-term causes and effects. Finally, the Kremlin's propaganda machine is quite adept at manipulating narratives, emotions, and opinions of target audiences, distracting them from the facts and distorting the agenda even further. 
This new IMR project is organized in two parts—first, a series of reports dedicated to the question of Russian civil society, and second, a timeline that retraces key events that have defined the nation in the last 20 years. The reports will provide a more balanced view of social and political developments in the country beyond the narratives related to Putin. The first report ("Russia under Putin: 20 years of protest") in the series focuses on the protest movement. The timeline then offers a bird's-eye view of the last two decades—one that will help to broaden the scope of events, recreate how they unfolded, and place them in a meaningful political context that both elites and civil society inhabit together.
We are not trying to give an assessment, but rather offering food for thought—an opportunity for readers to examine this timeline and decide for themselves what these 20 years have meant for Russia. This project is not a mere archive of the past, either. Its goal is to unearth the roots of the current political developments and bring clarity to Russia's future trajectories.
* Data on protest events, number of participants, and detentions is sourced from the Lankina Russian Protest-Event Dataset (LAruPED) for the years 2007 to 2016, from OVD-infofor 2019 (Moscow and St. Petersburg only), and from the Center for Economic and Political Reforms for 2017-2018 (all regions). Data does not include pro-regime protests and demonstrations. Information on the number of protest participants in particular should be viewed with caution as attempts to calculate attendance are notoriously difficult. These totals should be viewed as conservative estimates.